IOWA CITY, Iowa — University of Iowa junior defensive end A.J. Epenesa, junior offensive lineman Alaric Jackson, and junior return specialist and wide receiver Ihmir Smith-Marsette, all named to the first team, highlight the list of Hawkeyes named to the Athlon Sports preseason All-Big Ten teams announced on Tuesday. Smith-Marsette was named as a return specialist.
 
Junior offensive lineman Tristan Wirfs and junior defensive back Geno Stone were named to the second unit, while junior defensive end Chauncey Golston and junior defensive back Matt Hankins where named to the third team. Senior quarterback Nate Stanley and junior running back Mekhi Sargent were fourth team selections.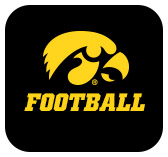 Epenesa (6-foot-6, 280 pounds) was previously named to the 2019 Lott IMPACT Trophy Watch List. He led the Big Ten Conference and ranked 12th nationally with 10.5 sacks in 2018, while earning first-team All-Big Ten honors. His season totals included 37 tackles, with 16.5 tackles for loss. He recorded four forced fumbles, four pass break-ups, and one fumble recovery.
 
Epenesa was one of five finalists for the Polynesian Player of the Year in 2018. He was named co-Defensive Player of the Week in the Big Ten following his play in wins over Illinois and Iowa State. Epenesa recorded two sacks against Iowa State, with a forced fumble.
 
Epenesa, a native of Glen Carbon, Illinois, recorded a career-best eight tackles at Illinois, with 3.5 tackles for loss and 1.5 sacks. He caused and recovered a fumble, returning the recovery 19 yards for a touchdown. He also had a blocked punt that led to an Iowa touchdown on the following play. His sack and forced fumble in the 27-22 Outback Bowl victory over No. 18 Mississippi State led to Iowa's final touchdown.
 
Smith-Marsette (6-1, 177) is a native of Newark, New Jersey. He was named the Rodgers-Dwight Return Specialist of the Year in the Big Ten last season. He led the Big Ten and ranked second in the nation in kickoff return average (29.5). He was 12th in the Big Ten in all-purpose yards and set an Outback Bowl record with 150 yards in kickoff returns in Iowa's 27-22 win over No. 18 Mississippi State. He also recorded 23 receptions for 361 yards and three touchdowns in 2018.
 
Jackson (6-07, 320) is a native of Detroit. He earned second-team All-Big Ten honors a year ago. He has started 12 straight games at left tackle, helping the Hawkeye offense average 31.2 points per game last season. He has started 24 games in two seasons.
 
Wirfs (6-5, 320) started 12 straight games at right tackle a year ago and has 20 starts in his two seasons. The native of Mount Vernon, Iowa, earned honorable mention All-Big Ten recognition last season.
 
Stone (5-10, 210) moved into the starting lineup for eight games last season and was named honorable mention All-Big Ten. The native of New Castle, Pennsylvania, tied for the team lead with four interceptions, returning one of those thefts for a touchdown at Penn State. Stone recorded 39 tackles.
 
Golston (6-5, 265) saw extensive action at end and tackle a year ago. The native of Detroit led the Big Ten and ranked sixth in the nation with three fumble recoveries. His final recovery led to an Iowa touchdown in the Outback Bowl win. Golston recorded 35 tackles last season, with nine tackles for loss and 3.5 sacks.
 
Hankins started all eight games he played in a year ago, missing five games due to injuries. The native of Lewisville, Texas, recorded 48 tackles and three pass break-ups. Hankins (6-0, 185) played as a true freshman in 2017 and earned his first career start in a win at Nebraska in the final game of the regular season.
 
Stanley (6-4, 243) has started all 26 games over the past two seasons, leading the Hawkeyes to consecutive bowl victories while tossing 26 touchdown passes each season. The native of Menomonie, Wisconsin, has passed for over 2,400 yards in each of his two seasons as a starter. His career numbers include 52 touchdowns and 16 interceptions while throwing for 5,351 yards.
 
Sargent spent his first season with the Hawkeyes a year ago and led the team in rushing. A native of Key West, Florida, Sargent led Iowa in rushing attempts (159), yards (745) and touchdowns (9). Sargent (5-10, 210) also recorded 17 pass receptions for 156 yards and a touchdown. His best game came in the regular season finale when he rushed 26 times for 173 yards, scoring one rushing and one receiving touchdown in a win over Nebraska.
 
The Hawkeyes open the 2019 season Aug. 31, hosting Miami, Ohio. For ticket information visit hawkeyesports.com/tickets.