Hawkeye Fan Shop — A Black & Gold Store | 24 Hawkeyes to Watch 2019-20 | Hawk Talk Monthly — May
By DARREN MILLER
hawkeyesports.com
IOWA CITY, Iowa — It was June of 2017 when University of Iowa Mellecker Family men's tennis coach Ross Wilson traveled to Europe on a 30-day recruiting trip.
He could have left after the first day.
That's because the first player Wilson watched on day one of his journey at Reed's School in Cobham, England, was Oliver Okonkwo, who stood 6-foot, 3-inches and flashed a 130-mile per hour serve.
"I thought Oliver would be a great fit," Wilson said. "I watched him practice and thought this guy is a great athlete and hits the ball well. He will do well in our system."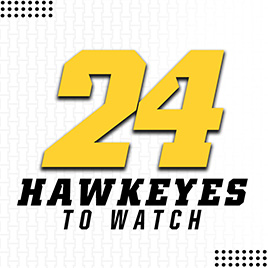 Wilson was correct.
Okonkwo, now a University of Iowa sophomore, finished the spring season with a record of 9-8 at No. 2/3 singles and 12-7 at No. 1 doubles. Okonkwo and junior Will Davies were ranked No. 10 in the Oracle/ITA Division I men's doubles rankings released Feb. 5.
"It's the chemistry we have on court," Okonkwo said. "I know he is going to give his all and he should know that I am going to give my all as well. When we win together, it's great and everyone is happy, but when we are struggling, we're still pumping each other up with that constant energy we get from each other. Playing with Will is good fun; he is excitable on the court and it is great to be on court with him."
It didn't take Wilson long to identify Okonkwo's talent, and it didn't take Okonkwo long to make an impact with the Hawkeyes. As a freshman, he was 27-14 in singles and 24-10 in doubles. Okonkwo's 27 singles wins rank fourth in a single season in school history, and the most ever by an Iowa freshman.
Okonkwo said he was "free" during his first season at Iowa, motivated by a supportive group of coaches and teammates.
"The coaches believed in me and I believed in myself," Okonkwo said. "I love competing. I stepped on the court and I didn't see it like, 'Ah, I have to do this job.' It was an opportunity to have fun. I didn't even play that great, it is just the competitor coming out."
The Hawkeyes finished the 2018-19 season with a record of 18-10 overall, 6-5 in the Big Ten. That foreshadowed more success in the shortened 2019-20 season. After five straight wins — including a 4-3 decision over No. 16 Cornell University on March 8 — Iowa broke through into the top 20 of the ITA Division I National Rankings for the first time in program history.
Iowa (12-2 overall, 1-0 Big Ten) sat at No. 20 on March 10 and was the third-highest rated Big Ten team over the final month of the season.
In the win over Cornell, Okonkwo showed his value by knocking off No. 122 Eero Vasa at No. 2 singles, 2-6, 6-4, 6-3.
His success started years earlier and 4,000 miles away from the Hawkeye Tennis and Recreation Center (HTRC). Okonko graduated from Furze Platt Senior School in Maidenhead, England; he represented Berkshire County teams as a member of the Maidenhead Lawn Tennis Club.
"When I was younger, I was one of those kids who ran around and had way too much energy for my parents' good, so they stuck me into soccer," Okonkwo said. "Then they got me into tennis at the age of 3 or 4 and I loved it and kept playing."
He always had a competitive edge, but Okonkwo said he wasn't successful until he started developing around the age of 14. His attributes are many: quick on the court, dominant serve, big forehand.
"When I started to grow more, my strengths became even bigger," Okonkwo said. "That is when my game took a couple stages up."
Soon after, Wilson made his recruiting visit. In Okonkwo, he saw an unpolished, yet successful player. Wilson was impressed by Okonkwo's winning ways and the fact he was a great student and teammate.
"Overall, he is a good person and great asset to this athletics department," Wilson said.
But Okonkwo had yet to visit to Iowa City. No worries.
"I thought Oliver would be a great fit. I watched him practice and thought this guy is a great athlete and hits the ball well. He will do well in our system."

Ross Wilson, University of Iowa Mellecker Family men's tennis coach
"I loved the place," Okonkwo said.
More specifically, Okonkwo and the Hawkeyes love playing on the home courts at the HTRC. This season, Iowa won 10 of 11 home matches, including its final 10. The last 11 matches, as well as the Big Ten and NCAA Championships, were canceled because of the threat of spreading coronavirus.
Fortunately for the Hawkeyes, Okonkwo will return next season with the same drive and the same goals. He isn't content with merely qualifying for postseason play.
"For the team, our biggest goal is making NCAAs, but we should actually start considering making a dent in the NCAA Tournament," Okonkwo said. "We have never made the NCAA Tournament, so that would be a big step in our favor. We are battling against these (NCAA-qualifying) teams (during the regular season) and there is no reason we can't do damage."