By DARREN MILLER
hawkeyesports.com
IOWA CITY, Iowa — Dabbling in different sports has never overwhelmed University of Iowa rower Molly Rygh.
The sophomore from Cedar Falls, Iowa, participated in volleyball through her junior season of high school, then opted for cross country as a senior. She was a thrower in track and field, competing in the shot put and discus until her senior season. That's when she used the spring to train for two half marathons that she completed on two weekends over the summer.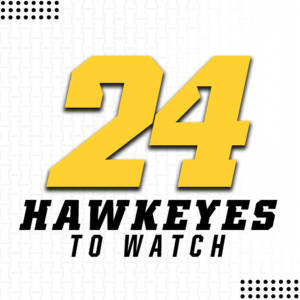 Rygh had athletic experience on a court, a course, and a throws circle, but not on water. That changed during her first few days as a student at the University of Iowa.
The sport of rowing was familiar to Rygh since her mother competed at the University of Wisconsin and her older sister, Katie, completed a season in the novice program for the Hawkeyes in 2017-18.
"We have a cabin in Wisconsin, so we love water sports," Rygh said. "I had never rowed until college, but I had spent time on the water."
She was a quick study. Last season, when the Hawkeyes made their run to 13th at the NCAA Championships in Indianapolis, Rygh was one of several freshman walk-ons in the Second Varsity Eight boat. The Second Varsity Eight advanced to the C final and placed fifth in 6:41.614.
"Racing at NCAA Championships for someone who just started rowing was a cool moment," Rygh said. "This program has developed so many athletes; last year four freshmen who came as walk-ons rowed in that (Second Varsity Eight) boat. That was cool to see how we had grown throughout the year."
Rygh was born in Milwaukee and moved to Cedar Falls as a toddler when her father accepted a position as executive pastor of expansion at Prairie Lakes Church.
"I wasn't an insane high school athlete," said Rygh, although some might think it is insane to finish two 13.1-mile runs in Yellowstone National Park in back-to-back weeks. Rygh described the ordeal as "hard, but fun."
She didn't know it at the time, but compared to rowing, it was distance running — cross country specifically — that would be the closest thing she had done as far as mental preparation.
"In a cross country race, you are competing as a team, but you also have to be strong mentally because part of the team result rests on your shoulders," Rygh said.
While still in high school, Rygh visited her sister on the University of Iowa campus. Hawkeye assistant coach Jeff Garbutt asked if rowing was a sport she wanted to try. Rygh responded with a wavering "maybe."
She hadn't even decided on a college yet. She looked at Iowa State, Nebraska and a couple others, but at the time, she was interested in business. Iowa's business school stood out. So did the fact her sister attended Iowa and the campus was a not-to-close, not-to-far hour and a half from home.
And yes, Iowa had rowing.
"Rowing was an opportunity at Iowa that wasn't an opportunity at other places," Rygh said. "I visited, took a tour, did a Learn to Row clinic and got a feel for the ergometer. I decided rowing was something I wanted to try."
Iowa head coach Andrew Carter has seen the biggest evolution in Rygh's fitness, followed closely by her improved technical skills.
"She has put herself in the upper echelon of fitness on our team for what she can do in the weight room and on the rowing machine," Carter said. "All the things we measure, she has moved forward with leaps and bounds.
"Technically she has come a long way with her rowing skills, too. A year and a half into her career, she has become a pillar of our second crew and has been in our first crew on occasion. That's pretty impressive."
The promotion to the Second Varsity Eight as a freshman came as a surprise to Rygh, who intended to spend her first season in the First Novice Eight boat. During her first spring training, she was moved to the First Varsity Four and then promoted to the Second Varsity Eight. An assist for Rygh developing her skills was rowing with older, more experienced Hawkeyes.
"For this team in the past few years, that crew has positioned itself as one of the best in the country. You get into that crew, you're in one of the best crews in the country which makes you one of the best rowers in the country."

Andrew Carter, Head Coach
Rygh was scheduled to kick off her sophomore spring season March 19 at a competition hosted by Stetson University in DeLand, Florida, then compete the next day at an event in Orlando. A week earlier, the NCAA canceled all spring sports competitions because of the coronavirus pandemic.
Now an elementary education major, Rygh returned to Cedar Falls to finish the semester. She is working out the best she can, but it's not the same as training in the P. Sue Beckwith Boathouse in Iowa City. There, after a workout, she would routinely chart results in a notebook. The notebook serves as motivation.
"One thing about rowing is that over time, we do so much work on the ergometer, that you can see your progress," Rygh said. "After every workout we write down how we did and what numbers we pulled for that workout. It's nice to look back on the same workout and see how you compared. You can track your progress over time and see how you're improving."
There is no doubt that Rygh is improving. She set preseason goals for 2,000 and 6,000-meter workouts and reached them both. Her next mission is working her way into the Hawkeyes' top crew.
"For this team in the past few years, that crew has positioned itself as one of the best in the country," Carter said. "You get into that crew, you're in one of the best crews in the country which makes you one of the best rowers in the country."