University of Iowa women's basketball will compete together and bond in Italy from Aug. 11-22. The Hawkeyes will play exhibition games against Dream Team Italian Select, Asd Pallacanestro Muggia, and TK Hannover, and sightsee in the historic cities of Rome, Florence, Cinque Terre, Venice, and Varenna to name a few.
Follow the Hawkeyes as they compete and immerse themselves in another culture at hawkeyesports.com. Daily reports, photo galleries, video content, player blogs, audio commentary, and game recaps will be available. For additional coverage, follow @IowaWBB on Twitter, like Iowa women's basketball on Facebook, and follow @IowaWBB on Instagram.
Itinerary – Italian Tour
Note: Italy is seven hours ahead of Central Time
Aug. 11 – Depart for Rome
Aug. 12 – Rome
Aug. 13 – Rome
Aug. 14 – Bus to Florence; Game vs Dream Team Italian Select
Aug. 15 – Florence
Aug. 16 – Bus to Cinque Terre
Aug. 17 – Bus to Venice
Aug. 18 – Venice; Game vs Asd Pallacanestro Muggia
Aug. 19 – Bus to Verona; Game vs TK Hannover; Bus to Varenna
Aug. 20 – Varenna
Aug. 21 – Varenna
Aug. 22 – Depart for Iowa City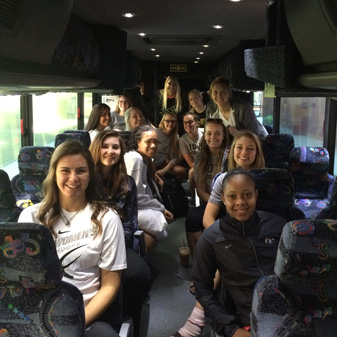 Hawkeye fans,
I am so thrilled to kick of the 2015-16 season with our Italian Tour. We're on our way to Chicago now and are scheduled to fly direct to Rome this afternoon. You can feel the excitement from our group on the bus!
Over the next 11 days, our student-athletes and staff will grow as a unit, bond as a team on the court, and experience another culture. This timing of this trip is perfect for our group, which is comprised of four freshmen, four sophomores, three juniors, and three seniors. The experience gained in our 10 practice days leading up to the trip combined with the three exhibition games we get to play in Italy, will give us a head start going into the regular season.
I invite you to take part in this international experience by following along on hawkeyesports.com. You'll get to hear from our players in daily blogs, see what we're doing through photo galleries, and view exclusive video content that will document our trip. For additional updates, follow us on our Instagram, Facebook, and Twitter social media accounts.
Hawkeye fans and supporters, especially those who participate in our annual Golf Extravaganza, make trips like this possible for our program every four years. I want to sincerely thank you for your continued support of Iowa women's basketball. We have the best fans in the country!
We look forward to making you proud on and off the court this year, beginning with our Italian Tour.
Best,
Lisa Bluder
16th-year head coach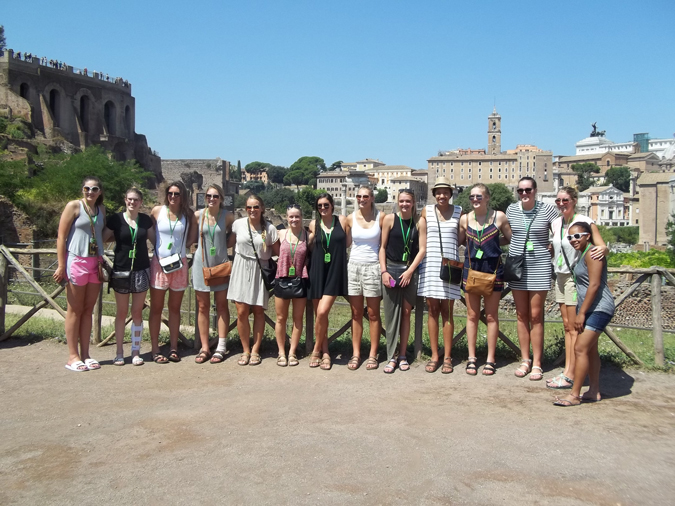 Dear Hawkeye Fans,
Wowza, it is crazy to think that only yesterday morning we were departing Iowa City to embark on this crazy, adventure-of-a-lifetime trip to Italy. I'm sure that the jet lag will hit me sooner or later, but as I sit here reflecting on our first day in Rome, I quickly become more and more excited to wake up in the morning and hit the ground running once again.
Our trip started on Tuesday morning at 9 a.m. in Coralville, where we loaded the team bus and set out for Chicago. Once we arrived at the O'Hare airport, we quickly passed through security and claimed spots outside of our gate. This is where the waiting game began. Our flight was delayed for over an hour, and the plane ride itself lasted 9.5 hours. Luckily, I crashed for the majority of that time and got a ton of sleep.
Once we arrived in Rome, it was smooth sailing. Two of the most notable sites that we visited included The Colosseum and the Roman Forum. The intricate drawings and carvings that detailed the thousands of year-old stones were truly breathtaking. After a long day of site seeing, we finished the day in style by dining out at a local restaurant, where we indulged in homemade pastas, pizza, and gelato (of course).
All in all, today was a truly spectacular start to our foreign tour. I want to say a big thanks to all of our amazing fans, supporters, and boosters who made this trip possible. Go Hawks!
Ally Disterhoft
Junior Guard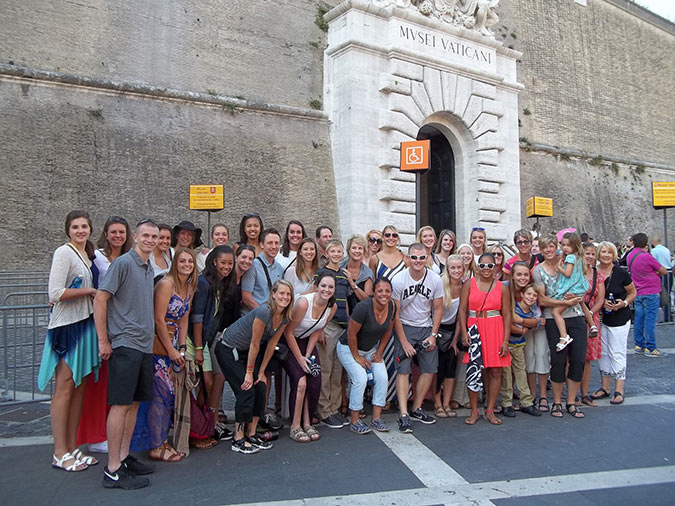 Hey Hawkeye fans,
Wow! What a great first half of our second day here in Rome. We started our day by leaving our hotel and heading to the Vatican at 8 a.m. Once we arrived we quickly got through the security and started our tour by gathering in a courtyard. We acknowledged the sculptures that we were surrounded by.
We then walked through a lot of galleries in the Vatican Museum. They were filled with great sculptures which are a part of the culture in Rome. After finishing the museums we spent 20 minutes in the Sistine Chapel. We could have stayed and looked at Michelangelo's amazing paintings forever, but we had to continue on with our tour.
Our next stop was the Basilica of St. Peter, and man was it beautiful. Being able to visit the biggest church in the world and appreciating the Catholic religion was amazing. We ended our Vatican tour by climbing more than 500 steps to see a breath taking view of the Vatican City and of Rome.
Tania Davis
Freshman Guard
Hey Hawkeye fans,
We just finished up day two, and are all loving it here in Rome. Tonight, we took a quick trip to the Spanish Steps. We took a lot of pictures and had a great time. If you have time, take a look at the photo gallery from day two and see if you can spot all the Hawkeyes scattered in the crowd.
After the Spanish Steps we walked around the streets and went shopping in some of the boutiques. The weather was perfect, and we all had fun seeing some of the local shops. We finished the night with a delicious pizza and pasta dinner at a local restaurant. Overall we all had a wonderful day and we can't wait for our first game in Florence tomorrow night!
Hailey Schneden
Junior Forward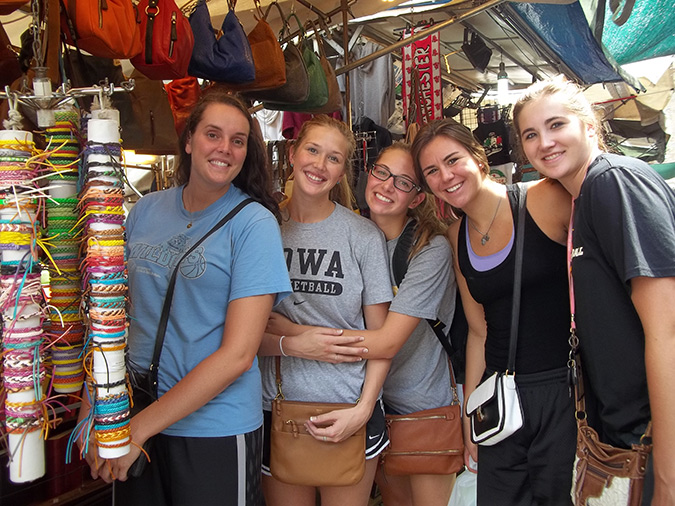 Greetings from Florence, Italy!
We just finished up our first game pf the tour against Dream Team Italian Select. Also, my first game as a Hawkeye. It was an amazing feeling putting on the Black and Gold for the first time. We ended up winning by 32 points! Even though winning is always fun, it is more fun playing and experiencing Italy with my amazing, talented teammates.
The scenery on the way to the game was breathtaking. There were many mountains, valleys, and of course the red roof houses. Once we got there, the gym turned out to be much hotter than anticipated, so we were very happy with everyone's effort despite the heat. Overall, I would like to summarize my first game as a success!
We enjoyed authentic pizza outside afterward, and headed back to the hotel on the bus. We enjoyed the beautiful sunset across the Italian countryside on the way. Thank you Hawkeye fans for supporting us throughout this trip. We are extremely blessed to be able to be here!
Ciao!!
Megan Gustafson
Freshman Center
Ciao from Florence!
We spent most of the day traveling from Rome to Florence and the view the whole way was spectacular! There were miles and miles of country side with houses hidden in the hills and vineyards lining the highway on both sides.
It's crazy to think that I just kicked off my senior season tonight against Dream Team Italian Select in this overseas tour. Being able to have the opportunity to travel the world and play basketball is one that I could have never even dreamt. I think it's so cool that from now on I can say I started my senior season off with a win and in Italy! After having a summer of workouts and ten full practices before our departure it sure was nice to play some unfamiliar faces.
We love each other and all but guarding the same person over and over sure gets old. We're all thoroughly enjoying every minute over here and can't say thank you enough to those who helped make it happen. If anything, playing games over here just makes me that much more excited for our season!
My time here at Iowa sure flew by, I still have trouble verbalizing that I'm a senior. But that being said there's a lot more still to accomplish, more memories to be made, more of Italy to see and more tournaments to make! I'm cherishing every moment I have left in this Hawkeye jersey and fully intend to make the most of this final year!
Go Hawks!
Claire Till
Senior Forward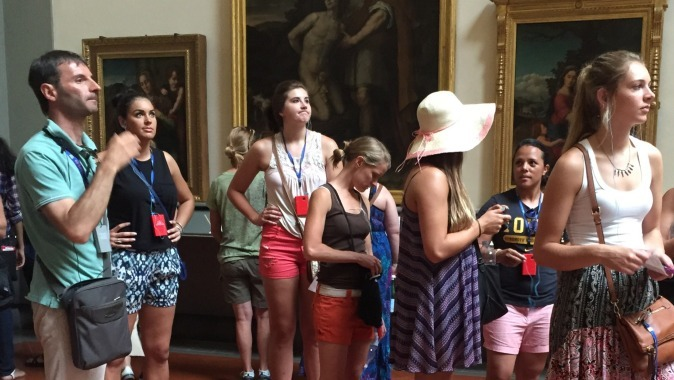 Hey Hawkeye fans,
Today was an amazing day in Florence!
We started the day with a walking tour around the city. Wow! What a breathtaking place. The beauty and architecture of the cobblestone streets seem to be never ending. Even the smallest backstreet and alley are something to gaze at. I have never taken so many pictures!
During the tour walked across a bridge over the beautiful Arno river, which was lined with tall buildings. Also on the bridge were a number of vendors, artists, and random stands, all VERY persistent on selling us something.
Last stop on the tour was the "Accademia Belle Arti". You may not have heard of the museum, but I am sure you have heard of the infamous "Statue of David" within it. David is really something to look at. Michelangelo truly portrays strength, courage, and a little bit of nervousness throughout the statue as David poses gallantly, preparing to slay Goliath. Similar to how I felt yesterday before the first game of my college career as a freshman!
After the tour, we ventured off to do one of the things we do best… shopping!
We walked around a lot of different squares and markets. Most of them selling bags, sunglasses, jewelry, shirts, and other foreign merchandise. All of the vendors are very willing to bargain on their price, and I'd say a lot of us Hawkeyes have mastered the art of negotiating.
This evening we back across the bridge to eat a nice Italian meal downtown, and of course we enjoyed some gelato afterward!
All in all, this trip continues to make my dreams come true, and I couldn't ask for better friends to spend it with.
CIAO!
Hannah Stewart
Freshman Forward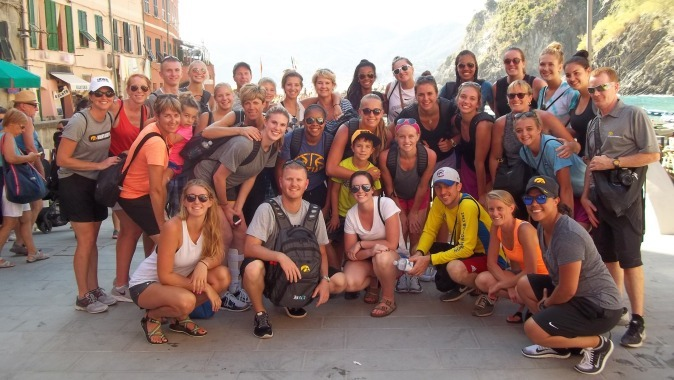 Hey Hawkeye fans!
Today we traveled from Florence to Cinque-Terra. We took a walking tour through vineyards when we arrived, saw beautiful views, and hiked through the mountains. After that we took the train to the beach where we ate lunch and experimented with different foods like swordfish, mussels, and anchovies.
We then relaxed by the water for a few hours and had a blast in the sea. Our final stop was in a small village that was filled with little shops and amazing scenery. We took the train back to our hotel and ended the night perfectly with delicious gelato for the fifth night in a row.
Carly Mohns
Sophomore Forward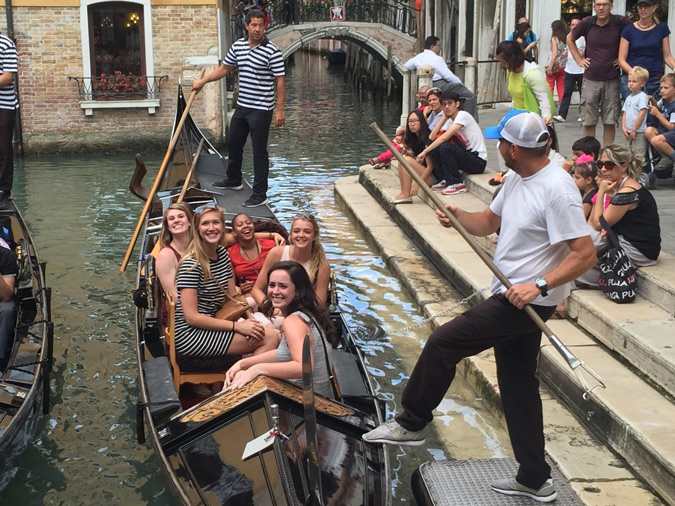 Good afternoon Hawkeye fans!
Boy oh boy I have so much to tell you, starting with our bus ride to Venice where we all caught up on lots of sleep. On our way to the Venice port, we stopped for lunch and grabbed some pasta and pizza (it was delicious). We then headed to our boat that took us to the island of Venice.
Our day in Venice began with a walking tour around the city, where we visited St. Mark's Basilica and continued on to tour the streets. On our tour we were told about an annual Venetian carnival, so a bunch of us decided to get in the spirit and purchase a few hand-made masquerade masks, which were beautiful.
After finishing up our walking tour, we hopped onto a few gondolas for some views from the water, which Alexa Kastanek will tell you about next!
Thanks Hawkeye fans!
Christina Buttenham
Sophomore Forward
Hey Hawkeye fans!
Today was a great day in Venice! After the first part of the day we took a gondola ride. It was just like you see in the movies except instead of a gondolier singing, we had our lovely Hailey Schneden sing for us! Boating through the streets of Venice was something new and exciting. It was neat to see the water where we would normally have streets and boats where we would have cars.
After going through the city we headed to the port where a boat picked us up to go to our hotel. The boat ride was amazing, we saw a great view of the Venice skyline. Our hotel, the J.W. Marriott, is on its own island and we are loving it! Once we got checked into our rooms we changed and had an amazing dinner on the island. Now we're are going to explore, hope you all are enjoying the blogs and keeping up on social media!
Alexa Kastanek
Junior Guard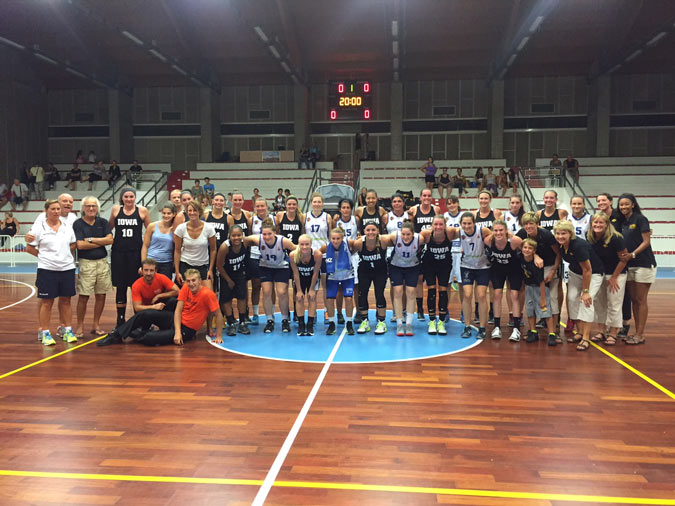 Hello from Venice!
We just finished day seven of our Italian Tour! We started the day off a little different today. Instead of having something planned, we had the morning and early afternoon to do as we pleased. Some of us took the boat back over to the city to do some more shopping and sightseeing in Venice. Others stayed back at the hotel to catch up on some sleep or enjoy the pool and sunshine. We ate our pregame meal at the Marriott, before leaving the island to travel to our game.
Our second game of the trip was in Trieste. It was about a two hour bus ride from Venice. We played Asd Pallacanestro Muggia. The game resulted in about a 40-point win. Coach Bluder keeps reminding us that each of these games is an opportunity to get better. That is the mindset we are bringing into each one.
Playing in these games makes me that much more excited for season to start. I can't wait to be back in Carver-Hawkeye Arena in November playing in front of the best fans in the country!
This has been an incredible experience so far! I couldn't imagine going on this trip and making these memories with any other group of people. Thank you all for your continued support of Iowa women's basketball. We hope to see you in Carver-Hawkeye Arena soon!
Whitney Jennings
Sophomore Guard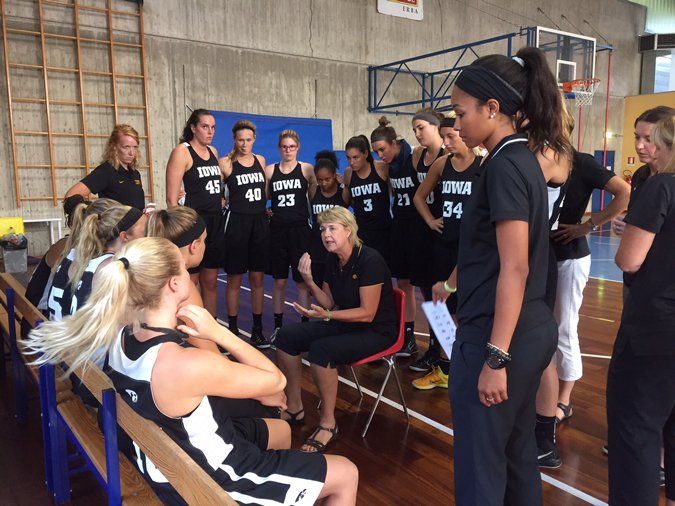 This morning the team had planned on going to the pool to lay out and swim after breakfast, but it was raining so we all hung out in our rooms instead. Later we packed up all our things and took a large boat back to the mainland and got on the bus. We took the bus from Venice to Verona. Along the way we made a stop at a place to eat similar to a truck stop, but had delicious food. We ate a scrumptious lunch and continued driving for about another hour to Verona.
We got to the facility, got dressed and ready for the game, and warmed up. We battled, but it didn't end in our favor. Even though we lost we learned a lot and got better as a team. I believe this experience and our practice days put us ahead of the pack going into the season.
After the game we had pizza and got on the bus to go to the hotel. Tomorrow we have a lot of fun stuff planned and are going to end our trip on a high note in Varenna.
Thanks for all the support and for following along. It means a lot.
Go Hawkeyes!
Chase Coley
Sophomore Center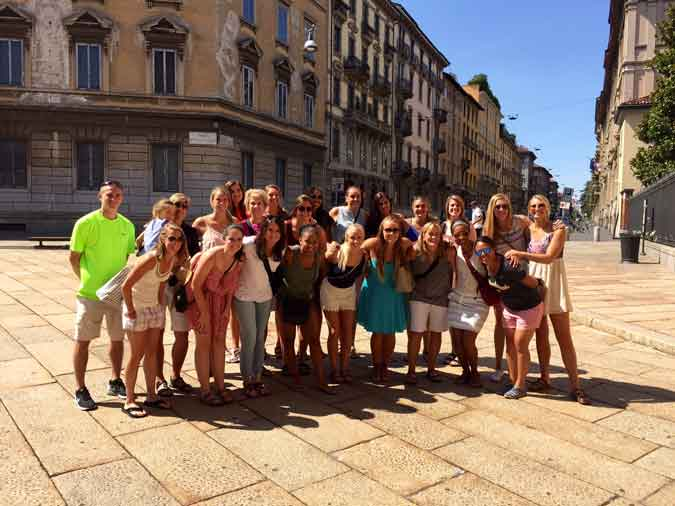 Ciao Hawkeye fans!
This morning we started off our day with a wonderful breakfast at our hotel in Varenna. It has a beautiful view of Lake Como and the Alps. We had the first half of the day to ourselves to shop, swim, or explore the unique streets of the city. This town feels a lot more relaxed than the previous cities we have visited, and there are a lot of fun local restaurants and little shops along the lake.
For the second half of the day we had an hour and a half bus ride to Milan, where we got to see Leonardo Di Vinchi's "The Last Supper" painting. I think a lot of the girls, myself included, where shocked to see how large the painting was. It is so cool to be able to see such a great work of art like that up close and personal.
After we saw the painting, we got the chance to experience all of the great shopping that Milan has to offer. I can defiantly see why it has been named the fashion city of Italy!
Tonight there is a little concert taking place right outside our hotel, so we plan to enjoy that and the last few days here in Italy! It's truly such an amazing experience and we are all very thankful for this opportunity.
Tagyn Larson
Freshman Forward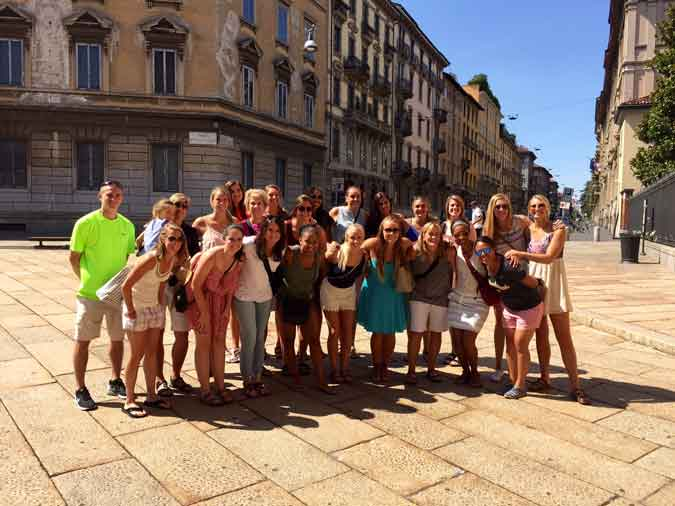 Hey Hawkeye fans!
On our final day in Verenna, Italy we started with a nice breakfast on the outside patio looking out over Lake Como. Afterward we took a boat ride across the lake over to the Bellagio where we were able to shop around for a few hours in jewelry shops, leather shops, and even bought some home made Italian pasta. During this time on our own we were also able to enjoy various lasagnas, spaghettis, and ravilois at a quiet lake side restaurant. We capped off our lunch with some delicious gelato near the dock, which we always seem to do on the trip.
After our boat ride back to Verenna in the afternoon we were able to shop in cute little boutiques selling handmade jewelry. Some of the Hawkeyes also enjoyed soaking up the sun at the pool at the hotel. Some also jumped off the docks into the lake near the beach. To finish off the day we had a nice dinner outside the hotel in the villiage of Verenna. It was so nice to be able to reflect on the trip as a team and to reminisce on all of our favorite cities and memories.
I know I can speak for everyone on the team when I say that we enjoyed every single part of this trip! Thank you all so much for your support throughout the years and for this trip. It has been awesome to bond with the team in Italy. I can't wait to get back to Iowa and start my senior year.
Thank you again Hawkeye fans for making the experience at the University of Iowa such a remarkable one.
Ciao!
Nicole Smith
Senior Center