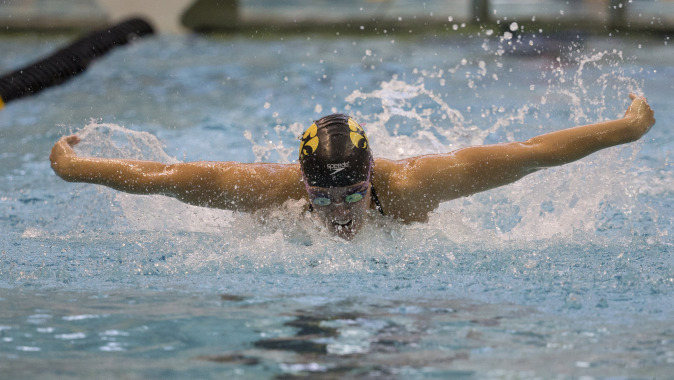 November 4, 2014
IOWA CITY, Iowa — University of Iowa sophomore Emma Sougstad has been named the Big Ten Swimmer of the Week, the league announced Tuesday. Sougstad earned the accolade after posting a pair of NCAA `B' cut times in the dual against Minnesota on Oct. 31.
"Emma had a great meet," said UI head coach Marc Long. "To be able to go on the road and swim some outstanding times is really impressive for this early in the season. She just keeps developing and getting better and better. Like the rest of the team, we're focusing on the rest of the year and looking forward from here," said Long.
The Forest City, Iowa, native swam four events against the Gophers, winning three events, and finishing third in the 400-yard freestyle relay.
In the 100-yard breaststroke, Sougstad took the top time, touching out in a season-best 1:01.28. The time was fast enough for an NCAA `B' cut. She followed it up with a victory in the 200-yard breaststroke, finishing with a second NCAA `B' cut time of 2:15.66, more than five seconds ahead of the second-place finisher.
The Swimmer of the Week honor is the first of Sougstad's career. Last season, she was selected as the Big Ten Freshman of the Week on Oct. 1. Sougstad is the first Hawkeye to earn the Swimmer of the Week accolade since Becky Stoughton received the award on Dec. 11, 2013.
The Hawkeyes return to action Dec. 5-7, hosting the Hawkeye Invitational at the Campus Recreation and Wellness Center Pool in Iowa City.