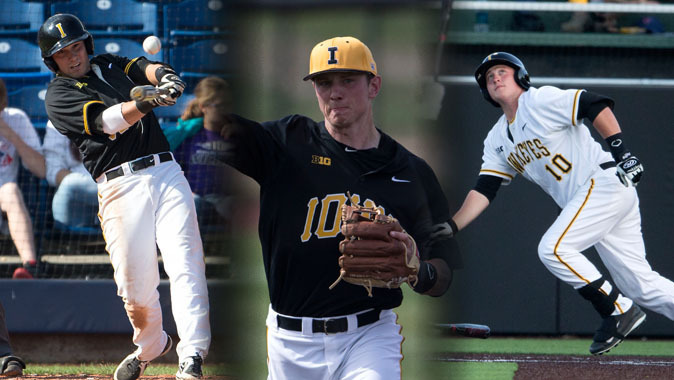 Feb. 12, 2015
Game Notes — at Snowbird Baseball Classic (Feb. 13-15)

Game 1 vs. Kansas State
Date | Time
Friday, Feb. 13 | 2 p.m. (CT) | Charlotte Sports Park
Pitching Matchup
IOWA:Jr., RHP, Tyler Peyton (5-1, 4.86 ERA) vs.
KSU: RS So., RHP, Nate Griep (3-7, 4.66 ERA)
Game 2 vs. Saint Louis
Date | Time
Saturday, Feb. 14 | 9:30 a.m. (CT) | North Charlotte Regional Park
Pitching Matchup
IOWA:Jr., RHP, Blake Hickman (2-2, 3.93 ERA) vs.
SLU: So., RHP Zach Girrens (1-4, 4.88 ERA)
Game 3 vs. George Mason
Date | Time
Sunday, Feb. 15 | 10 a.m. (CT) | South County Regional Park
Pitching Matchup
IOWA: Jr., RHP, Calvin Mathews (3-3, 2.72 ERA) vs.
GMU: Sr., LHP Jake Kalish (2-1, 3.03 ERA)
THIS WEEK
The University of Iowa baseball team opens the 2015 season at the Snowbird Baseball Classic from Feb. 13-15 in Port Charlotte, Florida. The Hawkeyes face Kansas State on Feb. 13 at Charlotte Sports Park at 2 p.m. (CT), Saint Louis on Feb. 14 at 9:30 a.m. at North Central Regional Park, and George Mason on Feb. 15 at 10 a.m. at South County Regional Park.
GAME LOCATIONS
Friday's game will be played at the Charlotte Sports Park, the spring training facility of the Tampa Bay Rays. It is located at 2300 El Jobean Road in Port Charlotte, Florida. Saturday's game will be held at North Central Regional Park (1185 O'Donnell Blvd., Port Charlotte, FL) and Sunday's game will be at South County Regional Park (670 Cooper Street, Punta Gorda, FL).
GAME COVERAGE
Zach Mackey will provide play-by-play coverage for all three games of the Snowbird Baseball Classic via Hawkeye All-Access on hawkeyesports.com. Fans fan also follow every game with live stats (GameTracker) on hawkeyesports.com and live updates are also available on Twitter: @UIBaseball.
SCOUTING KANSAS STATE
? The Wildcats have 14 returners on their 2015 roster to go along with nine freshmen and 13 transfers. Kansas State went 25-30 last season and 5-19 in Big 12 action. ? Kansas State returns a pair of starting pitchers in right-handers Levi MaVorhis and Nate Griep. MaVorhis led the Wildcats with six wins, going 6-7 with a 3.95 ERA in 2014. Griep was 3-7 with a 4.66 ERA. Griep is the projected starter against the Hawkeyes on Friday. ? The Wildcats are led by 12th-year head coach Brad Hill, who has 781 career wins. Andy Sawyers is in his first season as associate head coach.
SCOUTING SAINT LOUIS
? Saint Louis received six of 13 first-place votes as it was selected as the preseason favorite to claim the Atlantic 10 Conference regular season title. The Billikens have won the championship in each of the last three seasons. ? The Billikens are receiving votes in the Collegiate Baseball national poll. Saint Louis went 34-21-1 last season and 18-7-1 in the Atlantic 10. ? Saint Louis has seven position starters and 10 pitchers returning in 2015, including first-team All-Atlantic 10 honorees Mike Vigliarolo (1B) and Matt Eckelman (P). Bigliarolo hit .328 with a .496 slugging percentage last season, and he was second in the conference with seven home runs. Eckelman went 7-2 with a 1.63 ERA with nine saves last season. Eckelman, who was an all-star in the Cape Cod League last summer, is a preseason All-American by Collegiate Baseball. ? The Billikens will start sophomore RHP Zach Girrens on Saturday. Girrens was 1-4 with a 4.88 ERA as a freshman.
SCOUTING GEORGE MASON
? George Mason was predicted to finish third in the Atlantic 10 Conference preseason coaches poll. The Patriots received one first-place vote. ? The Patriots played in the NCAA Regionals in 2014 after winning the Atlantic 10 Conference Tournament in their first season as a league member. George Mason went 34-22 last season, but it returns just three position starters and one weekend pitcher. ? George Mason returns its top two hitters in shortstop Brandon Gum (.307, 62 H, 36 R, 27 RBIs) and outfielder Luke Willis (.302, 70 H, 37 R, 34 RBIs, 21 SB). ? RHP John Williams is the Patriots' lone starting pitcher returning. He went 5-2 with a 2.82 ERA in 10 starts with 30 strikeouts to 19 walks. Sophomore RHP Tyler Zombro was a member of the All A-10 Rookie team after making 20 appearances and sporting a 1.91 ERA. Senior LHP Jake Kalish (2-1, 3.03 ERA) is slated to get the start against Iowa.
THE SERIES
? Iowa is 7-12 all-time against Kansas State, which includes a three-game Wildcat sweep last season in Manhattan. K-State has won 5-of-6 meetings the last two seasons. ? The Hawkeyes are 10-3 all-time against Saint Louis. Saturday's meeting is the first in the series since 1999 when the Billikens won both contests. ? Iowa is 0-1 all-time against George Mason, falling to the Patriots, 12-3, at the Coastal Carolina Tournament in Myrtle Beach, South Carolina.
B1G PLAYERS TO WATCH
Two seniors – Jake Mangler and Eric Toole — and junior Tyler Peyton have been named to the Big Ten Players to Watch List. Mangler and Toole were All-Big Ten selections as juniors, while Peyton was a two-way player as a first baseman and Iowa's Sunday starter on the mound.
PRESEASON ALL-BIG TEN
Seniors Jake Mangler, Nick Day, and Dan Potempa have been named preseason second-team All-Big Ten by College Sports Madness.
TEAM CAPTAINS
A trio of seniors — Jake Mangler, Eric Toole, and Kris Goodman — and junior Tyler Radtke have been voted as team captains for the 2015 Hawkeyes. It is the second-straight year Mangler and Toole have been captains.
RETURNEES BY THE NUMBERS
Iowa's offense brings back the bulk of its lineup and overall production in 2015. The Hawkeye offense has 70 percent of their runs (236 of 337), 72.3 percent of hits (400 of 553), 75 percent of doubles (63 of 84), and 74.8 percent of the RBIs (226 of 302) returning. The roster has 13 of its 23 home runs returning. On the mound, Iowa returns hurlers who accounted for 76 percent of the wins (23 of 30), threw 78.4 percent of the innings (364 2/3 of 465), notched 78.9 percent of the strikeouts (266 of 337), and accounted for 8-of-9 saves.
MOVING UP THE RECORD BOOKS
? Junior Eric Toole has 43 career steals — one shy of moving into the top-10 in Iowa history in career steals. Toole's brother, Justin, and Eric Martinez are tied for 10th with 44 swipes. ? Junior Nick Hibbing has made 57 career appearances as a Hawkeye — the eighth-most in school history. Hibbing is also tied for sixth all-time with nine career saves. ? Toole ranks sixth in UI history in singles with 143 base hits.
PEYTON RISES ON MOUND
After posting a 5-1 record with a 4.86 ERA in 14 starts as Iowa's Sunday starter as a sophomore, junior RHP Tyler Peyton finds himself at the top of Iowa's rotation heading into the 2015 season. The Grimes, Iowa, native will make his first career Friday start against Kansas State. Peyton logged 76 innings in 2014 — the second-most on the team — where he had 45 strikeouts to 33 walks. He registered five quality starts and pitched into the seventh inning six times.
HICKMAN = FULL-TIME RHP
For the first time in Blake Hickman's baseball career, he is solely a pitcher. The right-hander enters the 2015 season as Iowa's Saturday starter, a season after going 2-2 with a 3.93 ERA. Hickman transitioned to the mound midway through the season and ended up starting five games in 2014. He pitched 34 1/3 innings and made 17 appearances, where he had 34 strikeouts to 23 walks and held opponents to a .234 average. Hickman pitched last summer in the prestigious Cape Cod League, where he went 3-4 with a 4.91 ERA over nine starts.
ROSCETTI TAKES OVER AT SHORT
Junior Nick Roscetti takes over as Iowa's every day shortstop, replacing Jake Yacinich, who was an eighth round pick in the 2014 MLB Draft. Roscetti has starting experience, making 15 starts as a freshman. He posted a .263 average over his first two seasons with 10 RBIs and 20 runs.
INFIELD RETURNEES
? Iowa has starters back at third base (Nick Day), second base (Jake Mangler), first base (Tyler Peyton), and behind the plate (Jimmy Frankos). Redshirt junior Taylor Kaufman will get the nod at first base when Peyton pitches, and junior Nick Roscetti is the guy at shortstop. ? Mangler and Day were second-team All-Big Ten selections last season. Mangler hit .315 with 38 runs and 45 RBIs — a team-high. Day scored 36 runs as the team's nine-hole hitter and hit .283.
OUTFIELD OPTIONS
? Iowa's starting left and center fielders — Kris Goodman and Eric Toole — have combined to start 247 games in their Hawkeye careers. Toole is a career .309 hitter and has 43 career steals; Goodman is a .262 career hitter with five home runs and 57 RBIs. ? Joel Booker is the projected starter in right field. Last season, the North Carolina native was an honorable mention All-American at Indian Hills Community College after hitting .403 with 75 hits, 58 runs, seven triples, and 61 RBIs. He went 24-of-26 on the base paths. ? The Hawkeyes also have options in junior-college transfer Eric Schenck-Joblinske, and redshirt sophomore Devin Picket. Schenck-Joblinske was an honorable mention all-region honoree at Kirkwood Community College in 2014.
RELIEF CORPS
? Junior RHP Tyler Radtke returns as Iowa's closer after going 2-2 with a 3.89 ERA in 23 appearances in 2014. The former walk-on tied for the team-lead with three saves and struck out 38 (to 15 walks) in 37 innings. ? Senior RHP Nick Hibbing went 3-3 with a 4.74 ERA in 2014 with a team-high 24 appearances. Hibbing notched three saves and threw 43 2/3 innings as a junior. ? Junior college transfer Luke Vandermaten gives Iowa another late-inning option in 2015. Last season, the right-hander ranked second nationally with 11 saves at Iowa Central Community College. He went 5-0 with a 1.07 ERA over 42 innings, where he had 44 strikeouts to nine walks en route to first-team all-region honors. ? Redshirt sophomore Jared Mandel emerged as a top relief option in 2014, going 2-1 with a 2.70 ERA in 15 appearances. Mandel was the pitcher of record in Iowa's Big Ten Tournament victory over Minnesota, logging three scoreless innings.
ROSTER BREAKDOWN
? Of Iowa's 35-man roster, 23 are upperclassmen. The Hawkeyes roster features seven freshman, five sophomores, 14 juniors, and nine seniors. ? Iowa has 17 native Iowans on the 2015 roster — the most of any state. Eleven players hail from Illinois. ? The Hawkeyes' roster includes players ranging from California to Florida to Canada to North Carolina. ? Iowa boasts three sets of high school teammates on the 2015 roster: Matt Allen and Tyler Radtke — Stevenson High School in Lincolnshire, Ill.; Brandon Shulista and Nick Day — Solon High School in Solon, Iowa; Josh Martsching and Calvin Mathews — Davis County High School in Bloomfield, Iowa. ? Four current Hawkeyes — Luke Vandermaten, Brandon Shulista, Tyler Peyton, and Dan Potempa — played together at Iowa Central Community College in Fort Dodge, Iowa. ? The Hawkeyes return 17 letterwinners, seven positional starters plus the designated hitter, 2/3 of the starting rotation and nine total pitchers.
2 JOIN IOWA COACHING STAFF
Iowa added a pair of new additions to the 2015 coaching staff. Former Major Leaguer Jeff Clement has joined the Hawkeyes as a volunteer assistant coach, while Desi Druschel takes over as the director of baseball operations.
B1G TITLE – 25-YEAR ANNIVERSARY
The 2015 season is the 25th anniversary of the 1990 Iowa baseball team that posted a 22-6 league record en route to the Big Ten regular season championship. Iowa will hold a reunion and recognize the 1990 team during the final home stand May 8-10 at Duane Banks Field.
IOWA SIGNS TOP CLASS IN THE B1G
The Hawkeyes 13-player class of 2016 is ranked as the best recruiting class in the Big Ten and the 40th-best nationally by Perfect Game. The class consists of Cole Baker (6-4, 215, RHP, Grimes Iowa/Dallas Center Grimes), Mitch Boe (5-10, 160, IF, Naperville, Ill./Joilet Catholic), Chris Comito, Jr. (6-5, 220, RHP, Norwalk, Iowa/Norwalk), Zach Daniels (5-11, 150, RHP/IF, Robins, Iowa/Cedar Rapids Kennedy), Dametri Evans (6-0, 205, C, Hemet, Calif./Tahquitz), Luke Farley (6-1, 190, OF, Denver, Iowa/Waterloo Columbus), Zach Fricke (5-11, 200, C/RHP, Waterloo, Iowa/NIACC), Mason McCoy (6-0, 170, IF, Washington, Ill./Illinois Central CC), Cole McDonald (6-0, 175, RHP, New Hampton, Iowa/New Hampton), Robert Neustrom (6-3, 195, OF, Sioux City, Iowa/Sioux City North), Daniel Perry (6-2, 180, IF, Susanville, Calif./Lassen), Shane Ritter (6-3, 180, RHP, Plainfield, Ill./Plainfield South), and Kyle Shimp (6-6, 200, LHP, Yorkville, Ill./Yorkville).
FOLLOW THE HAWKEYES
Iowa baseball fans can follow the Hawkeyes on Facebook by going to facebook.com/iowabaseball. Fans can also follow on Twitter @UIBaseball.
UP NEXT
The Hawkeyes return to action in Little Rock, Arkansas, from Feb. 20-22. Iowa will face UALR on Feb. 20 and Feb. 22 with a game against Missouri State scheduled for Feb. 21.