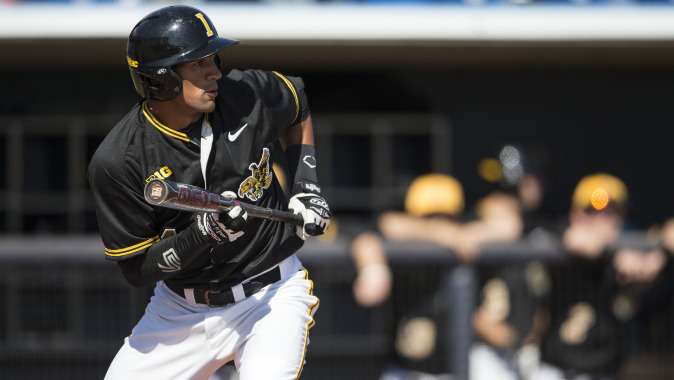 Feb. 26, 2015
Game Notes — vs. Cincinnati (Feb. 27-March 1)

Iowa (4-1) vs. Cincinnati (1-6)
Dates
Feb. 27-March 1, 2015
Location
Emerson, Ga. | Perfect Game Park at LakePoint
Statistics
Cincinnati | IOWA
Game 1
Date | Time
Friday, Feb. 27 | 12 p.m. (CT)
Pitching Matchup
IOWA:Jr., RHP, Tyler Peyton (1-0, 1.80 ERA) vs.
CINCY: So., RHP, Andrew Zellner (1-0, 1.35 ERA)
Game 2
Date | Time
Saturday, Feb. 28 | 5 p.m. (CT)
Pitching Matchup
IOWA:Jr., RHP, Blake Hickman (0-0, 2.45 ERA) vs.
CINCY: Fr., LHP Dalton Lehnen (0-1, 16.88 ERA)
Game 3
Date | Time
Sunday, March 1 | 11 a.m. (CT)
Pitching Matchup
IOWA: Jr., RHP, Calvin Mathews (1-0, 2.57 ERA) vs.
CINCY: Fr., LHP Doug Lowe II (0-0, 0.00 ERA)
THIS WEEK
Due to the impending snow storm in North Carolina, the University of Iowa baseball team heads to Emerson, Georgia, for a three-game weekend series against Cincinnati. The series will be held at Perfect Game Park at LakePoint beginning at 12 p.m. (CT) Friday, 5 p.m. Saturday, and noon Sunday.
GAME COVERAGE
Zach Mackey will provide play-by-play and Ray Gilmore will serve as the color commentator for all three games in Georgia via the subscription-based service Hawkeye All-Access on hawkeyesports.com. Fans fan also follow every game with live stats (GameTracker) on hawkeyesports.com and live updates are also available on Twitter: @UIBaseball.
QUICK HITTERS
? Iowa has won four-straight games since dropping its season opener to Kansas State. The Hawkeyes are 4-1 for the second-straight season.
? The Hawkeyes have posted season-high hit totals in each of the past three games — nine vs. George Mason, 10 vs. UALR, and 12 vs. Missouri State.
? Iowa has come from behind to win two of its four victories this season. The Hawkeyes trailed Missouri State, 4-1, through four innings, before rallying to win 6-5.
? The Hawkeyes have allowed one earned run in three of five games this season. Iowa has a 2.20 team ERA, which is third-best in the Big Ten.
? Iowa didn't commit an error during its 2-0 weekend in Texas, improving the Hawkeyes' fielding percentage to .978 this season — the fourth-best percentage in the conference.
SCOUTING CINCINNATI
? The Bearcats bring a 1-6 overall record into the weekend. Cincinnati opened the season with a 3-1 victory over Miami (Ohio), but has dropped six-straight, three at Mississippi State and three at Santa Clara.
? Cincinnati is hitting .256 as a team with preseason All-American and Golden Spikes Watch List selection Ian Happ leading the way with a .567 average (17-for-30). The infielder/outfielder has six extra base hits, including two home runs, and has five RBIs. Ryan Noda (.440, 2 HR, 9 RBIs) and Connor McVey (.333) are both hitting over .300 for the Bearcats.
? The Bearcats' pitching has struggled early in the season, posting a 9.95 ERA through seven games. Cincinnati has allowed 71 runs (63 earned) and 83 hits over 57 innings and has 10 more walks than strikeouts (45-35). Opponents are hitting .350 against the UC staff.
? Cincinnati will throw sophomore RHP Andrew Zellner (1-0, 1.35 ERA) on Friday, freshman LHP Dalton Lehnen (0-1, 16.88 ERA) on Saturday, and freshman LHP Doug Lowe II (0-0, 0.00 ERA) on Sunday.
THE SERIES
? Iowa is 0-1 all-time against Cincinnati. It is the first meeting between the two schools since 1929 when the Bearcats claimed a 7-6 victory.
WALK-OFF WINNER
Junior Tyler Peyton delivered a game-winning RBI single in the bottom of the ninth inning to send Iowa to a 6-5 victory over Missouri State on Feb. 21 in Texas. The win was Iowa's second come-from-behind victory this season; the Hawkeyes trailed the Bears, 4-1, through four innings.
GOODMAN GOES YARD
Senior Kris Goodman hit Iowa's first home run of the 2015 season, connecting on a solo blast in the Hawkeyes' 3-1 victory over UALR. Goodman now has six career home runs with five coming in the past two seasons.
100 X 4
With three more starts, senior Nick Day will become the fourth current Hawkeye to have logged 100 career starts, joining seniors Eric Toole (137), Jake Mangler (127), and Kris Goodman (121). Mangler has started 52-straight games at second base.
IOWA'S STARTING PITCHING…
? is 2-0 with a 2.02 ERA in five games this season. Iowa's three starters have logged 22 1/3 innings, giving up five earned runs in five games.
? has 17 strikeouts, but has issued 11 walks.
ON THE MOVE
Senior Eric Toole posted back-to-back games with two steals in wins over Saint Louis and George Mason. They were the seventh and eighth multiple steal games of his collegiate career.
MOVING UP THE RECORD BOOKS
? Junior Eric Toole has 47 career steals, which are tied for the ninth most in program history with Curtis Reed (1991-94). Travis Sweet and Tom Steinmetz are tied for seventh with 49 steals.
? Junior Nick Hibbing has made 60 career appearances as a Hawkeye — the fifth-most in school history. Tom DeJarld (1987-90) is fourth with 61 appearances.
? Hibbing is also tied for sixth all-time with nine career saves.
? Toole ranks sixth in UI history in singles with 147 base hits. His brother, Justin Toole, is fifth with 148 career singles.
JUNIOR Tyler Peyton…
? posted his first victory of the season, allowing one run on three hits in a 3-1 win over UALR. He had five strikeouts, but four walks.
? is 6-1 in his Iowa career with a 4.50 ERA in 16 starts. Peyton has five quality starts and has pitching into the seventh inning six times in his career.
? is hitting a team-best .545 (6-for-11), collecting hits in four-straight games. He went 3-for-4 with the game-winning RBI single in the bottom of the ninth inning in a 6-5 win over Missouri State. It was Peyton's third career game with three or more hits.
JUNIOR Blake Hickman…
? is 0-0 with a 2.45 ERA in two starts. He went a career-long 5 2/3 innings against Saint Louis on Feb. 14, but wasn't involved in the decision in an eventual 3-1 Iowa win.
? has a 2-2 career record with a 3.67 ERA over 41 2/3 innings in 19 appearances, including seven starts. He has 36 strikeouts against 28 walks.
? is focusing solely on pitching for the first time in his baseball career. He transitioned to the mound midway through 2014 season.
? pitched in the Cape Cod League in the summer of 2014, posting a 3-4 record with a 4.91 ERA in nine starts.
JUNIOR Calvin Mathews…
? is Iowa's Sunday starter. He is 1-0 with a 2.57 ERA in two appearances (one start). He picked up the win against George Mason, allowing one run on three hits over five innings.
? was the Hawkeyes' Friday starter in 2014 before going down with a shoulder injury. He went 3-3 with a 2.72 ERA with 60 strikeouts to 20 walks. Six of his 11 starts were "quality" starts, and he allowed three or fewer runs in 10-of-11 starts.
? is 6-8 with a 3.45 ERA in 25 appearances (21 starts). He has logged 120 innings, allowing 103 hits and finishing with 92 strikeouts to 34 walks.
BULLPEN NOTABLES
? Three Iowa relievers — Nick Hibbing, Luke Vandermaten, and Tyler Radtke — have yet to yield a run in a combined eight appearances.
? Senior Tyler Radtke is 2-for-2 in save opportunities, allowing one hit in 1 1/3 innings. The right-hander is 5-of-6 in career save opportunities.
? Juniors Ryan Erickson (1-0, 1.80 ERA) and Connor Grant (1-1, 7.20 ERA) have both posted wins in relief. Grant threw the final three innings, allowing one run without giving up a hit against Missouri State.
IN-SEASON HONORS
? Freshman Austin Guzzo was named the Big Ten Freshman of the Week on Feb. 16 after having a strong collegiate debut in Iowa's 4-1 win over George Mason. The Canadian went 2-for-4 with a run and RBI and caught a pitching staff that limited the Patriots to four hits. He is the first Hawkeye to earn the honor since Sasha Kuebel in 2012.
#HELLERBALL
? Iowa won 30 games in UI head coach Rick Heller's first season in 2014 — the most wins by a first-year head coach in program history and the third 30-win campaign since 1993.
? The Hawkeyes advanced to and won a game in the Big Ten Tournament in 2014 — the program's first tournament victory since 2010.
? Under Heller, Duane Banks Field has been undergoing a transformation with AstroTurf installed in the infield and outfield, new outfield fences and the addition of a new video scoreboard.
? Iowa had five All-Big Ten selections, including the first first-team honoree since 2009. The Hawkeyes also had two first-team all-region selections.
B1G TITLE – 25-YEAR ANNIVERSARY
The 2015 season is the 25th anniversary of the 1990 Iowa baseball team that posted a 22-6 league record en route to the Big Ten regular season championship. Iowa will hold a reunion and recognize the 1990 team during the final home stand May 8-10 at Duane Banks Field.
SEASON TICKETS ARE ON SALE
Season tickets for the 2015 home schedule are on sale at hawkeyesports.com. Tickets are $75 for reserved and general admission and $40 for general admission youth tickets. There is also a "30-Block" season ticket, priced at $99, where tickets can be used at any game or combination of games. Single game tickets are $7 for adults and $3 for youth. Children ages five and under are admitted free.
FOLLOW THE HAWKEYES
Iowa baseball fans can follow the Hawkeyes on Facebook by going to facebook.com/iowabaseball. Fans can also follow on Twitter @UIBaseball.
UP NEXT
Iowa heads to Murfreesboro, Tennessee, for a three-game at Middle Tennessee State from March 6-8.