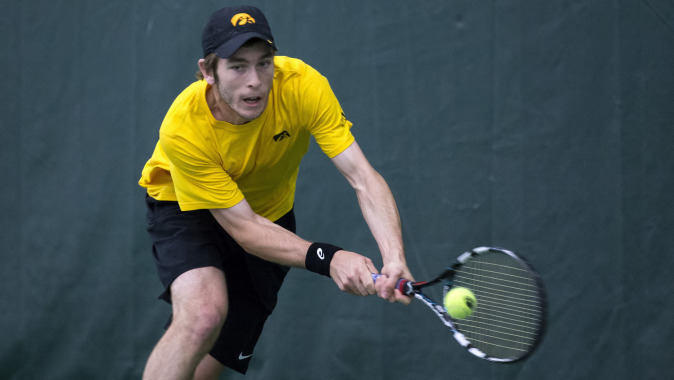 April 8, 2015
LINCOLN, Nebraska — Headlined by solid performances at No. 4 and No. 6 singles, the 72nd-ranked University of Iowa men's tennis team (12-6, 4-3) claimed a 4-2 victory over the Nebraska Cornhuskers at the Lincoln Racquet Club. The conference win aids in Iowa's pursuit of a higher seed at the Big Ten tournament beginning April 22.
"It was a big win for us today in a tough three-court building. We are the only team to beat Nebraska in its home building this spring. Dominic had a big win; he battled nerves and beat a good player. Lefteris also played a solid match from start to finish. We need performances from them like that going down the stretch," said UI head coach Ross Wilson.
With the Hawkeyes leading the match 3-2, Jake Jacoby stepped on the court with hopes to seal the victory for his team at No. 6 singles. The freshman matched up with Nebraska's Vasilis Stavropoulos. Jacoby took the first set 6-1 before wrapping it up with a 6-2 win in the second set. He has won five of his last six singles matches. As a result of Iowa winning the match, the doubles portion was abandoned.
At No. 4 singles, Josh Silverstein made quick work of Chris Hobgarski winning the match in straight sets, 6-1, 6-1. The Iowa freshman has won 13 of his last 15 singles matches. Junior Dominic Patrick was the first to put Iowa on the board registering a straight set win at the No. 2 position. Patrick won the first set over Marc Herrmann 6-4. He then edged out the Nebraska fourth position player in the second set with a narrow 7-5 victory.
Looking at a 2-2 tie, Lefteris Theodorou put the Hawkeyes ahead with a straight set victory, 7-6, 6-3, over the Cornhuskers' Linus Erhart.
Matt Hagan, ranked 112th nationally, fell in a close three-set match to Dusty Boyer, 6-7, 6-4, 6-7. At the No. 5 position Stieg Martens was defeated by Bradford Zitsch.
Iowa has a tough weekend ahead as it travels to Champaign, Illinois, Saturday for a battle with No. 3 Illinois at noon (CT) before an in-state trip to Evanston, Illinois, for another Big Ten opponent in No. 26 Northwestern on Sunday noon (CT).
No. 72 Iowa 4, Nebraska 2
Singles
1. Dusty Boyer (NEB) def. No. 112 Matt Hagan (UI): 7-6, 4-6, 7-6
2. Lefteris Theodorou (UI) def. Linus Erhart (NEB): 7-6, 6-3
3. Dominic Patrick (UI) def. Marc Herrmann (NEB): 6-4, 7-5
4. Josh Silverstein (UI) def. Chris Hobgarski (NEB): 6-1, 6-1
5. Bradford Zitsch (NEB) def. Stieg Martens (UI): 5-7, 6-3, 6-4
6. Jake Jacoby (UI) def. Vasilis Stavropoulos (NEB): 6-1, 6-2
Order of Finish: 3,5,1,4,2,6
Doubles
No Matches