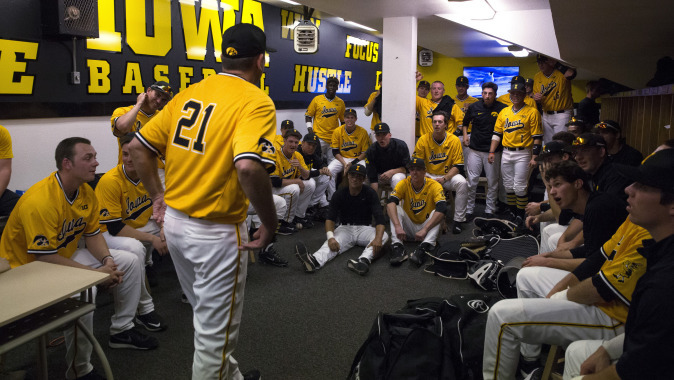 April 23, 2015
No. 25 Nebraska (30-13, 6-6) at No. 17 Iowa (27-11, 10-2)
Dates
April 24-26, 2015
Location
Iowa City, Iowa | Duane Banks Field
Game Notes
Iowa | Nebraska
Statistics
Nebraska | IOWA
Game 1
Date | Time
Friday, April 24 | 4:05 p.m. (CT)
Pitching Matchup
IOWA:Jr., RHP Tyler Peyton (4-3, 2.83 ERA) vs.
NEB: Sr., RHP, Chance Sinclair (5-5, 3.30 ERA)
Game 2
Date | Time
Saturday, April 25 | 3:05 p.m. (CT)
Pitching Matchup
IOWA:Jr., RHP Blake Hickman (6-1, 2.56 ERA) vs.
NEB: Sr., LHP Kyle Kubat (4-2, 2.19 ERA)
Game 3
Date | Time
Sunday, April 26 | 1 p.m. (CT)
Pitching Matchup
IOWA: Jr., RHP Calvin Mathews (3-1, 2.01 ERA) vs.
NEB: So., RHP Derek Burkamper (4-1, 3.65 ERA)
THIS WEEK
The 17th-ranked University of Iowa baseball team hosts No. 25 Nebraska for a three-game weekend series at Duane Banks Field. Friday's opener will begin at 4 p.m. (CT), game two will be at 3 p.m. Saturday, and the finale is set for 1 p.m. Sunday.
PROMOTIONS
? Friday is Elementary School Night.
? It's Sundae Sunday for the finale with the first 150 fans getting a free ice cream sundae in a mini Iowa baseball helmet.
GAME COVERAGE
? All three games of the series will be video streamed live on Hawkeye All-Access (subscription required).
? The series will be broadcast on KMJM throughout the weekend with Brent Balbinot and Steve Duncan on the call. All three games will also be available via the subscription-based service Hawkeye All-Access on hawkeyesports.com.
? Fans can also follow every game with live stats (GameTracker) on hawkeyesports.com and live updates are also available on Twitter: @UIBaseball.
QUICK HITTERS
? Iowa is off to its best start since 1990 when the Hawkeyes were 27-11 to start the season.
? The Hawkeyes are three wins shy of hitting the 30-win mark for the second straight season. Iowa hasn't accomplished that feat since the 1989 and 1990 seasons when it won 37 and 38 games, respectively.
? Iowa is 9-2 in its first 11 games at Banks Field this season. The Hawkeyes were .500 (10-10) at home in 2014.
? The Hawkeyes have won eight-straight series this season, including three three-game sweeps. Iowa hasn't had a losing weekend in 2015 — it went 2-2 during a four-game series at Houston Baptist.
? Iowa has at least 10 hits in four of the last five games. The Hawkeyes hit a season-best .347 during the three-game series against Northwestern and scored a season-high 13 runs on 16 hits in a 13-4 victory in game two.
? Senior Eric Toole became the ninth player in school history to join the 200-hit club in the series opener at Purdue (4/3). Toole ranks ninth in school history with 212 hits and is just 10 hits shy of moving into the top five all-time.
? Fifteen games have been decided two runs or less. Iowa is 10-5 in such contests.
? Iowa is 14-4 when playing error-free baseball and 22-7 when committing one or fewer errors. Iowa is 5-4 when committing two or more errors.
? The Hawkeyes are 23-1 when out-hitting their opponents and 20-3 when scoring first. Conversely, Iowa is 7-8 when the opponent scores first.
? Iowa has outscored opponents 26-10 in the first inning, and 55-29 over the first three innings.
SCOUTING NEBRASKA
? The Huskers are currently ranked 25th by Perfect Game and 26th by the USBWA.
? Nebraska is 30-13 overall and 6-6 in Big Ten play. In league action, the Huskers swept a series against Michigan, were swept at No. 17 Maryland, took 2-of-3 over Minnesota and lost 2-of-3 last weekend vs. Ohio State.
? The Huskers are 6-6 in road games and 4-3 at neutral site contests. Nebraska is 20-4 at home.
? Nebraska has a .276 team batting average with two regulars hitting over .300. Jake Schleppenbach is leading the team with a .322 average, while outfielder Ryan Boldt is hitting at a .321 clips with a team-best 51 hits and 37 runs. Iowa native Ben Miller is hitting .294 with 30 RBIs, while Blake Headley has a .277 average with 15 doubles, five triples, and 33 RBIs.
? The Huskers have a 2.73 team ERA, allowing 133 runs (119 earned) on 350 hits over 391 2/3 innings. Nebraska's staff is holding hitters to a .243 average and has 288 strikeouts against 108 walks. Husker closer Josh Roeder is 1-0 with a 2.25 ERA with 12 saves, striking out 23 in 16 innings.
? Iowa will face senior RHP Chance Sinclair (5-5, 3.30 ERA) on Friday, senior LHP Kyle Kubat (4-2, 2.19 ERA) on Saturday, and sophomore RHP Derek Burkamper (4-1, 3.65 ERA) on Sunday.
? Nebraska has three Iowans on its roster — Ben Miller (Clive, Iowa), Derek Burkamper (Muscatine, Iowa), and Austin Christiansen (Cedar Rapids, Iowa).
THE SERIES
? The Huskers lead the all-time series over Iowa, 17-13. This is the third-straight season Nebraska has traveled to Iowa City.
? Iowa won 2-of-3 games to claim the series to open Big Ten play last season. The Hawkeyes rallied in the ninth inning, scoring two runs off three hits against Nebraska closer Josh Roeder to post a 2-1 victory in the opener before falling 5-1 in game two. Iowa won the series with an 8-4 victory in the finale. It was Iowa's first series win over the Huskers since they joined the Big Ten.
LAST SEASON VS. NEBRASKA
? Dan Potempa hit .727 (8-for-11) with three RBIs in the three-game series en route to Big Ten Player of the Week honors.
? Calvin Mathews pitched eight innings of six-hit, one-run ball in the series opener, fanning five to zero walks in a no-decision.
? Tyler Peyton allowed four runs on six hits over 6 1/3 innings in the finale, before Blake Hickman threw the final 2 1/3 innings, allowing a single hit to pick up the victory.
? Nebraska starter Chance Sinclair allowed one unearned run and gave up nine hits in seven innings in a game two victory.
TOP-10 TOOLE
Senior outfielder Eric Toole laid out to make a diving catch in the left center field gap to rob Northwestern's Kyle Ruchim of a leadoff double in the April 17 series opener at Banks Field. Toole's catch was tabbed as the No. 3 play of the day on SportsCenter's Top-10 plays that evening.
IF YOU WIN, THEY WILL COME
The Hawkeyes drew 3,549 fans in two days in the series against Northwestern, including a season-high 1,961 in the April 18 doubleheader. Iowa drew 1,588 fans for Friday's series opener. Iowa had surpassed 1,000 fans at Banks Field just twice dating back to the 2011 season and eight times since 2007.
EARNING HIS KEEP ON FRIDAYS
Since Big Ten play commenced, junior Tyler Peyton has been hitting and pitching for himself on Friday nights… and quite well. Peyton is 2-1 with a 2.51 ERA in four conference starts, allowing nine runs (eight earned) on 21 hits over 28 2/3 innings. He opened Big Ten play with 14 1/3 innings of shutout ball. Offensively, Peyton is hitting .357 (5-of-14) with one run and one RBI when playing both ways. He drove in the go-head run against No. 17 Indiana and went 3-for-5 in the opener at Purdue.
ROSCETTI BLOSSOMS IN APRIL
After hitting .210 and driving in six runs over the first 1 1/2 months (21 games) of the season, junior Nick Roscetti's game has blossomed in April. The shortstop is hitting .392 with 20 hits, 10 runs, and eight RBIs. He has eight multi-hit games during the month, including a career-best 3-for-4, three run, three RBI performance at Purdue on April 3.
GOODMAN FILLS IN AT THIRD
Senior Kris Goodman has been more than adequate in filling in for All-Big Ten third baseman Nick Day over the last six games. Goodman has been nearly flawless at the hot corner, making just one error in 18 chances. At the plate, the Minnesota native is hitting .455 (10-of-22) with six RBIs and four extra base hits (three doubles, one home run) during the stretch.
WALKOFF WINNERS
The Hawkeyes posted three walkoff wins (Missouri State, Northwestern, Northern Illinois) this season, including two in the last four games. Senior Jake Mangler hit an RBI single to send Iowa to a 4-3 come-from-behind victory over Northwestern on April 17. Iowa rallied from a 3-2 ninth inning deficit against Northern Illinois before junior Eric Schenck-Joblinske drew a bases loaded walk to score the winning run in the 11th.
IOWA PITCHING SHINES
? The Hawkeyes have allowed two earned runs or fewer in 23 games this season.
? Iowa has used the same weekend rotation on the mound for the duration of the season. Tyler Peyton, Blake Hickman, and Calvin Mathews are a combined 13-5 with a 2.51 ERA with 110 strikeouts to 45 walks.
? Iowa's pitching staff has two shutouts this season (Cincinnati, Indiana) — the most for the program since 2007 (four shutouts).
? Peyton and Hickman combined to hold Indiana scoreless through the first 16 innings of its three-game series from March 27-29. The Hoosiers scored three earned runs in three games.
? Iowa's pitching staff held No. 16 Maryland to two runs on 10 hits over the final 18 innings of the three-game series on April 10-11 in College Park. The Hawkeyes held the Terrapins to 18 hits and had 22 strikeouts in three games.
? Iowa is fourth in the Big Ten in ERA (2.85), first in opposing batting average (.223), and second in saves (12). The Hawkeyes have allowed the fewest hits (275) and the third-fewest runs (128) in the conference.
? The Hawkeyes' starting pitchers are 13-5 with a 2.73 in 38 starts.
IN RELIEF
? The UI bullpen is 14-6 with a 2.98 ERA with 12 saves — the second-most in the Big Ten. Iowa's relievers are holding batters to a .217 average and have 122 strikeouts.
? Senior Nick Hibbing is 1-0 with a 1.59 ERA and two saves in four Big Ten appearances with 12 strikeouts against zero walks. Hibbing hasn't walked a batter since his first outing of the season against Kansas State. He struck out five in two of his last three appearances at Maryland and vs. Northwestern.
? Junior Luke Vandermaten didn't allow a run in his first 10 appearances and has only allowed one run in 15 appearances. The right-hander has allowed 15 hits over 23 innings, fanning 13. Vandermaten is 2-0 with a 0.39 ERA and has two saves — his second coming following a 2 1/3 inning outing at No. 16 Maryland, where he allowed one hit and struck out a career-high four. Where it stands, Vandermaten's ERA would be a school single-season record.
? Junior southpaw Ryan Erickson is 3-0 with a 1.96 ERA with one save and has 22 strikeouts — the most by a Hawkeye reliever — to 10 walks. Erickson has notched wins in each of his last two appearances (at Maryland, vs. Northwestern), throwing 4 1/3 shutout innings, allowing five hits and striking out four.
? Iowa's relief corps have converted 12-of-13 save opportunities this season with the 12 saves being the second most in the Big Ten. The UI school record is 15 saves in 2002. The Hawkeyes are 21-2 when leading after six, 22-1 leading after seven, and 23-1 leading after eight.
? The Hawkeyes currently have a 2.86 team ERA over 38 games. Iowa's school record is 3.63, set in 1971.
? Five pitchers combined to shutout Cincinnati, 5-0, in 13 innings on March 1. The five-some scattered seven hits and stuck out 12. It is the fifth-longest shutout game in the nation this season.
OFFENSIVE TIDBITS
? Junior Tyler Peyton is hitting a team-leading .396 in April with six doubles, eight runs , and seven RBIs. The utility player is slugging .521 in 13 games.
? Senior Jake Mangler had a career-high five RBIs on April 18 against Northwestern for his team-leading sixth multi-RBI game this season. Mangler is hitting .338 (23-of-68) with runners in scoring position with 17 two-out RBIs.
? Eric Toole is second in the Big Ten with 20 steals, converting 20-of-25 attempts. Toole leads the Hawkeyes in hits (50) and runs (27). He has reached safely in 36-of-38 games this season. Toole drew four walks in game two against Northwestern, the most by a Hawkeye since 2009 (T.J. Cataldo).
? Three Hawkeyes rank in the top-14 in the Big Ten in batting average in league games — Nick Roscetti (.417, third), Tyler Peyton (.386, ninth), and Eric Toole (.348, t14th).
100 X 4
Iowa has nearly 600 career starts among four regulars. Seniors Eric Toole (170), Jake Mangler (160), Kris Goodman (152), and Nick Day (118) have combined to start 595 games in their Hawkeye careers. Mangler has started 75 consecutive games at second base.
JUNIOR Tyler Peyton…
? shines as a two-way player for the Hawkeyes, going 4-3 with a 2.83 ERA with 46 strikeouts on the mound, while hitting .363 with 19 RBIs and 19 runs scored.
? has hit for himself during Big Ten play while pitching. He starts at first base when he is not pitching.
? has pitched at least five innings in nine of his 10 starts, allowing one or fewer runs in his first four and 6-of-10 starts… has four quality starts.
? went eight innings in back-to-back starts against No. 17 Indiana and Purdue… is 2-1 with a 2.51 ERA in four Big Ten starts… opened Big Ten play with 14 1/3 shutout innings.
? Threw his first career complete game shutout against No. 19 Indiana, scattering five hits, striking out five, and not walking a batter in a 2-0 victory on March 27, which resulted in him being selected as Big Ten Player of the Week by College Sports Madness on March 31. He threw eight innings, allowing one run on seven hits with seven strikeouts in a win at Purdue.
? notched a quality start, throwing 6 1/3 innings at Kansas, giving up three runs on nine hits in a 4-3 loss. He finished with a season high nine strikeouts and didn't walk a batter.
? posted wins over UALR (2/20) and at Middle Tennessee State (3/7). He struck out six batters in a no-decision in opener against Kansas State (2/13) and threw five shutout innings against Cincinnati (2/27).
? is 9-4 in his Iowa career with a 4.04 ERA in 23 starts. Peyton has eight quality starts and has pitched into the seventh inning eight times in his career.
JUNIOR Blake Hickman…
? is 6-1 with a 2.56 ERA in 10 starts. He has 38 strikeouts against 26 walks… has won all four Big Ten starts, going 4-0 with a 1.88 ERA over 28 2/3 innings, fanning 16, and diving up six runs on 17 hits. The four wins are tied for the league lead.
? has a team-best five quality starts and has thrown at least six innings in seven of his last eight starts. Hickman pitched into the seventh in three of last four starts.
? carried a no-hitter into the sixth inning against Cincinnati (2/28) and into the seventh (4/11) at No. 16 Maryland.
? notched his fourth-straight and sixth win, throwing seven shutout innings, scattering six hits and striking out three against Northwestern (4/18).
? tallied his fifth win, allowing one run on three hits over 6 2/3 innings at No. 16 Maryland (4/11)… was perfect through four innings and had a no-hitter through 6 2/3.
? notched fourth win at Purdue, allowing four runs on five hits over seven innings… tallied his third win with a career-best outing, holding No. 19 Indiana to one run on three hits over eight innings in a 5-1 victory on March 28. He finished with six strikeouts against three walks.
? pitched six innings in victories over Cincinnati (2/28) and Middle Tennessee (3/7).
? notched his first win of season in 5-1 victory over Cincinnati. He was perfect through three innings, striking out 7-of-10 batters to start the game, and had a no-hitter through six innings. He tied a career-high with nine strikeouts in the contest.
? has an 8-3 career record with a 3.06 ERA over 94 innings in 27 appearances, including 15 starts. He has 72 strikeouts against 49 walks.
? is focusing solely on pitching for the first time in his baseball career. He transitioned to the mound midway through 2014 season.
? pitched in the Cape Cod League in the summer of 2014, posting a 3-4 record with a 4.91 ERA in nine starts.
JUNIOR Calvin Mathews…
? is Iowa's Sunday starter. He is 3-1 with a 2.01 ERA in 10 appearances (nine starts). Mathews didn't allow an earned run in his first five starts and has allowed 10 earned runs in nine starts.
? Didn't allow more than five hits in any of his first eight starts… hasn't surrendered more than six hits in a game this season.
? Held No. 16 Maryland to one run on four hits over five innings in a no decision on April 12… threw a season-high six innings to tally his third victory, allowing one run on five hits with five strikeouts at Purdue (4/5).
? picked up his first win against George Mason (2/15), allowing one run on three hits over five innings.
? pitched 5 1/3 shutout innings, scattering four hits, in his second victory of the season at Houston Baptist (3/16).
? was 1-of-5 pitchers to combine for a 13-inning shutout in Iowa's 5-0 victory over Cincinnati on March 1. He scattered three hits over five innings and had five strikeouts.
? was the Hawkeyes' Friday starter in 2014 before going down with a shoulder injury. He went 3-3 with a 2.72 ERA with 60 strikeouts to 20 walks. Six of his 11 starts were "quality" starts, and he allowed three or fewer runs in 10-of-11 starts.
? is 8-9 with a 3.08 ERA in 33 appearances (29 starts). He has logged 157 2/3 innings, allowing 137 hits, striking out 113 strikeouts to 49 walks.
IN-SEASON HONORS
? Senior Eric Toole was selected as the Big Ten Player of the Week — his first career honor — on March 31 after hitting .500 and posting a .529 on-base and .563 slugging percentage in a 3-1 week. Toole scored four runs and had two RBIs.
? Junior Tyler Peyton was tabbed as the Big Ten Player of the Week by College Sports Madness on March 31 after tossing a complete game shutout in Iowa's 2-0 victory over No. 19 Indiana. Peyton also hit .353 with three RBIs and scored twice in four games. Peyton was also named a CB360 Week 7 Primetime Performer.
? Freshman Austin Guzzo was named the Big Ten Freshman of the Week on Feb. 16 after having a strong collegiate debut in Iowa's 4-1 win over George Mason. The Canadian went 2-for-4 with a run and RBI and caught a pitching staff that limited the Patriots to four hits. He is the first Hawkeye to earn the honor since Sasha Kuebel in 2012.
MOVING UP THE RECORD BOOKS
? Junior Eric Toole has 63 career steals, which are tied for the fifth-most in program history.
? Toole is tied for second in UI history with 183 career singles and is ninth all-time with 212 hits. Toole also ranks sixth in career at-bats (678).
? Junior Nick Hibbing has made 70 career appearances as a Hawkeye — the third-most in school history. He is also fifth all-time with 13 career saves.
#HELLERBALL
? The Hawkeyes debuted in the national rankings on March 30, coming in at No. 24 by Collegiate Baseball. It was Iowa's first ranking since 1990. Iowa has been ranked four straight weeks.
? Iowa climbed to as high as No. 14 on April 13 by Collegiate Baseball and was ranked in six polls. The Hawkeyes were ranked by all major polls after taking 2-of-3 games at No. 16 Maryland.
? Iowa posted its first victory over a ranked opponent since 2012 and swept a ranked opponent (No. 19 Indiana) for the first time since 1990.
? The Hawkeyes opened Big Ten play with consecutive sweeps, starting 6-0 for the first time in school history. Iowa is 8-1 in Big Ten play for first time since 1990.
? Iowa won 30 games in UI head coach Rick Heller's first season in 2014 — the most wins by a first-year head coach in program history and the third 30-win campaign since 1993.
? The Hawkeyes advanced to and won a game in the Big Ten Tournament in 2014 — the program's first tournament victory since 2010.
? Iowa has posted winning streaks of nine games (in 2015) and seven games (in 2014) — the longest streaks for the program since 2012.
? Under Heller, Duane Banks Field has been undergoing a transformation with AstroTurf installed in the infield and outfield, new outfield fences and the addition of a new video scoreboard.
? Iowa had five All-Big Ten selections, including the first first-team honoree since 2009. The Hawkeyes also had two first-team all-region selections.
B1G TITLE – 25-YEAR ANNIVERSARY
The 2015 season is the 25th anniversary of the 1990 Iowa baseball team that posted a 22-6 league record en route to the Big Ten regular season championship. Iowa will hold a reunion and recognize the 1990 team during the final home stand May 8-10 at Duane Banks Field.
FOLLOW THE HAWKEYES
Iowa baseball fans can follow the Hawkeyes on Facebook by going to facebook.com/iowabaseball. Fans can also follow on Twitter @UIBaseball.
UP NEXT
The Hawkeyes host Sacramento State on Tuesday for a doubleheader beginning at 1 p.m. Iowa hits the road for a three-game series at Michigan from May 1-3.