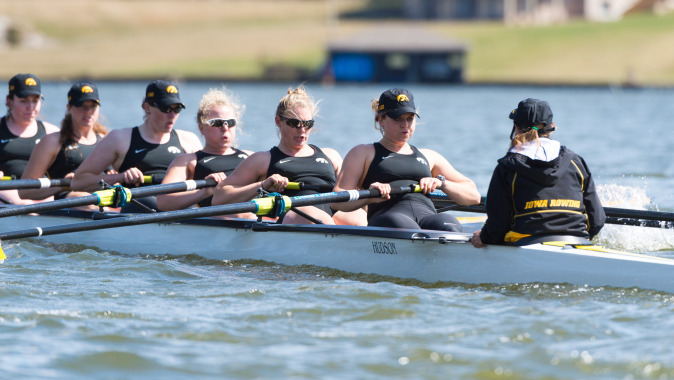 May 2, 2015
Full Results 

Read the May issue of Hawk Talk Monthly
Download your Iowa Hawkeye iPhone/ipad app!
Download your Iowa Hawkeye Android app!
Big Ten Network: Free Hawkeye Video
24 Hawkeyes to Watch
Download your Hawk Talk Monthly iOS app
Download your Hawk Talk Monthly android app




IOWA CITY, Iowa — The University of Iowa women's rowing team finished first in all but one of their races this morning. They raced against Tennessee and Central Florida in Oak Ridge, Tennessee. The Hawkeyes took advantage of the excellent racing conditions on Melton Hill Lake.
The morning started with the 1V8+ race. Iowa gained an early boat-length advantage over Tennessee and were stroke for stroke with UCF. The Hawkeyes and Knights continued to battle it out for the first half of the race. In the last 500 meters that the Knights found their lead and crossed the line ahead of the Hawkeyes.
The 2V8+ crews lined up next. UCF pushed their bow in front off the line but the Hawks pushed back to level before the 500-meter mark. The Knights and the Hawkeyes were close through the first 1,000 meters, when Iowa began to pull away. Iowa beat both Central Florida and Tennessee by open water.
The 1V4+ race followed, with Iowa in lane four. The Hawkeyes pulled ahead from the rest of the field early. Iowa continued to take boat stretch their lead throughout the race. The Hawkeyes finished 15.4 seconds ahead of the Lady Volunteers and 23.1 seconds ahead of the Knights.
In the 2V4+ race, the Hawkeyes had open water on both teams by the 500. They continued to pull away throughout the 2,000 meters course, finishing a full 13.3 seconds ahead of Tennessee and 19.6 ahead of UCF.
The last race of the morning was 1N8+. The Hawkeyes 1N8+ raced against both Tennessee's and Central Florida's 3V8+. The Hawkeyes gained a full boat length lead in 15 strokes and had an open water before the 250-meter mark. The crew expanded the lead throughout the race and crossed the finish line 44.4 seconds ahead of the Vols and 49.8 seconds ahead of the Knights from Central Florida.
The Hawkeyes return to the water at the Big Ten Championships on May 16 in Indianapolis at Eagle Creek Park. Races will begin at 5 P.m. (CT). BTN will televise the Big Ten Rowing Championships on Sunday, May 24 at 5 p.m. (CT).
Line Ups
1V8+: Nina Hendriks, Zoe Ribar, Morgan Grastorf, Lauren Subler, Jessica Streur, Cristy Hartman, Hannah Hawks, Beth Baustian, Katie Brown (coxswain)
2V8+: Alyssa Armstrong, Rebecca Thompson, Gabby Watson, Kat Tillman, Kaelynn Heiberg, Gemma Kerr, Claire Benschoter, Maddie Anglin, Destinee Gwee (coxswain)
1V4+: Sarah Powell, Victoria Bricker, Bec Clayton, Kasia Gniatczyk, Ellen Cranberg (coxswain)
2V4+: Mackenzie Norton, Sarah Rhoads, Erin Czupil, Brianna Achs, McKinzie Cowley (coxswain)
1N8+: Amy Schembari, Bianca DiBellonia, Baillie McCunn, Danielle Bender, Zora Marinkovich, Brenna Parke, Izzy Dolba, Ashley Duda, Emma Hindes (coxswain)