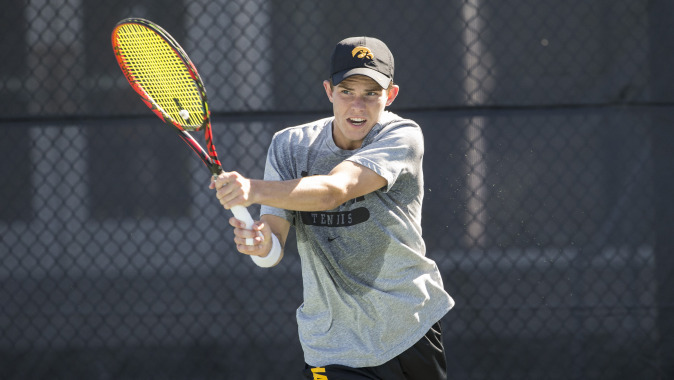 Oct. 17, 2015
FAYETTEVILLE, Ark. — The University of Iowa men's tennis doubles team of Nils Hallestrand and freshman Jonas Larsen lost their ITA Regional Championships quarterfinals match Saturday.
The Hawkeye duo fell, 8-4, to Lucas Gerch and Jurence Mendoza of Oklahoma State. The match was contested at the Dills Billingsley Tennis Center located on the campus of the University of Arkansas.
Each of the seven Hawkeyes also saw action in a consolation singles match. Lefteris Theodorou (6-4, 6-1), Robin Haden (6-1, 7-5), Dominic Patrick (6-1, 6-1), Jake Jacoby (6-0, 3-6, 10-5), and Larsen (6-2, 3-6, 10-8) each posted victories. Tony Leto (6-4, 6-2) and Hallestrand (6-0, 1-6, 10-6) fell in their singles match.
The Hawkeyes return to action Nov. 6-9, when they host the Big Ten Indoor Championships at the Hawkeye Tennis and Recreation Complex.