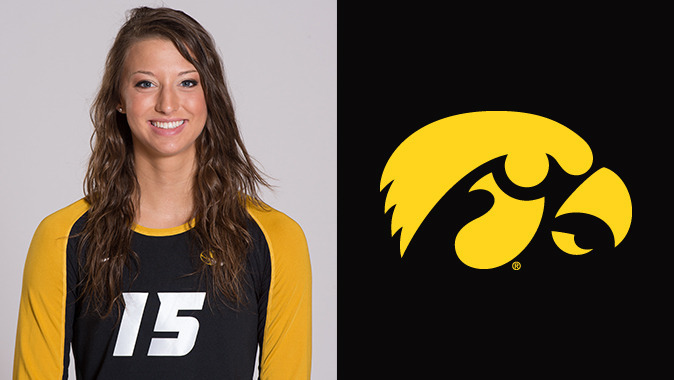 Jan. 7, 2016
IOWA CITY, Iowa — University of Iowa head volleyball coach Bond Shymansky announced Thursday the addition of Kasey Reuter to the 2016 roster. Reuter, an outside hitter from Sioux City, Iowa, transfers from Missouri and joins the Hawkeyes this spring with three seasons of eligibility remaining.
"Kasey was born and raised a Hawkeye, and we are so excited to have her back in our home state," said Shymansky. "She is an impact outside hitter, and she will certainly add another dimension of power and talent to our outstanding group of returning players."
Reuter appeared in 31 matches with 12 starts for the Tigers in 2014 before redshirting in 2015. As a freshman, Reuter recorded 124 kills, 28 blocks, and 65 digs. She registered her first career double-double against Ole Miss, setting career highs in both kills (15) and digs (12).
Reuter went to Missouri ranked 36th nationally on PrepVolleyball.com's Senior Aces List. The Iowa Senior All-Star led Hinton High School (head coach Jodi Cook) to a regional final in 2012 and a state qualifier in 2013. She earned second team all-state honors in 2012 and third team all-state recognition in 2011. Reuter was a two-time all-district selection (2011-12) and a three-time first team all-conference honoree (2010-13).
"As a Fab 50 recruit, Kasey will bring a level of success and drive to our gym," Shymansky said. "She is also a tremendous teammate and leader. She has a positive attitude and believes in her own capabilities. The Big Ten demands the best athletes, and our program demands the best people as well. We know we have a great person and player joining our family."
Shymansky has added five newcomers to the 2016 roster. Joining Reuter will be freshmen Emily Bushman (DS), Cali Hoye (OH), Alexa Ito (DS), and Sandra Mohr (MB).