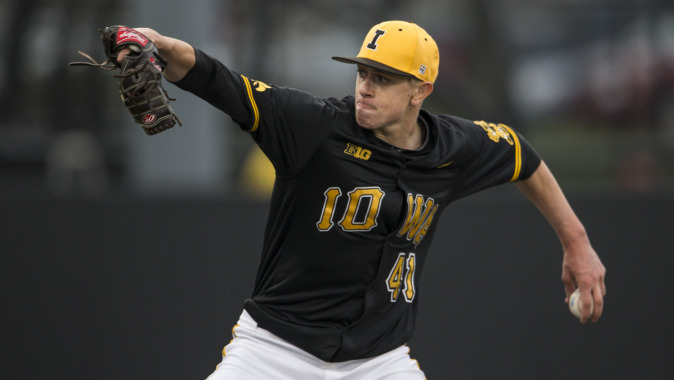 March 3, 2016
Iowa at Southern Illinois
Dates
March 4-6, 2016
Location
Carbondale, Ill. | Richard "Itchy" Jones Stadium
Game Notes
Iowa
Statistics
IOWA | Southern Illinois
Game 1
Date | Time
Friday, March 4 | 3 p.m. (CT)
Pitching Matchup
IOWA: So., RHP C.J. Eldred (1-0, 2.00 ERA) vs.
SIU: Jr., LHP Joey Marciano (1-1, 2.61 ERA)
Game 2
Date | Time
Saturday, March 5 | 2 p.m. (CT)
Pitching Matchup
IOWA: RS Jr., LHP Ryan Erickson (0-0, 6.00 ERA) vs.
SIU: Jr., RHP Chad Whitmer (1-0, 0.64 ERA)
Game 3
Date | Time
Sunday, March 6 | 1 p.m. (CT)
Pitching Matchup
IOWA: Sr., RHP Calvin Mathews (0-0, 2.25 ERA) vs.
SIU: Jr., RHP Michael Baird (1-1, 1.64 ERA)
THIS WEEK
The University of Iowa baseball team travels to Carbondale, Illinois, for a three-game series at Southern Illinois on March 4-6 at Richard "Itchy" Jones Stadium. Friday's series opener starts at 3 p.m. (CT) followed by 2 p.m. and 1 p.m. starts Saturday and Sunday.
GAME COVERAGE
? Iowa's live audio stream of the three games will be available on Hawkeye All-Access. Zach Mackey will be on the call. Steve Duncan or Ray Gilmore will provide color commentary.
? Live statistics will be available at www.hawkeyesports.com and fans can follow the action via Twitter/UIBaseball.
NOTABLES
? After hitting .144 during the opening three-game series at Dallas Baptist, the Hawkeyes rebounded to hit .321 as a team during the Snowbird Classic.
? Senior right-handed pitcher Tyler Peyton will not pitch this weekend due to forearm tightness. C.J. Eldred will make his first career Friday start.
? Iowa's bats awoke in the finale in Florida, scoring a season-high 15 runs on 19 hits. Eleven different Hawkeyes tallied a hit, nine had an RBI,and nine scored a run.
? The Hawkeyes' 15 runs were the most since the 2014 season when Iowa scored 17 in a 17-5 victory at Purdue.
? Iowa had six doubles against the Cougars — tied for the most in a single game in the Big Ten this season.
? The Hawkeyes were hitting .181 as a team following its 4-1 victory over Dartmouth on Feb. 27. Iowa's average rose 60 points courtesy of the 19 hit game against Chicago State.
? Freshman Luke Farley made the most of his first career start, finishing 2-for-3 with two runs and three RBIs against Chicago State. Farley earned the start as Iowa's designated hitter.
? Senior Joel Booker is 3-for-3 on the base paths in 2016, already 1/3 of the way to his 2015 total. The outfielder was 9-for-14 in stolen base attempts last season.
SOUTHERN ILLINOIS NOTABLES
? The Salukis are 5-3 overall and 4-0 in home games this season. Southern Illinois rallied for a 6-5 victory over SEMO on Wednesday night. Logan Blackfan finished 2-for-5 with five RBIs in the game, including a walk-off sacrifice fly in the bottom of the ninth inning.
? Southern Illinois swept a three-game series over Western Illinois from Feb. 26-28 in Carbondale. The Salukis out-scored the Leathernecks, 22-1, and posted back-to-back 9-0 shutouts in games two and three.
? Five SIU players are hitting above .300 and the Salukis have a .271 team batting average with 24 extra base hits and 39 RBIs. SIU averages 5.3 runs per game.
? Dyllin Mucha leads SIU with a .500 batting average, while Logan Blackfan is hitting .387 with 12 hits, five doubles, and a team-high 10 RBIs. Connor Kopach has a team-best seven runs.
? SIU will pitch junior LHP Joey Marciano (1-1, 2.61 ERA) on Friday, junior RHP Chad Whitmer (1-0, 0.64 ERA) on Saturday, and sophomore RHP Michael Baird (1-1, 1.64 ERA) on Sunday.
? The Salukis were picked to finish eighth in the eight-team Missouri Valley Conference, garnering 13 points. Southern Illinois, who went 12-46 last season and 6-15 in MVC play, has 24 returning letterwinners in 2016.
SERIES RECORD
? Iowa leads the all-time series over Southern Illinois, 5-4.
? It is the first meeting between the two schools since the 2009 season when the Salukis were victorious, 8-3, at the Stetson Invitational in DeLand, Fla. The Hawkeyes' last win over SIU came in 2006 by the score of 15-9 in San Antonio at the Notre Dame Tournament.
SENIORS LEAD CHARGE
Seniors Nick Roscetti and Joel Booker had career days in Iowa's 15-3 victory over Chicago State, posting the first four-hit games of their careers. Roscetti finished 4-for-6 with three doubles, three runs, and two RBIs, while Booker was 4-for-5 with two RBIs. Roscetti had six doubles in 2015 and 12 in his career leading into the 2016 season.
The duo is leading the team with a .333 batting average through six games. Roscetti has a team-high six runs, four RBIs, and three multi-hit games.
ELDRED EARNS NO. 1
Sophomore C.J. Eldred pitched the Hawkeyes to a 4-1 victory over Dartmouth in the first start of his collegiate career. The right-hander allowed one run on four hits over five innings, fanning five. Eldred is 1-0 with a 2.00 ERA in two appearances, allowing three runs (two earned) on six hits over nine innings.
BUILDING A BULLPEN
? The Hawkeyes have three relievers — sophomore Nick Allgeyer, senior Tyler Radtke, and freshman Zach Daniels — that have yet to allow a run in 2016 in two appearances apiece.
? Allgeyer tossed a career-high four innings, allowing one hit and striking out four against Dartmouth on Feb. 27 to earn his first save of the season (third of career). He has allowed one hit over five innings and fanned five.
? Radtke has allowed three hits in three innings, fanning four, and Daniels has allowed two hits in 2 2/3 innings, fanning two.
? Iowa's bullpen, collectively, has a 2.63 ERA over 27 1/3 innings, and is holding opposing batters to a .212 batting average.
WEEK 3; 3 DIFFERENT ROTATIONS
After having stability and running out the same starting rotation for the duration of the 2015 season, Iowa is on the opposite end of the spectrum early in 2016. The Hawkeyes will be using their third different starting rotation this weekend in Carbondale.
? Sophomore C.J. Eldred will make his second start of the season and his first Friday night start. He is 1-0 with a 2.00 ERA.
? Redshirt junior Ryan Erickson will make his first collegiate start after pitching out of the bullpen during Iowa's first weekends. He is 0-0 with a 6.00 ERA, allowing nine runs (four earned) on nine hits over six innings.
? Senior Calvin Mathews will make his third start, but he hasn't gone past the fourth inning in 2016. The right-hander is 0-0 with a 2.25 ERA, allowing three runs (two earned) on eight hits in eight innings in two no-decisions.
SENIOR Tyler Peyton…
? logged a quality start at Dallas Baptist, going 6 1/3 innings, scattering two hits, and striking out six. Both runs were unearned, as he took the loss.
? will not pitch at Southern Illinois due to forearm tightness. Peyton went just three innings in his last start against Indiana State, where he was tagged with his second loss.
? is 12-7 in his Iowa career with a 3.89 ERA in 32 starts. Peyton has 15 quality starts and has pitched into the seventh inning 14 times in his career.
? has logged 180 1/3 innings in two-plus seasons, where he has 126 strikeouts to 59 walks.
? earned third-team All-America honors by D1Baseball.com and the USBWA as a junior.
? has the best change-up in the Big Ten Conference according to Baseball America.
SENIOR Calvin Mathews…
? is 10-11 with a 3.06 ERA in 41 appearances (37 starts). He has logged 194 1/3 innings, allowing 168 hits, striking out 134 strikeouts to 60 walks.