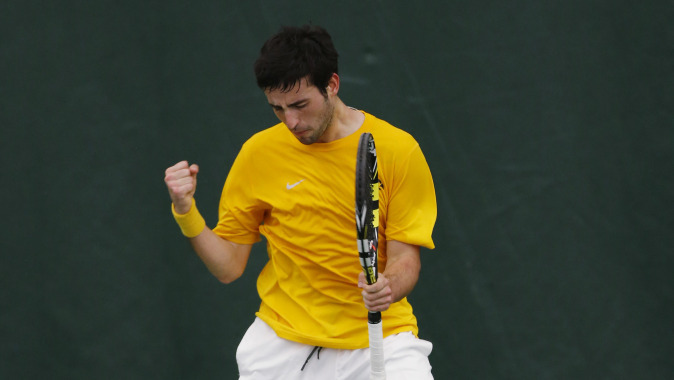 March 25, 2016
MADISON, Wis. — The 56th-ranked University of Iowa men's tennis team dropped a 4-1 decision to No. 37 Wisconsin Friday evening at the Nielson Tennis Stadium.
Sophomore Josh Silverstein was the first singles match off the court. He finished off Alexander Kokorev, 7-6(3), 6-1. The New York native was the only win on the night for the visitors. The win was Silverstein's ninth of the spring season.
In doubles, Iowa's No. 1 and 2 teams each both dropped their matches, 6-2, to give the doubles point to the Badgers. Sophomores Jake Jacoby andLefteris Theodorou teamed up at one and juniors Robin Haden and Nils Hallestrand played on court three.
Theodorou and senior Dominic Patrick both saw their singles matches end unfinished in the third set. Patrick was up, 5-4, in the third when his match was abandoned.
The loss dropped Iowa's overall record to 7-8 and 0-2 in conference play, while Wisconsin improved to 12-1 overall and 2-0 in the Big Ten.
The Hawkeyes are back home at the Hawkeye Tennis and Recreation Complex on Sunday for a 3 p.m. match up against Minnesota. Admission is free to the public.
#37 WISCONSIN 4, #56 IOWA 1
Singles
1. (UI) vs. Josef Dodridge (UW): unfinished
2. Josh Silverstein (UI) def. Alexander Kokorev (UW): 7-6(3), 6-1
3. Dominic Patrick (UI) vs. Lamar Remy (UW): unfinished
4. Osgar O'Hoisin (UW) def. Jonas Larsen (UI): 7-6(2), 6-4
5. Chema Carranza (UW) def. Robin Haden (UI): 6-2, 7-5
6. John Zordani (UW) def. Jake Jacoby (UI): 4-6, 6-3, 6-4
Order of finish: 2, 5, 4, 6
Doubles
1. Josef Dodridge/ Lamar Remy (UW) def. Jake Jacoby/Lefteris Theodorou (UI): 6-2
2. Dominic Patrick/ Josh Silverstein (UI) vs. Chema Carranza/Jakhongir Jalolov (UW): unfinished
3. Darius Mackenzie/ John Zordani (UW) def. Robin Haden/Nils Hallestrand (UI): 6-2
Order of finish: 1, 3