Hawkeye Fan Shop — A Black & Gold Store | 24 Hawkeyes to Watch 2016-17 | Hawk Talk Monthly — September
Editor's Note: The following first appeared in the University of Iowa's Hawk Talk Daily, an e-newsletter that offers a daily look at the Iowa Hawkeyes, delivered free each morning to thousands of fans of the Hawkeyes worldwide. To receive daily news from the Iowa Hawkeyes, sign up HERE.  
By RICK BROWN
hawkeyesports.com
 
Kevin Docherty's comeback starts Saturday, on familiar turf.
 
"I'm not at the fitness level I would like to be right now, but with the season going as it is I have to get out there and race and see how I feel," said Docherty, a senior on the University of Iowa cross country team. "There's no better course to debut on than my home course."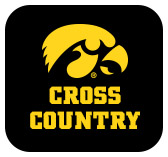 Docherty has missed the first two meets this fall after straining his left Achilles tendon over the summer.
 
"I think it was overtraining," Docherty said.  "I was doing some long runs and workouts. It flared up on me."
 
He'll return to action Saturday in the Roy Griak Invitational, hosted by the University of Minnesota and held at the Les Bolstad course in Falcon Heights, Minnesota.
 
Docherty grew up in St. Paul, Minnesota, and won a Griak high school title as a junior at Cretin-Derham Hall. He also competed in this championship as an Iowa freshman in 2013. The Hawkeyes haven't been in the field the last two years.
 
"He's working on his fitness," first-year Iowa coach Randy Hasenbank said. "We can't wait much longer to see where he's at with it. He's not where he'd like to be with his mileage, but he's pretty fit, and we're getting better every day with it."
 
Saturday will be Docherty's first competitive race since the Big Ten Outdoor Track and Field Championships in May.
 
"It does feel like it has been awhile," Docherty said. "I didn't have the best cross country season last year, and I'm excited to get back to my old ways with coach Hasenbank and excited for what is to come the rest of the year."
 
Docherty rejoins a team that won the Illinois State Invitational last weekend in Normal, Illinois. Junior Ben Anderson finished second and junior Michael Melchert was fourth.   Iowa opened the year hosting the Hawkeye Invitational. The Bolstad course will also host the Big Ten Championships on Oct. 30.
 
"We brought a competitive spirit to the line in both races," Hasenbank said. "This weekend there will be a lot of ranked schools. It will be interesting to see how we compete in this environment."
Hasenbank is the third coach Docherty has competed for at Iowa. But Hasenbank has a history with the Docherty family. He coached Kevin's older brother, Danny, at Loyola of Chicago.
 
"Having three coaches in four years is tough, but it eased my mind knowing we had a good coach coming into the program," Kevin said.
 
The Docherty family is well known for their running heritage. Jim Docherty, Kevin's father, and his mother, Bev (Boddicker) Docherty, ran at Iowa. Jim lettered in both cross country and track for the Hawkeyes in a career that spanned 1974-78. Bev also lettered in cross country and track while competing from 1977-80.
 
Kevin's oldest sister, Jennie, lettered three times in cross country and twice in track at Iowa between 2006-09.  In addition to Danny running for Loyola, Kevin's youngest sister, Laura, was an All-Big Ten runner at Minnesota.
 
"My parents were hands off, and they let us do whatever sports we wanted to growing up," Kevin said. "We all gravitated toward running. It's one of those things where it's in our blood, and we just love to do it."
 
As a youngster, Kevin would try to keep up with his siblings.
 
"They dusted me pretty good when I was a young kid," Kevin said. "I always remember going and watching all their races in high school and college. Pretty much every weekend, I was going somewhere around the country to watch them race. It was always exciting to be in that environment."
 
Now his entire family will be watching him on Saturday with the exception of Jennie, who is in Europe.
 
"It's tough to get in a rhythm on this course with all the rolling hills," Docherty said. "It's a beautiful cross country course, a true cross country course. It's not like you're running on a flat track, like some teams go and do. I enjoy the hills, even though they might not be my expertise."
 
Docherty is taking a cautious approach to Saturday's race.
 
"I've been doing a lot of cross-training, four to five times a week, on top of the mileage I'm trying to do to catch up for the championship part of the season in late October and November," Docherty said. "It has been tough seeing the guys compete so well in the first two meets, and not being able to be out there. Hopefully my debut will ease some of my thoughts and get me back in the top five and help the team in the future."
 
Hasenbank has preached patience to Docherty in the weeks leading up to his debut.
"You can't hurry the process," Hasenbank said. "A guy like Kevin has a lot of experience, and a lot of muscle memory. He has worked hard on the cross-training pieces. He'll be able to adapt to the transition and be running at a high level soon; maybe not this weekend, but he needs to be out there. I'm looking forward to seeing where he's at."