Hawkeye Fan Shop — A Black & Gold Store | 24 Hawkeyes to Watch 2016-17 | Hawk Talk Monthly — October | 2016 NCAA Cross Country Regional
IOWA CITY, Iowa — The leaves are changing colors and the colder weather signals the end of another cross country season in Iowa City, but before it's all said and done, the Hawkeyes look to make their mark in the postseason.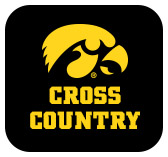 The University of Iowa cross country teams are preparing for a postseason run. The team has had a week of preparation before the Big Ten Championships in Minneapolis on Oct. 30.
"We have to be more aggressive," UI head coach Randy Hasenbank said. "When getting ready for the postseason, they have to be far more aggressive and far more confident in order to take the next step."
 
Hasenbank says accomplishing that feat is more mental than anything else and as a coach, he can only do so much.
 
"A lot of it is a state of mind and having the confidence to know you belong there," he said. "We have runners that are capable of performing at a high level and running with the top athletes in the conference. They have to believe in themselves because they're training says they can."
 
The Hawkeyes return two runners from 2015 that ran personal bests at last year's Big Ten Championships. Juniors Michael Melchert and Madison Waymire both had their best performances of the year in that race. Now, the duo will lead Iowa back to Griak for Big Tens, where they have already competed this year.
 
"Some teams weren't at Griak and some teams have never been there," senior Ben Anderson said. "It can be a monster if you make it one. The fact that we have been there and the fact we have that experience helps us compared to the teams that have not been there and do not know what it's like to run some massive hills."
 
Following Big Tens, the Hawkeyes have one race and 40 teams trying to stop them from qualifying for the NCAA Championships in Terre Haute, Indiana. Iowa's advantage is that the final race is on its home course in Iowa City.
 
"It's exciting," Waymire said. "It's not very often we have a meet like this on our home course and so it is a big privilege for us. It makes it that much more important to do well. Having the home crowd will help us along the way."
 
Senior Tess Wilberding will attempt to lead Iowa this postseason and become the third Hawkeye since 2000 to lead the team in every race (Sarah Arens, 2000; Waymire, 2015) but for her, she doesn't think about personal accolades.
 
"I take it one race at a time," Wilberding said. "I've had the mindset this season that I'm going to run as best as I can for my team this year so I can leave feeling good about the impact I made on Iowa cross country."
 
The postseason begins in Minneapolis on Oct. 30 and the NCAA Midwest Regional is on Nov. 11 in Iowa City.