By DARREN MILLER
hawkeyesports.com
IOWA CITY, Iowa — Bears and buttons.
More than anything, teddy bears, Homecoming buttons and bowl buttons symbolize Joe Tortorich's University of Iowa fandom.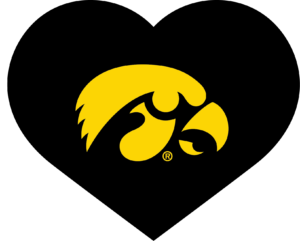 Tortorich, 72, is a lifelong resident of Chicago (except for a stint in the United States Army). He is not a University of Iowa alumnus (he graduated from Northeastern Illinois University in 1970), although his son, Thomas, graduated from Iowa in 2003. Tortorich is proof you don't need years and years of allegiance to be an avid and valuable piece of the Hawkeye fan base.
The first time Tortorich attended a Hawkeye event was by happenstance in 1978, long before he married his wife, Jan. At the time, Joe shared an apartment with someone who had a friend that attended the University of Wisconsin. His roommate had four tickets to the Wisconsin-Iowa football game and Tortorich, a college football fan, called Iowa's 38-24 victory "an experience and a half."
"Kinnick Stadium was in the middle of an open area with nothing but broken rocks, bricks, things that had come from buildings they tore down. People parked anywhere they could," Tortorich recalled. "We had beer and pizza at Malone's. The people were extremely friendly. I liked the atmosphere, the surroundings and setting. I said one day I have to get back."
That "one day" was in 1999 when Thomas was an undergraduate student and columnist for The Daily Iowan newspaper. And, the search for Hawkeye-themed bears for Jan was officially on. He scoured any business that carried University of Iowa merchandise, especially the Hawkeye Fan Shop and Iowa Memorial Union.
"When I started to go to Iowa games, I had to buy a bear," Tortorich said. "I was also able to get a Homecoming pin. One thing led to another and before you know it, it became a routine."
Jan's collection includes a dozen bears and Joe has no intention of stopping the tradition. Six bears are different shades of brown, there is one Panda, and others are black, white, and yellow.
Their favorite?
"One with a hood, yellow sweatshirt and Iowa logo," Tortorich said. "I have two buttons on it, Capital One Bowl 2005 and a button with the slogan, 'Everything is new again,' after a fire at the capitol building."
"No place is Heaven, but as far as I'm concerned, there is something about the University of Iowa that is pretty special."

Joe Tortorich
The Tortorich's have one concern: since Homecoming and bowl buttons are more available than bears, the stuffed bodies are running out of room. Let's say the promotional real estate is limited.
"It becomes a problem," Tortorich said. "Right now, the bears are getting too many buttons for their bodies."
If Tortorich's first trip to an Iowa football game required a stroke of luck, so did his return to campus more than 20 years later. Thomas was offered a ¾ scholarship to attend a different college, but he turned it down in order to enroll at the University of Iowa.
"By accident I was able to go to Iowa again," Tortorich said. "Ever since I have been enamored with the place. I like the atmosphere and the mindset of everyone there, even the professors."
Aside from a keen ability to find Hawkeye teddy bears, Tortorich is also a photography enthusiast. His camera is with him at all Iowa events and his portfolio (captured from his seat inside Kinnick Stadium) includes images of Nate Kaeding, Abdul Hodge, Brian Ferentz, Chad Greenway, Norm Parker, Drew Tate, Keith Duncan, Josh Jackson, James Ferentz, Reese Morgan, and of course, head coach Kirk Ferentz.
"I can see (coach Ferentz) is a family guy who likes what he is doing and isn't just climbing a ladder," Tortorich said.
Tortorich tries to make one or two trips to Iowa City a year. He primarily attends football games but has been in the stands for basketball at Carver-Hawkeye Arena while Thomas was a student.
"I'm just a fan, my son went there and I'm happy," Tortorich said. "No place is Heaven, but as far as I'm concerned, there is something about the University of Iowa that is pretty special."