By DARREN MILLER
hawkeyesports.com
IOWA CITY, Iowa — Patrons rave about the hand cut pork tenderloin, moderate prices and a menu that rotates entrees every trimester.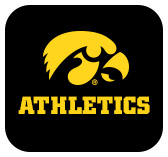 Betsy Stough said her late father, Bump Elliott, would be humbled by a restaurant bearing his name. And…
"He would think it is a great place to go for a beer after a round of golf," Stough said.
Bump's Restaurant is located at 1380 Melrose Avenue in Iowa City. It is just inside the front entrance of the Nagle Family Clubhouse at Finkbine Golf Course. The restaurant is named for Chalmers "Bump" Elliott, who was director of athletics at the University of Iowa from 1970-91, an era when the Hawkeyes won 34 Big Ten and 11 NCAA championships. Elliott passed away Dec. 7, 2019.
Just as Elliott strived to make Iowa athletics tops in the nation, Jennifer Madsen, general manager and executive chef at Bump's, wants the restaurant to be a primo destination in Iowa City.
"I'm competitive. I have been in food a long time and we always want to be the best," Madsen said. "There are a lot of expectations because this building is beautiful, the restaurant is beautiful, and there is a lot of history here."
Early reviews are favorable and no sandwich screams Midwest or Iowa like the pork tenderloin.
"Ours are always fresh; we hand-cut them daily. They are cooked to order based on what you want," Madsen said. "If you want them fried or grilled, we hand-bread them as you are ordering."
The sandwich and one side (side salad, cup of soup, hand cut fries, sweet potato waffle fries, mashed potatoes, cottage cheese, homemade applesauce or grilled vinegar coleslaw) is $11.50.
Bump's Restaurant is much more than a tenderloin joint. Madsen incorporates a cyclical menu as seasons change, meaning every trimester there are different entrees available.
"Part of it is to keep things fresh because in Iowa you don't eat the same in the summer or spring as you do in the winter," Madsen said.
A fall/winter menu that features Greek flavors was unveiled Oct. 16. Signature items like onion thins, smoked wings, Hayden Fry's, large garden salad, fried tilapia sandwich, turkey club, tenderloin, Nagle burger, Kinnick burger and Woods burger will always remain.
"He would think it is a great place to go for a beer after a round of golf."

Betsy Stough, daughter of Bump Elliott
"The No. 1 question I get is what is our food like or what kind of food is it?" Madsen said. "We do a lot and run the whole gamut. Our focus is on actual food. We hand-cut all our fries, about 90 percent of what we do is from scratch, we make all of our sauces and soups. We don't purchase anything pre-made besides our breads and a few other items."
Bump's Restaurant will soon be a fall meeting place for Elliott's seven grandchildren and spouses who would annually visit their grandparents for a weekend in Iowa City. Some would attend a Hawkeye football game, others would just hang out with Bump and his wife, Barbara.
"We can't wait to get there. We're going to come out as a group," Stough said. "The grandchildren can't wait to get back in Iowa City and Bump's will be the place we go."
Stough calls the naming of the restaurant a "sweet reward" for her father.
"He had great experiences at Finkbine; there is no better place for him to have his name on a restaurant," she said. "He enjoyed playing golf, too. It is a perfect place for people to sit and enjoy themselves."
Bump and Barbara had several groups of friend they would socialize and dine with.
"They loved to eat out and have a drink," Stough said.
And they loved sports. It is a safe bet that the Elliott's would have enjoyed an evening at Bump's Restaurant.
"The atmosphere is fun," Madsen said. "We have a lot of sports on the TVs, the pricing is reasonable for the area, our servers are trained to be classical in their presentation, so it is fun and not stuffy."
Hours of operation for Bump's Restaurant are Monday-Wednesday from 11 a.m. to 9 p.m. and Thursday through Sunday from 9 a.m. to 9 p.m. Breakfast is served Thursday through Sunday from 9-11 a.m. This schedule will be accurate through Oct. 31 when revised hours will be posted. Finkbine Golf Course and Bump's Restaurant are managed by Troon.
Bump's Restaurant Phone Numbers: 319-335-9662 | 319-335-9556