MINNEAPOLIS – University of Iowa redshirt junior Trenton Wallace pitched six shutout innings and five Hawkeye pitchers combined for a two-hit shutout in a 4-0 victory over Ohio State on Friday afternoon at U.S. Bank Stadium.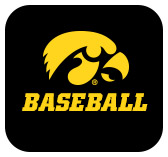 Wallace retired the first 10 batters he faced before issuing a one-out walk in the fourth. The southpaw struck out the side in the fifth before surrendering a one-out single in the sixth. Wallace no-hit the Buckeyes for 5 1/3 innings and he struck out a career-high 10 in the game.
"I was pitching with a little more conviction and was trusting every pitch that (pitching coach) Robin (Lund) called to put it in the zone," said Wallace, who is now 1-0 with a 1.64 ERA with 18 strikeouts to six walks in two starts. "The most important thing I had in my mind was I was going to attack the zone early and I was going to make these guys beat me, I was not going to beat myself.
"That's what kept the confidence going each inning. When I got into a little trouble, I referred back to the mindset that I was going to attack, get ahead. I have a great defense behind me that picked up every ball that was put in play."
Senior Trace Hoffman, redshirt junior Ben Beutel, redshirt sophomore Ben Probst, and redshirt junior Dylan Nedved got the final nine outs. Hoffman pitched a 1-2-3 seventh, Beutel pitched around a leadoff walk in the eighth and after Probst walked a pair in the ninth, Nedved got the final two outs to earn his first save as a Hawkeye.
Offensively, the Hawkeyes grabbed a 2-0 lead in the fourth against Ohio State starter Seth Lonsway – a potential first round MLB pick. Senior Matthew Sosa and redshirt freshman Brayden Frazer started the inning with back-to-back singles before Sosa scored the first run on a Lonsway wild pitch. Redshirt junior Brett McCleary made the score 2-0 after he singled home the second run, lacing an opposite field single to right field.
Iowa added an insurance run in the seventh when freshman Michael Seegers walked and scored on a Tyler Snep double on a ball that was lost in the roof of U.S. Bank Stadium by Nolan Clegg.
The Hawkeyes manufactured a run in the eighth when Ben Norman singled, stole second, moved to third on a wild pitch and scored on Seegers' safety squeeze. It was Seegers' first career RBI.
Iowa finished with six hits in the game with five coming from the bottom half of the order.
QUOTING HEAD COACH RICK HELLER
"Trenton gave us a great start and was good today. He got into a little bit of self-inflicted trouble in the fifth and sixth with longer innings that forced him from the game a little earlier than we would have liked, but it was a quality start.
"He had a quality start last week in his first start, he was a little better today; hopefully we can keep going in that direction. He has good stuff and was solid.
"We left some runs out there today, but we'll take it. It was a positive step in right direction for our offense and we were able to take advantage of some freebies by Lonsway – a great arm. We found a way to get a win and it was a clean game defensively."
OF NOTE
– It was Iowa's first shutout in Big Ten play since defeating Nebraska, 2-0, on May 26, 2017, at the Big Ten Tournament.
– Wallace is the first Hawkeye since 2019 to record 10 or more strikeouts in a game. Cole McDonald struck out 11 at Indiana on March 23, 2019.
– Iowa struck out 14 Ohio State batters – its third game with 10 or more strikeouts this season.
– Sosa hit safely for the fifth straight game to open the season.
UP NEXT
Iowa (2-3) returns to action Saturday for a doubleheader. The Hawkeyes will play Nebraska at 9 a.m. (CT) and Ohio State at 1 p.m.