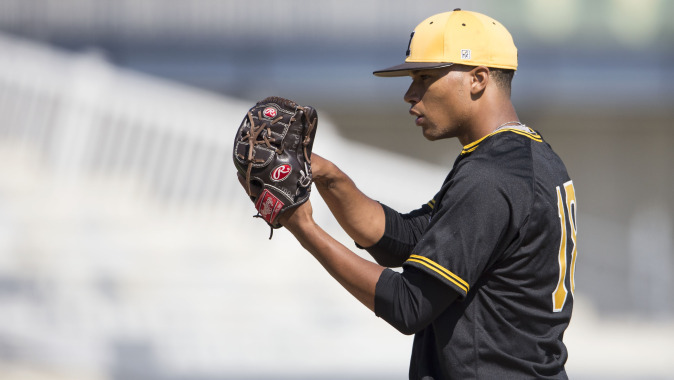 Feb. 19, 2015
Game Notes — vs. UALR/Missouri State (Feb. 20-22)

Iowa (2-1) vs. UALR (1-2)/Missouri State (3-0)
Dates
Feb. 20-22, 2015
Location
Grand Prairie, Texas (QuikTrip Park) | McKinney, Texas (McKinney Boyd High School)
Statistics
UALR | Missouri State | IOWA
Game 4 vs. UALR
Date | Time
Friday, Feb. 20 | 11 a.m. (CT) | QuikTrip Park
Pitching Matchup
IOWA:Jr., RHP, Tyler Peyton (0-0, 1.80 ERA) vs.
UALR: So., RHP, Cory Malcom (0-0, 0.00 ERA)
Game 2 vs. Missouri State
Date | Time
Saturday, Feb. 21 | 11 a.m. (CT) | QuikTrip Park
Pitching Matchup
IOWA:Jr., RHP, Blake Hickman (0-0, 0.00 ERA) vs.
MSU: Jr., RHP Jon Harris (1-0, 1.80 ERA)
Game 3 vs. UALR
Date | Time
Sunday, Feb. 22 | 12 p.m. (CT) | McKinney Boyd High School
Pitching Matchup
IOWA: Jr., RHP, Calvin Mathews (1-0, 1.80 ERA) vs.
UALR: TBA
THIS WEEK
The University of Iowa baseball team will play three neutral site games this weekend in the Lone Star State. The Hawkeyes will face UALR on Friday at 11 a.m. (CT) and Missouri State on Saturday at 11 a.m. before closing out the weekend against UALR on Sunday at noon.
Friday and Saturday's game will be held at QuikTrip Park in Grand Prairie Texas, while Sunday's finale will be played at McKinney Boyd High School in McKinney, Texas. QT Park is the home of the American Association's Grand Prairie AirHogs.
GAME COVERAGE
Zach Mackey will provide play-by-play and Ray Gilmore will serve as the color commentator for all three games in Texas via the subscription-based service Hawkeye All-Access on hawkeyesports.com. Fans fan also follow every game with live stats (GameTracker) on hawkeyesports.com and live updates are also available on Twitter: @UIBaseball.
QUICK HITTERS
? Iowa's starting pitchers went 1-0 with a 1.14 ERA at the Snowbird Baseball Classic, logging 15 2/3 innings and striking out 12 batters to three walks.
? Iowa's pitchers posted a 2.00 ERA during the season-opening weekend — the second-best ERA in the Big Ten Conference.
? The Hawkeyes ran early and often in Florida, stealing eight bases in nine attempts. The eight steals are tops in the Big Ten.
? Senior Eric Toole had a pair of two-steal games, moving him into a tie for ninth place in program history with 47 career steals.
SCOUTING UALR
? The Trojans dropped 2-of-3 games to Evansville during the opening weekend of the 2015 season. UALR won the opener, 6-3, before falling 7-2 and 16-3 during a Feb. 14 doubleheader.
? UALR has a .239 team batting average with three doubles and 11 RBIs. Three players are hitting above .300 in Ryan Scott (.500), Justin Steelmon (.333), and Drew Merten (.333).
? The Trojans struggled on the mound, posting a 7.56 ERA in three-game series. UALR allowed 26 runs (21 earned) and had 15 walks to 19 strikeouts. Cameron Allen won the opener, giving up three runs (two earned) over six innings with three strikeouts to zero walks.
? Iowa will face sophomore right-hander Cory Malcom on Friday. Malcom threw four innings of three-hit ball in relief in UALR's 6-3 win over Evansville. He had three strikeouts against zero walks. Malcom went 1-1 with a 4.93 ERA as a freshman in 16 appearances, including three starts.
SCOUTING MISSOURI STATE
? Missouri State was picked to finish second in the Missouri Valley Conference Preseason Coaches Poll, finishing with one first place vote and 53 points — 10 behind league favorite Dallas Baptist.
? Junior outfielder Tate Matheny, the son of St. Louis Cardinals manager Mike Matheny, was one of three Bears named to the preseason All-MVC team along with starting pitcher Jon Harris and utility player Dylan Becker. Matheny is also a preseason All-American by Perfect Game and Baseball America, and he was named to the USA Baseball Golden Spikes Award Watch List.
? The Bears bring a 3-0 record into the weekend after rolling off victories over UT Arlington (7-2), Stephen F. Austin (5-4), and Washington State (12-0) last weekend in Nacogdoches, Texas.
? Missouri State posted a .302 team batting average, scored 24 runs, and had six extra base hits (three doubles, three home runs). The Bears had four regulars hit above .400 on the weekend with Eric Cheray collecting five hits in nine at-bats to post a .556 average. Tate Matheny is hitting .462, Spencer Johnson has a .429 average, and Jake Burger has a .417 clip. Cheray, Matheny, and Johnson each drove in four runs.
? The Bears had a 1.33 team ERA with 25 strikeouts against 13 walks. LHP Andy Cheray was tabbed as the MVC Pitcher of the Week after throwing seven innings of two-hit ball in a 12-0 victory over Washington State. RHP Jon Harris (1-0, 1.80 ERA) and LHP Matt Hall (1-0, 2.57 ERA) both recorded wins.
THE SERIES
? Iowa is 1-3 all-time against UALR. The Hawkeyes last faced the Trojans for a pair of games during the 2013 season, falling 5-2 and 9-3 in Little Rock.
? Missouri State hold a 34-14 advantage in the all-time series against Iowa. Saturday's meeting will be the first in the series since 2008 when the Bears swept a three-game series in Springfield.
ALL (PRO) EYES ON GRAND PRAIRIE
Saturday's pitching match between Iowa and Missouri State will feature two potential high-round draft picks in the 2015 MLB Draft. Iowa will start junior right-hander Blake Hickman (0-0, 0.00 ERA), who went 5 2/3 innings in his first start against Saint Louis. He allowed one unearned run on seven hits and had two strikeouts. The Bears' will counter with junior right-hander Jon Harris (1-0, 1.80 ERA), who gave up two runs (one earned) on five hits with five strikeouts to four walks in a win over UT Arlington.
GUZZO EARNS WEEKLY HONOR
Freshman Austin Guzzo was named the Big Ten Freshman of the Week on Feb. 16 after having a strong collegiate debut in Iowa's 4-1 win over George Mason. The Canadian went 2-for-4 with a run and RBI and caught a pitching staff that limited the Patriots to four hits. He is the first Hawkeye to earn the honor since Sasha Kuebel in 2012.
FRESH FACES
Over the weekend, Iowa saw six players make their Hawkeye debuts — three position players and three pitchers.
? Junior Joel Booker tallied hits in 2-of-3 contests, which included a 2-for-5, two RBI performance in Iowa's 4-1 win over George Mason. Booker was the lone Hawkeye with a multi-RBI and multi-hit game during weekend.
? Freshman Austin Guzzo started the weekend finale, finishing 2-for-4 with a run and RBI. He drove in the go-ahead run in the fourth inning for his first collegiate hit.
? Junior Ryan Erickson notched his first collegiate win, throwing 2 2/3 innings of one hit, one run ball against Saint Louis. The southpaw had three strikeouts against one walk.
? Junior Connor Grant was the first Hawkeye out of the bullpen against Kansas State. He allowed three runs on two hits in suffering the loss.
? Junior Luke Vandermaten pitched the final two frames against George Mason to notch his first career save. He didn't allow a hit.
? Senior Sean Moore made two pinch-hit appearances on the weekend.
STARTING STRONG
Iowa's three starters — Tyler Peyton, Blake Hickman, and Calvin Mathews — all pitched at least five innings in their starts at the Snowbird Baseball Classic.
? Peyton threw the season opener, allowing one run on three hits with six strikeouts.
? Hickman went a career-long 5 2/3 innings, allowing one run on seven hits with two strikeouts.
? Mathews was the lone starter to record a win, scattering three hits over five innings, where he allowed a first-inning run. Mathews retired eight-straight at one point and finished with four strikeouts to one walk.
ON THE MOVE
Senior Eric Toole posted back-to-back games with two steals in wins over Saint Louis and George Mason. They were the seventh and eighth multiple steal games of his collegiate career.
MOVING UP THE RECORD BOOKS
? Junior Eric Toole has 47 career steals, which are tied for the ninth most in program history with Curtis Reed (1991-94). Travis Sweet and Tom Steinmetz are tied for seventh with 49 steals.
? Junior Nick Hibbing has made 59 career appearances as a Hawkeye — the fifth-most in school history. Tom DeJarld (1987-90) is fourth with 61 appearances.
? Hibbing is also tied for sixth all-time with nine career saves.
? Toole ranks sixth in UI history in singles with 145 base hits. His brother, Justin Toole, is fifth with 148 career singles.
B1G PLAYERS TO WATCH
Two seniors – Jake Mangler and Eric Toole — and junior Tyler Peyton have been named to the Big Ten Players to Watch List. Mangler and Toole were All-Big Ten selections as juniors, while Peyton was a two-way player as a first baseman and Iowa's Sunday starter on the mound.
PRESEASON ALL-BIG TEN
Seniors Jake Mangler, Nick Day, and Dan Potempa have been named preseason second-team All-Big Ten by College Sports Madness.
TEAM CAPTAINS
A trio of seniors — Jake Mangler, Eric Toole, and Kris Goodman — and junior Tyler Radtke have been voted as team captains for the 2015 Hawkeyes. It is the second-straight year Mangler and Toole have been captains.
RETURNEES BY THE NUMBERS
Iowa's offense brings back the bulk of its lineup and overall production in 2015. The Hawkeye offense has 70 percent of their runs (236 of 337), 72.3 percent of hits (400 of 553), 75 percent of doubles (63 of 84), and 74.8 percent of the RBIs (226 of 302) returning. The roster has 13 of its 23 home runs returning. On the mound, Iowa returns hurlers who accounted for 76 percent of the wins (23 of 30), threw 78.4 percent of the innings (364 2/3 of 465), notched 78.9 percent of the strikeouts (266 of 337), and accounted for 8-of-9 saves.
SEASON TICKETS ARE ON SALE
Season tickets for the 2015 home schedule are on sale at hawkeyesports.com. Tickets are $75 for reserved and general admission and $40 for general admission youth tickets. There is also a "30-Block" season ticket, priced at $99, where tickets can be used at any game or combination of games. Single game tickets are $7 for adults and $3 for youth. Children ages five and under are admitted free.
FOLLOW THE HAWKEYES
Iowa baseball fans can follow the Hawkeyes on Facebook by going to facebook.com/iowabaseball. Fans can also follow on Twitter @UIBaseball.
UP NEXT
The Hawkeyes return to action Feb. 27 through March 1 at the 2015 USA Baseball-Irish Classic in Cary, North Carolina.