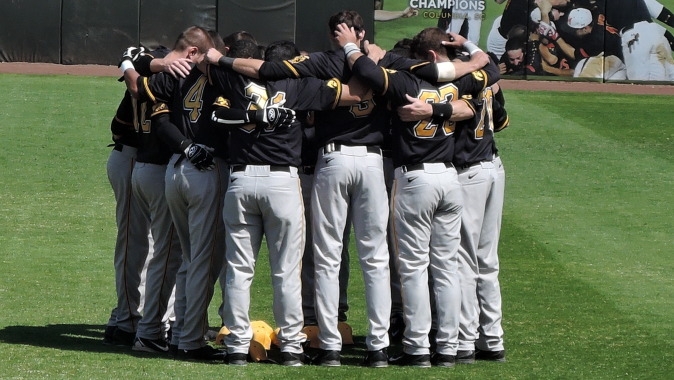 April 16, 2015
Northwestern (10-24, 3-6) at No. 14 Iowa (24-10, 8-1)
Dates
April 17-19, 2015
Location
Iowa City, Iowa | Duane Banks Field
Game Notes
Iowa
Statistics
Northwestern | IOWA
Game 1
Date | Time
Friday, April 17 | 6:05 p.m. (CT)
Pitching Matchup
IOWA:Jr., RHP Tyler Peyton (4-3, 2.82 ERA) vs.
NU: Sr., RHP, Brandon Magallones (3-2, 6.84 ERA)
Game 2
Date | Time
Saturday, April 18 | 2:05 p.m. (CT)
Pitching Matchup
IOWA:Jr., RHP Blake Hickman (5-1, 2.91 ERA) vs.
NU: Jr., LHP Matt Portland (1-4, 3.57 ERA)
Game 3
Date | Time
Sunday, April 19 | 1 p.m. (CT)
Pitching Matchup
IOWA: Jr., RHP Calvin Mathews (3-0, 1.32 ERA) vs.
NU: TBA
THIS WEEK
The 14th-ranked University of Iowa baseball team welcomes Northwestern to Duane Banks Field for a three-game weekend series from April 17-19. First pitch is set for 6:05 p.m. (CT) Friday, 2 p.m. Saturday, and 1 p.m. Sunday.
PROMOTIONS
? Free Iowa baseball tumblers will be given to the first 250 fans on Friday.
? Saturday is Junior Hawk Club Day with inflatables at Banks Field and baseball key chains being distributed to the first 250 fans.
? Sunday is Military Appreciation Day where all former military will get free admission with their ID. Kids can also run the bases following the game.
GAME COVERAGE
? The entirety of the Iowa-Northwestern game will be streamed live on BTN Plus on BTN2Go.
? The series will be broadcast on AM-800 KXIC and AM-1360 KMJM on Friday, and KMJM on Saturday with Brent Balbinot on the call. All three games of the series will also be available via the subscription-based service Hawkeye All-Access on hawkeyesports.com.
? Fans can also follow every game with live stats (GameTracker) on hawkeyesports.com and live updates are also available on Twitter: @UIBaseball.
QUICK HITTERS
? Iowa is off to its best start since 1990 when Iowa was 27-7 to start the season.
? The Hawkeyes have won six-straight series with Northwestern coming to town, including three three-game sweeps. Iowa hasn't had a losing weekend in 2015 — it went 2-2 during a four-game series at Houston Baptist.
? Iowa finished with 12 hits — its most hits since April 4 at Purdue (a span of six games) — in a 9-1 win over Cornell College (4/15). The Hawkeyes averaged 2.8 runs over their previous six games.
? The Hawkeyes had five extra base hits (four 2Bs, 1 3B) against the Rams– the most since March 31 against Grand View.
? Iowa has nine home runs this season, but hasn't connected on a long ball since April 1 at Western Illinois — its longest home run drought of the year.
? Iowa has won four-straight Big Ten series dating back to last season. The Hawkeyes took 2-of-3 at Purdue in the final regular season series in 2014 before sweeping No. 17 Indiana and Purdue and taking 2-of-3 at No. 16 Maryland.
? After having a breakout weekend at Purdue — hitting a season-best .324 and scoring 23 runs on 36 hits a during a three-game sweep — the Hawkeyes took 2-of-3 games at No. 16 Maryland despite hitting just .179 and scoring six runs in three games.
? Senior Eric Toole became the ninth player in school history to join the 200-hit club in the series opener at Purdue (4/3). Toole ranks ninth in school history with 209 hits and is just 13 hits shy of moving into the top five all-time.
? Toole is tied for the Big Ten lead with 18 steals this season. He stole 12-straight bases from March 11-April 5 before being caught stealing April 8 against Milwaukee.
? Thirteen Hawkeye games have been decided two runs or less. Iowa is 8-5 in such contests.
? Iowa is 13-3 when playing error-free baseball and 20-6 when committing one or fewer errors. Iowa is 4-4 when committing two or more errors.
? The Hawkeyes are 20-0 when out-hitting their opponents and 16-3 when scoring first. Conversely, Iowa is 5-5 when the opponent scores first.
? Iowa has outscored opponents 25-7 in the first inning, and 50-25 over the first three innings.
SCOUTING NORTHWESTERN
? The Wildcats are 10-24 overall and 3-6 in Big Ten play after dropping 2-of-3 games last weekend at Michigan State. Northwestern is 7-11 in games decided by two or fewer runs.
? The Wildcats have yet to play a home game this season with renovations being made to Rocky Miller Park. Northwestern is 8-16 on the road and 2-8 at neutral sites.
? Northwestern is hitting .278 as a team and averages 4.5 runs per game. The Wildcats have three players hitting above .300 with Kyle Ruchim leading the way at .357. Ruchim is tied or leading the team in runs (22), hits (46), doubles (14), home runs (5), RBIs (21), and walks (11).
? Northwestern has struggled on the mound, posting a 5.57 ERA — 11th in Big Ten — allowing 379 hits, 231 runs (186 earned) over 300 1/3 innings. The Wildcats' defense hasn't helped their cause, committing 60 errors in 34 games for a .956 fielding percentage — the worst in the Big Ten.
? Senior RHP Brandon Magallones (3-2, 6.84 ERA) will take the hill Friday and junior LHP Matt Portland (1-4, 3.57 ERA) will start Saturday. Sunday's starter has yet to be announced.
? Northwestern is coached by Paul Stevens, who is in his 27th year as the Wildcats' head coach. Stevens, who is the winningest coach in school history, will retire at the end of the 2015 season.
THE SERIES
? Iowa leads the all-time series over Northwestern, 133-100-2. The Hawkeyes won 2-of-3 games last season in Evanston; the Wildcats won 2-of-3 games in 2013 in a series played in Carol Stream, Ill.
? Iowa blew a 10-run seventh-inning lead last season to fall 14-13 in the series opener. The Hawkeyes won the final two contests, 8-1 and 5-0.
? Dating back to the 2007 season, the series has been relatively even with Iowa winning 11-of-20 games.
STARTERS VS. NU
? Junior Calvin Mathews is 0-1 with a 2.45 ERA in two career starts against Northwestern, allowing three runs on seven hits over 11 innings with 10 strikeouts. (ND in 2014 in a 14-13 NU win; L in 2013 — a 5-1 NU win).
? Junior Tyler Peyton threw seven innings of four-hit, one-run ball in an 8-1 Iowa win last season.
? Iowa is 1-1 against NU's Friday starter Brandon Magallones the last two seasons. The right-hander gave up six runs on eight hits over 5 2/3 innings in an 8-1 loss last season; he earned the win, scattering four hits and striking out seven over 8 1/3 innings in a 5-1 Wildcat win in 2013.
EARNING HIS KEEP ON FRIDAYS
Since Big Ten play commenced, junior Tyler Peyton has been hitting and pitching for himself on Friday nights… and quite well. Peyton is 2-1 with a 2.42 ERA in three conference starts, allowing six runs on 16 hits over 22 1/3 innings. He opened Big Ten play with 14 1/3 innings of shutout ball. Offensively, Peyton is hitting .364 (4-of-11) with one run and one RBI when playing both ways. He drove in the go-head run against No. 17 Indiana and went 3-for-5 in the opener at Purdue.
IOWA PITCHING SHINES
? The Hawkeyes have allowed two earned runs or fewer in 20-of-34 games this season.
? Iowa's pitching staff has two shutouts this season (Cincinnati, Indiana) — the most for the program since 2007 (four shutouts).
? Juniors Tyler Peyton and Blake Hickman combined to hold Indiana scoreless through the first 16 innings of its three-game series from March 27-29. The Hoosiers scored three earned runs in three games.
? Iowa's pitching staff held No. 16 Maryland to two runs on 10 hits over the final 18 innings of the three-game series on April 10-11 in College Park. The Hawkeyes held the Terrapins to 18 hits and had 22 strikeouts in three games.
? Iowa is fourth in the Big Ten in ERA (2.94), first in opposing batting average (.223), and second in saves (12). The Hawkeyes have allowed the fewest hits (245) and the second-fewest runs (114) in the conference.
? The Hawkeyes' starting pitchers are 12-4 with a 2.67 34 starts. Iowa's weekend starters have logged 142 2/3 innings and have 103 strikeouts to 53 walks.
? The UI bullpen is 12-6 with a 3.25 ERA with 12 saves — the second-most in the Big Ten. Iowa's relievers are holding batters to a .223 average and have 109 strikeouts.
? Senior Nick Hibbing has emerged as one of Iowa's top relief options, allowing zero runs in eight of his 12 appearances. He is 1-1 with three saves in his last five outings. Hibbing threw 2 1/3 innings of one-hit ball at Maryland, striking out five of the eight batters he faced.
? Junior Luke Vandermaten didn't allow a run in his first 10 appearances and has only allowed one run in 13 appearances. The right-hander has allowed 15 hits over 20 innings, fanning nine. Vandermaten has a 0.45 ERA and has two saves — his second coming following a 2 1/3 inning outing at No. 16 Maryland, where he allowed one hit and struck out a career-high four.
? Junior reliever Connor Grant is 1-1 with a 3.86 ERA with two saves. He is holding opposing hitters to a .176 batting average, giving up 15 hits in 25 2/3 innings.
? Junior southpaw Ryan Erickson is 2-0 with a 2.21 ERA with one save and has 20 strikeouts — the most by a Hawkeye reliever — to 10 walks. He picked up his second win at No. 16 Maryland (4/12), throwing 1 2/3 shutout innings, allowing one hit and striking out two.
? Iowa's relief corps have converted 12-of-13 save opportunities this season with the 12 saves being the second most in the Big Ten. The UI school record is 15 saves in 2002. The Hawkeyes are 20-2 when leading after six, 21-1 leading after seven, and 22-1 leading after eight.
? The Hawkeyes currently have a 2.94 team ERA over 34 games. Iowa's school record is 3.63, set in 1971.
? Five pitchers combined to shutout Cincinnati, 5-0, in 13 innings on March 1. The five-some scattered seven hits and stuck out 12. It is the fifth-longest shutout game in the nation this season.
HOT HAWKEYES
? Junior Nick Roscetti is hitting .400 with nine RBIs and eight runs scored over his last 11 contests and .375 in Big Ten play to rank 11th in the conference. The shortstop has hit safely in 11 of the last 13 games. He went 3-for-4 with three RBIs and three runs scored in game two at Purdue, tying or setting career highs in all three categories. Roscetti has 11 RBIs since March 28 (13 games); he had three RBIs over first 18 games.
? Senior Eric Toole had his career-best 31-game reached base streak end April 14 at Bradley. Toole has reached safely in 32-of-34 games this season and hit safely in 28-of-34 games. He is second on the team with a .333 average with team bests in hits (47) and runs scored (25). His eight doubles are one shy of a career high.
? Senior Nick Day is hitting .455 (10-of-22) in Big Ten play with six runs and four RBIs.
OFFENSIVE TIDBITS
? Iowa went 12-5 in the month of March and hit .281 as a team. Senior Eric Toole hit .400 (28-of-70) with 15 runs scored and 10 steals, while senior Jake Mangler hit .373 with 15 RBIs.
? Junior Daniel Aaron Moriel has started six of the last seven games behind the plate, and he has hit safely in 7-of-10 starts. Moriel has a .281 (9-for-32) average with eight runs and five RBIs. He is reaching base at a .455 clip.
? Tyler Peyton and Jake Mangler are both hitting above .300 with runners in scoring position. Peyton is hitting at a .333 (14-of-42) clip with nine two-out RBIs, while Mangler is hitting .306 (19-of-62) with 13 two-out RBIs.
? Joel Booker, Nick Day, and Kris Goodman are tied for the team with two home runs apiece. Goodman has a team-best four triples, tied for the second-most in the Big Ten.
? Junior Tyler Peyton is leading the team and ranks eighth in the league with a .351 batting average. Peyton has two or more hits in seven of the last 13 games and has hit safely in 25-of-31 games.
100 X 4
Iowa has more than 500 career starts among four regulars. Seniors Eric Toole (166), Jake Mangler (156), Kris Goodman (148), and Nick Day (118) have combined to start 583 games in their Hawkeye careers. Mangler has started 71 consecutive games at second base.
JUNIOR Tyler Peyton…
? shines as a two-way player for the Hawkeyes, going 4-3 with a 2.82 ERA with 45 strikeouts on the mound, while hitting .351 with 18 RBIs and 17 runs scored.
? has hit for himself his last three times pitching. He starts at first base when he is not pitching.
? has pitched at least five innings in eight of his nine starts, allowing one or fewer runs in his first four and 6-of-9 starts.
? has 24 strikeouts, while issuing five walks over his last four starts.
? went eight innings in back-to-back starts against No. 17 Indiana and Purdue… is 2-1 with a 2.42 ERA in three Big Ten starts… opened Big Ten play with 14 1/3 shutout innings.
? Threw his first career complete game shutout against No. 19 Indiana, scattering five hits, striking out five, and not walking a batter in a 2-0 victory on March 27, which resulted in him being selected as Big Ten Player of the Week by College Sports Madness on March 31. He threw eight innings, allowing one run on seven hits with seven strikeouts in a win at Purdue.
? notched a quality start, throwing 6 1/3 innings at Kansas, giving up three runs on nine hits in a 4-3 loss. He finished with a season high nine strikeouts and didn't walk a batter.
? posted wins over UALR (2/20) and at Middle Tennessee State (3/7). He struck out six batters in a no-decision in opener against Kansas State (2/13) and threw five shutout innings against Cincinnati (2/27).
? is 9-4 in his Iowa career with a 4.04 ERA in 23 starts. Peyton has eight quality starts and has pitched into the seventh inning eight times in his career.
JUNIOR Blake Hickman…
? is 5-1 with a 2.91 ERA in nine starts. He has 35 strikeouts against 23 walks.
? has a team-best four quality starts and has thrown at least six innings in six of his last seven starts. Hickman pitched into the seventh in two of last three starts.
? carried a no-hitter into the sixth inning against Cincinnati (2/28) and into the seventh (4/11) at No. 16 Maryland.
? tallied his fifth win, allowing one run on three hits over 6 2/3 innings at No. 16 Maryland (4/11)… was perfect through four innings and had a no-hitter through 6 2/3.
? notched fourth win at Purdue, allowing four runs on five hits over seven innings… tallied his third win with a career-best outing, holding No. 19 Indiana to one run on three hits over eight innings in a 5-1 victory on March 28. He finished with six strikeouts against three walks.
? pitched six innings in victories over Cincinnati (2/28) and Middle Tennessee (3/7).
? notched his first win of season in 5-1 victory over Cincinnati. He was perfect through three innings, striking out 7-of-10 batters to start the game, and had a no-hitter through six innings. He tied a career-high with nine strikeouts in the contest.
? has a 7-3 career record with a 3.31 ERA over 87 innings in 26 appearances, including 14 starts. He has 69 strikeouts against 46 walks.
? is focusing solely on pitching for the first time in his baseball career. He transitioned to the mound midway through 2014 season.
? pitched in the Cape Cod League in the summer of 2014, posting a 3-4 record with a 4.91 ERA in nine starts.
JUNIOR Calvin Mathews…
? is Iowa's Sunday starter. He is 3-0 with a 1.32 ERA in nine appearances (eight starts). Mathews didn't allow an earned run in his first five starts and has allowed five earned runs in eight starts.
? Hasn't allowed more than five hits in any of his eight starts.
? Held No. 16 Maryland to one run on four hits over five innings in a no decision on April 12… threw a season-high six innings to tally his third victory, allowing one run on five hits with five strikeouts at Purdue (4/5).
? picked up his first win against George Mason (2/15), allowing one run on three hits over five innings.
? pitched 5 1/3 shutout innings, scattering four hits, in his second victory of the season at Houston Baptist (3/16).
? was 1-of-5 pitchers to combine for a 13-inning shutout in Iowa's 5-0 victory over Cincinnati on March 1. He scattered three hits over five innings and had five strikeouts.
? was the Hawkeyes' Friday starter in 2014 before going down with a shoulder injury. He went 3-3 with a 2.72 ERA with 60 strikeouts to 20 walks. Six of his 11 starts were "quality" starts, and he allowed three or fewer runs in 10-of-11 starts.
? is 8-8 with a 2.92 ERA in 32 appearances (28 starts). He has logged 154 innings, allowing 131 hits, striking out 111 strikeouts to 47 walks.
MOVING UP THE RECORD BOOKS
? Junior Eric Toole has 61 career steals, which are tied for the sixth-most in program history. Kurtis Muller (2008-10) is fifth with 63 steals.
? Toole is third in UI history with 180 career singles (Keith Noreen is second with 183), and he is ninth all-time with 209 hits. Toole also ranks eighth in career at-bats (665).
? Junior Nick Hibbing has made 69 career appearances as a Hawkeye — the third-most in school history. Tim Gudex (81, 2004-07) and Kurt Belger (76, 1993-97) are 1-2 in program history. He is also sixth all-time with 12 career saves.
IN-SEASON HONORS
? Senior Eric Toole was selected as the Big Ten Player of the Week — his first career honor — on March 31 after hitting .500 and posting a .529 on-base and .563 slugging percentage in a 3-1 week. Toole scored four runs and had two RBIs.
? Junior Tyler Peyton was tabbed as the Big Ten Player of the Week by College Sports Madness on March 31 after tossing a complete game shutout in Iowa's 2-0 victory over No. 19 Indiana. Peyton also hit .353 with three RBIs and scored twice in four games. Peyton was also named a CB360 Week 7 Primetime Performer.
? Freshman Austin Guzzo was named the Big Ten Freshman of the Week on Feb. 16 after having a strong collegiate debut in Iowa's 4-1 win over George Mason. The Canadian went 2-for-4 with a run and RBI and caught a pitching staff that limited the Patriots to four hits. He is the first Hawkeye to earn the honor since Sasha Kuebel in 2012.
#HELLERBALL
? The Hawkeyes debuted in the national rankings on March 30, coming in at No. 24 by Collegiate Baseball. It was Iowa's first ranking since 1990.
? Iowa climbed to as high as No. 14 on April 13 by Collegiate Baseball and was ranked in six polls. The Hawkeyes were ranked by all major polls after taking 2-of-3 games at No. 16 Maryland.
? Iowa posted its first victory over a ranked opponent since 2012 and swept a ranked opponent (No. 19 Indiana) for the first time since 1990.
? The Hawkeyes opened Big Ten play with consecutive sweeps, starting 6-0 for the first time in school history. Iowa is 8-1 in Big Ten play for first time since 1990.
? Iowa won 30 games in UI head coach Rick Heller's first season in 2014 — the most wins by a first-year head coach in program history and the third 30-win campaign since 1993.
? The Hawkeyes advanced to and won a game in the Big Ten Tournament in 2014 — the program's first tournament victory since 2010.
? Iowa has posted winning streaks of nine games (in 2015) and seven games (in 2014) — the longest streaks for the program since 2012.
? Under Heller, Duane Banks Field has been undergoing a transformation with AstroTurf installed in the infield and outfield, new outfield fences and the addition of a new video scoreboard.
? Iowa had five All-Big Ten selections, including the first first-team honoree since 2009. The Hawkeyes also had two first-team all-region selections.
FOLLOW THE HAWKEYES
Iowa baseball fans can follow the Hawkeyes on Facebook by going to facebook.com/iowabaseball. Fans can also follow on Twitter @UIBaseball.
UP NEXT
The Hawkeyes will host Northern Illinois on April 22 at Banks Field before welcoming nationally-ranked Nebraska to Iowa City for a three-game Big Ten series from April 24-26.