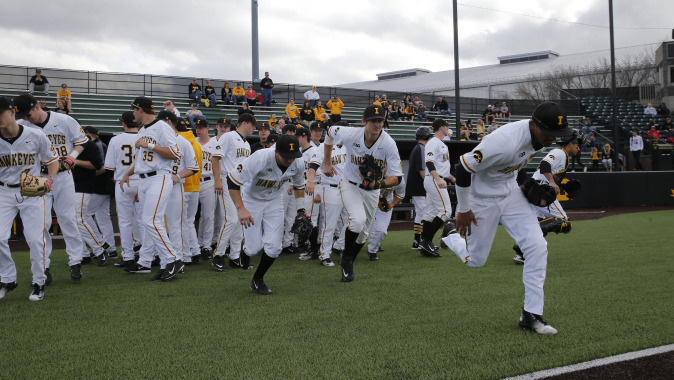 March 17, 2016
Iowa at No. 12/19 Missouri State
Dates
March 18-20, 2016
Location
Springfield, Mo. | Hammons Field
Game Notes
Iowa
Statistics
IOWA | Missouri State
Game 1
Date | Time
Friday, March 18 | 3:05 p.m. (CT)
Pitching Matchup
IOWA: So., RHP C.J. Eldred (1-1, 1.88 ERA) vs.
MSU: Jr., LHP Jordan Knutson (3-1, 4.44 ERA)
Game 2
Date | Time
Saturday, March 19 | 2:05 p.m. (CT)
Pitching Matchup
IOWA:Sr., RHP Tyler Peyton (0-3, 5.65 ERA) vs.
MSU: TBA
Game 3
Date | Time
Sunday, March 20 | 1:05 p.m. (CT)
Pitching Matchup
IOWA: Sr., RHP Calvin Mathews (0-1, 4.60 ERA) vs.
MSU: TBA
THIS WEEK
The University of Iowa baseball team heads to Springfield, Missouri, for a three-game series at No. 12/19 Missouri State from March 18-20. Friday's opener begins at 3:05 p.m. (CT), Saturday starts at 2:05 p.m., and Sunday's finale begins at 1:05. All three games will be played at Hammons Field.
GAME COVERAGE
? Iowa's live audio stream of the three games will be available on Hawkeye All-Access. Zach Mackey will be on the call. Steve Duncan or Ray Gilmore will provide color commentary.
? All three games will be streamed on www.missouristatebears.com. It is a subscription-based service.
? Live statistics will be available at www.hawkeyesports.com and fans can follow the action via Twitter/UIBaseball.
NOTABLES
? Iowa is 0-3 in games against ranked opposition this season. Dallas Baptist swept the Hawkeyes in the opening series of the season.
? Sophomore Austin Guzzo scored five runs against the Red Raiders, tying a school record. He is one of three players to score five runs and the first since John Mahoney in 1978.
? Iowa's defense has committed three errors in its last eight games after committing 10 errors during the first two weekends. The Hawkeyes' fielding percentage has climbed to .975.
? Four Iowa players have double-digit reached base streaks in progress: Joel Booker (12), Tyler Peyton (12), Nick Roscetti (11), and Austin Guzzo (11). Roscetti (11) and Booker (9) have career-long hitting streaks.
? The Hawkeyes are out-scoring their opponents, 29-16, over the first two innings. Iowa is 3-1 when it scores first.
? Iowa is 5-0 when leading after six innings, but 0-6 when trailing after six innings.
? Freshman Cole McDonald has won each of his first two career starts and is making a case to be Iowa's midweek starter. The New Hampton, Iowa, native is 2-1 with a 1.80 ERA, allowing one run on one hit over five innings.
? Junior Mason McCoy has started the last 10 games at third base after starting the first four contests at second base. McCoy has one error in 48 chances this season.
MISSOURI STATE NOTABLES
? The Bears, who are ranked No. 12 by Collegiate Baseball and 19th by the USBWA, are 14-2 overall this season — including 6-1 at home. The two losses came against Connecticut (12-4) in Clarksville, Tennessee, and No. 26 Oklahoma State (6-5, 10 innings) on March 8.
? The Bears have won five straight and 11 of their last 12 games.
? Missouri State's offense has been its calling card early in the season, as the Bears are hitting .329 as a team to rank in the top 15 nationally. The Bears have 29 home runs in 15 games to rank in the top three in the country and average nine runs per game.
? The Bears have five regulars hitting above .360 with sophomore Jake Burger lead the way with a .464 average with nine home runs, 32 RBIs and 21 runs. Spencer Johnson is hitting .367 with eight home runs and 20 RBIs.
? Missouri State has a 3.44 team ERA, allowing 104 hits and 65 runs (55 earned) over 144 innings. The Bears have 158 strikeouts to 61 walks and opponents are hitting .205.
? Junior southpaw Jordan Knutson will take the ball for Missouri State in the series opener. He is 3-1 with a 4.44 ERA over 24 1/3 innings with 25 strikeouts to nine walks. Saturday and Sunday's starters are TBA.
SERIES RECORD
? The Bears lead the all-time series over Iowa, 36-15. Missouri State won 2-of-3 games last season.
? The Hawkeyes won the first game, rallying for a 6-5 victory in Grand Prairie, Texas, during the second weekend of the season. Missouri State won two contests in the NCAA Regional in Springfield, 5-3 and 3-2.
DANIELS EARNS B1G HONOR
Freshman Zach Daniels earned Big Ten Freshman of the Week honors on March 14 after hitting .571 with five RBIs and three runs scored in two Iowa victories. He had four RBIs in a 28-0 win over Northwestern College and went 3-for-4 with two runs and an RBI in a win over Savannah State.
Daniels is the first Hawkeye to earn Freshman of the Week honors since Sasha Kuebel in 2012.
OFFENSE COMING AROUND
? Since hitting .144 as a team in the opening three-game series at Dallas Baptist, Iowa's offense has been on an upward trajectory. The Hawkeye offense has a season-high .271 average after closing out play at the Spring Swing in Georgia.
? Iowa has three games with at least 18 hits and have scored double digit run totals in three contests. The Hawkeyes have seven home runs in 14 games after hitting 14 home runs in 59 contests last season.
GUZZO THE MAGNIFICENT
The Hawkeyes are finding a way to get sophomore Austin Guzzo's bat in the lineup in 2016. The Brooklin, Ontario, native has started games at four positions (1B, C, DH, OF), where he's hitting .370 with two home runs, 10 RBIs, and nine runs scored. Guzzo has a .575 on-base percentage (13th nationally) thanks to a team and Big Ten-leading 13 walks — which rank 12th nationally. He has reached safely in a career-best 11 straight games.
THINGS ARE "ROSEY"
Senior Nick Roscetti has started the 2016 season where he left off 2015. The infielder, who hit .391 in Big Ten play as a junior, is off to a hot start, hitting .368 with 21 hits, six doubles, 13 RBIs, and 15 runs scored. Roscetti ranks in the top 10 in the Big Ten in runs, doubles, hits, and RBIs through the first month of the season.
Roscetti has a team-best seven multi-hit games and five multi-RBI games. Eleven of his 13 RBIs have come in the last nine contests.
BOOKER THRIVING
Senior Joel Booker is thriving as Iowa's leadoff hitter in 2016, hitting .368 with 10 runs and eight RBIs. The outfielder, who has six doubles and one home run, has six multi-hit games — the second-most on the team. Booker went 4-for-5 with two RBIs against Chicago State (2/28) and had a 3-for-6, four RBI performance in a win over Savannah State. He hit a three-run home run — the third blast of his Iowa career.
It's a strong start for Booker, who hit .235 in his first season as a Hawkeye in 2015.
PEYTON SHOWS SIGNS
After falling below the Mendoza line following Iowa's March 8 game against Northwestern College, senior Tyler Peyton showed signs of breaking out of his early season slump at the Spring Swing at LakePointe. The Grimes, Iowa, native paced the Hawkeyes with a .438 average in four games, collecting seven hits in 16 at-bats. Peyton had two-hits in each of the final three games to raise his season average to .269.
SOPHOMORE C.J. Eldred…
? has been Iowa's most consistent pitcher, going 1-1 with a 1.88 ERA in four appearances (three starts)… has 17 strikeouts to two walks.
? posted back-to-back quality starts against Southern Illinois and Omaha… threw nine innings of two-hit, one run ball against the SIU. He had a no-hitter through 7 2/3 innings, but wasn't involved in the decision. He allowed three runs in six innings in a 3-2 loss to Omaha.
? picked up his first career win against Dartmouth in his first career start, allowing one run on four hits over five innings, fanning five.
? sat out the 2015 season after transferring from Indiana University, where he redshirted in 2014.
? is the son of former Hawkeye first round MLB Draft pick and Major Leaguer Cal Eldred.
SENIOR Tyler Peyton…
? logged a quality start at Dallas Baptist, going 6 1/3 innings, scattering two hits, and striking out six. Both runs were unearned, as he took the loss.
? has struggled in last two starts, going 0-2 with a 10.12 ERA in losses to Indiana State and Seton Hall… allowed nine runs on 11 hits over eight innings.
? did not pitch at Southern Illinois ( due to forearm tightness.
? is 12-8 in his Iowa career with a 3.98 ERA in 33 starts. Peyton has 15 quality starts and has pitched into the seventh inning 14 times in his career.
? has logged 185 1/3 innings in two-plus seasons, where he has 129 strikeouts to 60 walks.
? earned third-team All-America honors by D1Baseball.com and the USBWA as a junior.
? has the best change-up in the Big Ten Conference according to Baseball America.
SENIOR Calvin Mathews…
? is 0-1 with a 4.60 ERA in four starts… only Hawkeye pitcher to start every weekend this season.
? hasn't pitched past the fourth inning an any start, allowing nine runs (eight earned) on 17 hits over 15 2/3 innings.
? is 10-12 with a 3.21 ERA in 43 appearances (39 starts). He has logged 202 innings, allowing 181 hits, striking out 142 strikeouts to 63 walks.
IN RELIEF…
? Iowa's bullpen has been strong, posting a 2.59 ERA. The Hawkeye relievers have allowed 26 runs (18 earned) in 62 2/3 innings and are holding opposing hitters to a .250 average.
? Sophomore Nick Gallagher is 2-0 with a 1.50 ERA in three relief appearances. The right-hander moved to the bullpen after earning a Saturday start in the season-opening series at Dallas Baptist. He has allowed two runs on 11 hits over 12 innings as a reliever, striking out 10 and issuing just one walk.
? Freshman Zach Daniels is 0-1 with a 1.93 ERA, striking out five and walking zero in 4 2/3 innings.
? Freshman Shane Ritter made his debut against Northwestern College. He has a 0.00 ERA in two appearances, allowing one hit in three innings.
? Senior Luke Vandermaten hasn't allowed an earned run in his last three appearances, spanning five innings. He is 1-0 with a 2.84 ERA with one save in a team-high five appearances.
BREAKING DOWN 28-0
Iowa opened its 2016 home schedule with a 28-0 blasting of Northwestern College on March 8 at Banks Field. The 28 runs are the second-most in a single game in school history.
? All nine starters and 11 players tallied an RBI in the game. Iowa had 24 RBIs among the 28 runs.
? Nine different players tallied a hit, eight posted multi-hit games, and 13 different players scored at least one run. Iowa drew 11 walks in the contest.
FOLLOW THE HAWKEYES
Iowa baseball fans can follow the Hawkeyes on Facebook/iowabaseball, Twitter: @UIBaseball, and Instagram/UIBaseball in addition to coverage on hawkeyesports.com.