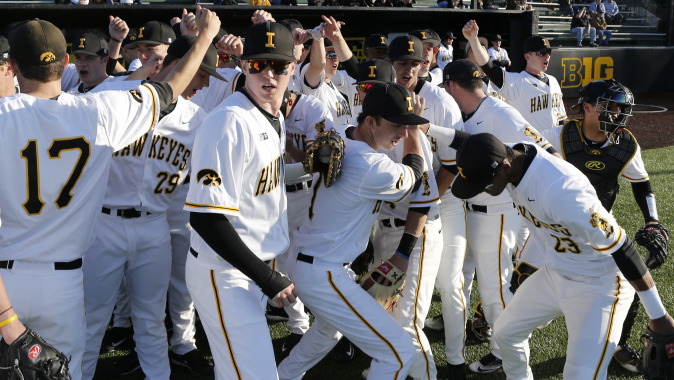 April 14, 2016
Iowa (16-15, 5-4) at Indiana (18-13, 4-2)
Dates
April 15-17, 2016
Location
Bloomington, Ind. | Bart Kaufman Field
Game Notes
Iowa
Statistics
IOWA | Indiana
Game 1
Date | Time
Friday, April 15 | 5:05 p.m. (CT) | BTN Plus
Pitching Matchup
IOWA: So., RHP C.J. Eldred (2-3, 2.52 ERA) vs.
IU: Sr., LHP Kyle Hart (5-2, 3.02 ERA)
Game 2
Date | Time
Saturday, April 16 | 1:05 p.m. (CT) | BTN Plus
Pitching Matchup
IOWA: Sr., RHP Tyler Peyton (1-4, 6.09 ERA) vs.
IU: Sr., LHP Caleb Baragar (2-1, 1.51 ERA)
Game 3
Date | Time
Sunday, April 17 | 2:03 p.m. (CT) | BTN
Pitching Matchup
IOWA: So., RHP Nick Gallagher (4-2, 2.73 ERA) vs.
IU: Sr., RHP Evan Bell (0-3, 3.59 ERA)
THIS WEEK
The University of Iowa baseball team hits the road for a three-game Big Ten Conference series at Indiana from April 15-17 at Bart Kaufman Field in Bloomington, Indiana. Friday's series opener begins at 5:05 p.m. (CT), Saturday starts at 1:05 p.m., and Sunday's finale at 2:03 p.m.
GAME COVERAGE
? Friday and Saturday's games will be video streamed live on BTN Plus, while Sunday's finale will be televised live on BTN. Andy Masur and Scott Pose will be on the call.
? Friday's game will be broadcast on AM-800 KXIC and all three games will be available online via Hawkeye All-Access. Brent Balbinot will be on the call with Ray Gilmore providing color commentary.
? Live statistics will be available at www.hawkeyesports.com and fans can follow the action via Twitter/UIBaseball.
IOWA TIDBITS
? Iowa has won 10 of its last 12 Big Ten Conference series dating back to the start of the 2015 season. The series losses came at Rutgers in 2015 and at Minnesota this season.
? The Hawkeyes are 14-4 over their last 18 games to move above .500 for the first time this season. Iowa was as many as five games under .500 on March 20.
? Three players — Joel Booker, Nick Roscetti, and Mason McCoy — have started every game this season.
? Iowa has won three straight games and five of its last six. The three-game winning streak matches a season long.
? Friday night starter C.J. Eldred will face his former team in the series opener. The right-hander joined the Hoosiers out of high school, before redshirting in 2014 — his only season in Bloomington.
? Iowa has 21 home runs in 31 games — tied for fifth-most in the Big Ten — this season with nine different players hitting at least one home run. Senior Joel Booker has a team-high four home runs, while four Hawkeyes have three apiece.
? The Hawkeyes have a +63 run differential this season. Iowa is 12-1 when scoring at least six runs and 0-9 when scoring 0-2 runs.
INDIANA NOTABLES
? The Hoosiers bring a six-game winning streak into the weekend series. Indiana is 18-13 overall and 4-2 in Big Ten play, dropping 2-of-3 games at Rutgers in its Big Ten series opener and sweeping a series against Purdue last weekend.
? Indiana has a .266 team batting average and is averaging 5.6 runs per game. The Hoosiers have three regulars hitting above .300 with Logan Sowers leading the team with a .328 average and six home runs. Brian Whilhite has a team-best 27 RBIs ans 23 runs scored.
? The Hoosiers are second in the Big Ten with a 2.83 team ERA and the staff has 250 strikeouts to 78 walks over 283 1/3 innings. Opponents are hitting .233.
? Indiana will start senior LHP Kyle Hart (6-2, 3.02 ERA) on Friday, senior LHP Caleb Baragar (2-1, 1.51 ERA) on Saturday, and senior RHP Evan Bell (0-3, 3.59 ERA) on Sunday. The Hawkeyes are 3-6 against left-handed starters this season.
? Reliever Thomas Belcher is 2-1 with a 2.05 ERA in 16 appearances with five saves, while Jake Kelzer is 1-2 with a 1.96 ERA with 27 strikeouts.
SERIES RECORD
? Iowa leads the all-time series over the Hoosiers, 77-71 in a series that dates back to 1913.
? It will be Iowa's first trip to Bloomington since 2012 and it will be the Hawkeyes' first time playing at Bart Kaufman Field.
? Iowa swept a three-game series over No. 19 Indiana last season in Iowa City. It was the first series victory over the Hoosiers since 2008. Indiana eliminated the Hawkeyes from the Big Ten Tournament with a 10-2 victory in Minneapolis.
LAST YEAR'S SERIES
? Tyler Peyton pitched a complete game shutout, scattering five hits and fanning five in a 2-0 Iowa win in the series opener.
? Iowa got victories from Blake Hickman and Nick Hibbing to close out its first sweep against a ranked opponent since 1990.
THE REAL MCCOY
Junior Mason McCoy hit Iowa's first cycle since 2007 when he finished 5-for-7 with three runs and six RBIs in a 22-2 victory over Air Force on April 13. The third baseman had a bunt single in the first, an RBI triple in the second, an RBI double in the fourth, and a two-run home run in the sixth. He added a two-run double in the seventh to tie the program record for hits in a game.
? Jason White was the last Hawkeye to hit for the cycle on April 22, 2007, against Illinois. That was 3,276 days and 479 games ago.
? McCoy is the second documented player to hit for the cycle in program history.
? McCoy became the 16th player to tally a five-hit game and the first since Eric Toole in 2013 at Purdue.
20-PLUS RUNS
Iowa scored 22 runs on 16 hits in its 22-2 victory over Air Force on April 12 to complete the two-game series sweep. It was the team's second 20+ run game this season as the Hawkeyes scored 28 runs — the second-most in program history — in a 28-0, seven-inning win over Northwestern College on March 8. It is the first time since 1996 Iowa has had two 20-run games in a season.
6 X 2
Iowa had two players finish with six RBIs in its 22-2 rout of Air Force on April 13. Junior Mason McCoy finished 5-for-7 with three runs and six RBIs, while senior Daniel Aaron Moriel was 3-for-5 with four runs and six RBIs. Moriel had career-highs in runs and RBIs, and tied a career-best in hits. McCoy had career-best numbers across the board.
? It was Iowa's first six RBI game since 2010 — Mike McQuillan (vs. Illinois State, 2/20/10). The school record for RBIs in a game is 10 by Brian Wujcik.
JOINING HISTORY
? Freshman Mitchell Boe tied a school record, drawing four walks in against Air Force on April 13.
? Sophomore Austin Guzzo scored five runs against Northwestern College on March 8 to tie a school record. He is one of three players to score five runs in a game and the first since John Mahoney in 1978.
COMPLETE GAME C.J.
Redshirt sophomore C.J. Eldred threw back-to-back complete games in starts against Maryland and Minnesota. He is second in the Big Ten in the complete games and ranks 14th nationally.
Eldred is the first Hawkeye since Jared Hippen in 2011 to pitch back-to-back complete games. Hippen did it in consecutive road games at Ohio State and Purdue.
TOP 12 BOOKER
Joel Booker ranks in the top 12 in the Big Ten in seven different offensive categories. He is tied for third in doubles (10) fourth in total bases (73), tied for sixth in runs (30), hits (47), and steals (11), seventh in slugging percentage (.562), and 12th in batting average (.362).
In Big Ten games, Booker is in the top 10 in six categories, including four in the top four. He is tied for the league lead with three home runs, is tied for third in total bases (23), tied for fourth in runs (8), and tied for fifth in RBIs (8).
BALLS & STRIKES
? Freshman Cole McDonald earned his third win in Iowa's 22-2 win over Air Force on April 13. He scattered two hits in four innings and fanned a career-high five batters.
? Freshman Shane Ritter notched his first career win against Air Force on April 12. He allowed four runs on six hits in four innings — zero over final three frames. He had a career-high six strikeouts.
? Six Iowa pitchers combined to two-hit Milwaukee in a 9-1 victory April 5. It was the team's first two-hitter of the season; the Hawkeyes had three two-hitters during the 2015 season.
? Iowa's pitching staff emerged in the Big Ten series-opening victory over Maryland. The Hawkeyes limited the Terrapins to six runs over 27 innings, posting a weekend series-best 2.00 ERA and striking out 23 to seven walks. Maryland hit .221 in the three-game series.
BANKS MAGIC
Iowa is 27-5 at home since the start of the 2015 season. The Hawkeyes went 17-3 last season for the most home victories since 1996. Iowa has six walk-off victories at Duane Banks Field since the start of 2015.
BOOKER'S BREAKOUT
In his first season as Iowa's leadoff hitter, senior Joel Booker is the catalyst at the top of the Hawkeye lineup.
? The outfielder is hitting a team-best .362 with 47 hits, 30 runs scored, and 21 RBIs. He has 10 doubles, two triples, and four home runs — surpassing his is extra base hit output from his entire junior season.
? Booker is tied for the team lead with 14 multi-hit games, including five three-hit and two four-hit contests.
? He had a career-best 14-game hitting streak and reached safely in 18 consecutive games earlier this season. He has hit safely in 25-of-31 games and reached safely in all but two contests.
? Booker has posted single-game career-bests in hits, RBIs, and runs this season. He drove in all four runs and hit his fourth home run — a three-run shot — in Iowa's 4-3 series-clinching victory over Illinois.
? The outfielder is currently riding an eight-game hitting streak, where he is hitting .457 (16-of-35) with 10 runs and 10 RBIs. He has reached safely in 10 straight games.
THINGS ARE "ROSEY"
? Senior Nick Roscetti has a team-best 14 multi-hit games and seven multi-RBI contests. He had a career-best 15-game hitting streak from Feb. 26-March 22.
? The shortstop has six games with two or more RBIs, including a four-RBI performance, tying a career-high, in Iowa's 7-6 walk-off victory over Bradley on March 22. Roscetti had the game-winning RBI single in the bottom of the ninth inning.
? The Illinois native ranks in the top 15 in the Big Ten in hits (41, 14th) and RBIs (24, t12).
? Roscetti is hitting .368 during his five-game hitting streak with three runs and four RBIs. He hit is third home run — a solo shot — off a 94-mile per hour Cody Sedlock fastball April 9.
OFFENSIVE NOTES
? Senior Jimmy Frankos is leading the team with a .333 batting average in Big Ten play. The catcher had the game-winning RBI on a safety squeeze to send Iowa to a walk-off, 10-inning victory over Illinois on April 9.
? Four Hawkeyes are hitting above .300 in Big Ten play — Frankos (.333), Joel Booker (.324), Robert Neustrom (.320), and Mason McCoy (.310).
? Senior John Barrett has two multi-hit games — the first two of his career — in the last three contests. He went 2-for-2 with a double against Illinois and 2-for-2 with two RBIs against Air Force.
? Sophomore Grant Klenovich had his second career three-hit game against Illinois, finishing 3-for-4 with a run scored in game two of an April 9 doubleheader.
? Frankos and Booker are both hitting above .400 with runnings in scoring position. Booker has a team-best .458 average (11-of-24), while Frankos is hitting .417 (5-of-12). Booker has 11 two-out RBIs.
SOPHOMORE C.J. Eldred…
? has been Iowa's most consistent pitcher, going 2-3 with a 2.52 ERA in eight appearances (seven starts). He took over as Iowa's Friday night starter on March 4 at Southern Illinois.
? has 36 strikeouts to 13 walks in 53 2/3 innings — third-most innings in the Big Ten — and is limiting opposing batters to a .220 batting average.
? has a team-best four quality starts. He has allowed three runs or fewer in six of his seven starts and he has gone at least seven innings in four starts.
? allowed two runs on six hits in seven innings in a no-decision against Illinois… had five strikeouts to one walk.
? pitched back-to-back complete games against Maryland and at Minnesota — the first Hawkeye to accomplish the feat since 2011.
? pitched his first career complete game against the Terps, allowing one run on six hits and striking out nine to out duel Maryland All-American Mike Shawaryn. He went eight innings at Minnesota, allowing four runs on seven hits in a 4-1 loss.
? posted back-to-back quality starts against Southern Illinois and Omaha… threw nine innings of two-hit, one run ball against the SIU. He had a no-hitter through 7 2/3 innings, but wasn't involved in the decision. He allowed three runs in six innings in a 3-2 loss to Omaha.
? picked up his first career win against Dartmouth in his first career start, allowing one run on four hits over five innings, fanning five.
? sat out the 2015 season after transferring from Indiana University, where he redshirted in 2014.
? is the son of former Hawkeye first round MLB Draft pick and Major Leaguer Cal Eldred.
SENIOR Tyler Peyton…
? Earned his first victory of the season at Minnesota on April 3, allowing one run on five hits over five innings.
? logged a quality start at Dallas Baptist, going 6 1/3 innings, scattering two hits, and striking out six. Both runs were unearned, as he took the loss.
? had his best outing since the series opener in game two against Maryland. He pitched five innings, allowing one run on three hits and struck out seven, but wasn't involved in the decision.
? missed a start at Southern Illinois due to forearm tightness.
? is 13-9 in his Iowa career with a 4.21 ERA in 37 starts. Peyton has 15 quality starts and has pitched into the seventh inning 14 times in his career.
? has logged 205 innings in two-plus seasons, where he has 148 strikeouts to 69 walks.
? earned third-team All-America honors by D1Baseball.com and the USBWA as a junior.
? has the best change-up in the Big Ten Conference according to Baseball America.
SOPHOMORE NICK GALLAGER…
? has a team-high four wins, going 4-2 with a 2.73 ERA… has allowed 11 runs (10 earned) on 29 hits in 33 innings and is limiting hitters to a .232 average… has 30 strikeouts to 13 walks.
? made his first career Big Ten start against Illinois on April 10… notched his fourth win, allowing one run on four hits in five innings, fanning five.
? went 3-1 with a 1.69 ERA in six relief appearances before returning to the starting rotation… opened the season as the Saturday starter at Dallas Baptist.
? posted back-to-back wins at Southern Illinois and vs. Savannah State… first career Big Ten victory came against Maryland after tossing four shutout innings.
BIG TEN HONORS
? Zach Daniels earned Big Ten Freshman of the Week honors on March 14 after hitting .571 with five RBIs and three runs scored in two Iowa victories. He had four RBIs in a 28-0 win over Northwestern College and went 3-for-4 with two runs and an RBI in a win over Savannah State.
? Robert Neustrom was honored as the Big Ten Freshman of the Week on March 28 after hitting .500 in helping Iowa to a 3-1 record last week. Neustrom had hits in three of four games, including two multi-hit contests, and posted a .667 slugging and .462 on-base percentage.
? It is the first time Iowa has had two different players earn the freshman honoree in the same season.
IN RELIEF…
? Iowa's bullpen has been strong, going 9-4 with a 2.86 ERA this season. The Hawkeye relievers have allowed 55 runs (44 earned) in 138 1/3 innings and are holding opposing hitters to a .238 average.
? Junior Josh Martsching is 1-0 with a 1.23 ERA in seven appearances this season. He has a team-best two saves and is holding hitters to a .208 average.
? Freshman Zach Daniels got out of a bases-loaded jam in the top of the ninth inning to record his first career save April 10 against Illinois. Daniels is 1-1 with a 3.00 ERA in eight appearances, allowing three runs on eight hits over nine innings.
FOLLOW THE HAWKEYES
Iowa baseball fans can follow the Hawkeyes on Facebook/iowabaseball, Twitter: @UIBaseball, and Instagram/UIBaseball in addition to coverage on hawkeyesports.com.