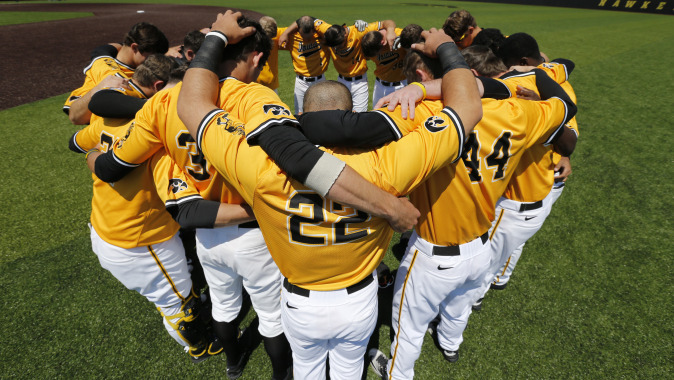 May 23, 2016
No. 8 Iowa (27-25, 12-12) vs. No. 1 Minnesota (34-18, 16-7)
Dates
May 25, 2016
Location
Omaha, Nebraska | TD Ameritrade Park
Game Notes
Iowa
Statistics
Iowa | Minnesota
Game 1
Date | Time
Wednesday, May 25 | 5 p.m. (CT)
Pitching Matchup
IOWA: So., RHP C.J. Eldred (2-8, 3.60 ERA) vs.
MINN: Jr., RHP Matt Fiedler (7-2, , 3.67 ERA)
THIS WEEK
The eighth-seeded University of Iowa baseball team opens Big Ten Tournament play Wednesday, facing top-seeded Minnesota at 5 p.m. (CT) at TD Ameritrade Park in Omaha, Nebraska.
GAME COVERAGE
? The duration of the 2016 Big Ten Tournament will be televised on the Big Ten Network. Iowa's game against Minnesota will feature Andy Masur, Scott Pose, and former Hawkeye Danan Hughes on the call.
? Wednesday's game will also be broadcast on the Hawkeye Radio Network on AM-800 KXIC with Brent Balbinot and Steve Duncan on the call. It will also be available on Hawkeye All-Access.
? Live statistics will be available at www.hawkeyesports.com and fans can follow the action via Twitter/UIBaseball.
IOWA B1G TOURNEY HISTORY
The Hawkeyes are making their third straight Big Ten Tournament appearance — a program record — and the 11th in school history. Iowa is 9-19 overall in the tournament, advancing to the championship game in 1983 and 2010. Iowa has won one tournament game in each of the past two seasons, edging Minnesota in an elimination game, 2-1, in 2014, and defeating Ohio State on a walkoff Nick Day home run last season.
? Iowa is the No. 8 seed for the second time in three seasons.
IOWA VS. B1G FIELD
Iowa had one of the toughest paths to the Big Ten Tournament, facing six of the top eight seeds. The Hawkeyes went 8-10 against the field, taking two of three games from Maryland and Michigan State, and winning one game against Minnesota, Ohio State, Indiana, and Michigan. Iowa didn't face Nebraska during the regular season.
IOWA TIDBITS
? The Hawkeyes are hitting .304 as a team over their last 10 games and they have nine or more hits in seven of the last nine games. Iowa has 17 games with 10 or more hits this season.
? The Hawkeyes have 87 doubles in 52 games; the team had 84 doubles in 59 contests last season.
? Three players — Joel Booker, Nick Roscetti, and Mason McCoy — have started every game this season. Booker has started every game of his Hawkeye career.
? McCoy was the No. 3 play on ESPN SportsCenter's Top 10 plays May 15 when he made a diving grab on a lined shot that richoqueted off senior pitcher Ryan Erickson.
? The Hawkeyes ran early and often at Penn State, stealing 11 bases in 13 attempts. It was a season-high for a weekend series. Iowa stole nine bases against Western Illinois on May 3, the most in a Big Ten game and the second most in program history.
? Iowa is 7-16 in true road games in 2016 and 10-18 in games played away from Iowa City, including 4-3 in neutral site games.
? The Hawkeyes have 26 home runs in 52 games — the sixth-most in the Big Ten — this season with 10 different players hitting at least one home run. Senior Joel Booker has a team-high five home runs.
? The Hawkeyes have a +78 run differential this season. Iowa is 18-2 when scoring at least six runs and 1-16 when scoring 0-2 runs. The team is 6-5 in one-run games and 9-7 in games decided by two runs or less.
? Iowa is 8-12 against left-handed starting pitching.
? Iowa is 21-2 when leading after six innings, 23-2 after seven, and 24-0 after eight innings. The Hawkeyes are 4-21 when trailing after six, 3-21 after seven, and 1-23 after eight.
MINNESOTA NOTABLES
? The Gophers finished the regular season with a 34-18 overall and a 16-7 league record to claim the regular season title. It was the 23rd in program history.
? Matt Fiedler does it all for the Gophers as the team's Friday night starter and No. 3 hitter. Fielder is 7-2 on the mound with a 3.67 ERA with 63 strikeouts in 83 1/3 innings. Offensively, he is hitting .383 with team highs in hits (82), runs (43), and steals (13).
? Minnesota is the top offensive team in the Big Ten, leading the league with a .328 average and .470 slugging percentage. The Gophers have a league-high 621 hits and 324 RBIs while ranking second in runs scored (351) and home runs (46).
? Ten different Gophers are hitting .292 or above and eight have averages above .300. Shortstop Terrin Vavra, who was hitting .379, is out because of injury.
SERIES RECORD
? Minnesota leads the all-time series over Iowa, 180-116 in a series dating back to 1892. The Gophers took two of three games from the Hawkeyes in early April in Minneapolis. Iowa had won the previous two series against the Gophers — a first for the program since 1962 and 1963.
? Matt Fiedler out-dueled C.J. Eldred in the opening game of the series April 1, allowing one run on three hits over seven innings. He had six strikeouts to four walks.
? Eldred allowed four runs (all earned) on seven hits in a complete game. He had four strikeouts to two walks. The game was played in 39 degree temperatures at Siebert Field.
? Iowa and Minnesota split an April 3 doubleheader with both teams posting 6-3 victories. Tyler Peyton earned the win, allowing one run on five hits over five innings.
? Iowa hit just .200 in the three-game series with Joel Booker (.417), Mason McCoy (.375), and Zach Daniels (.364) accounting for 12 of Iowa's 18 hits on the weekend.
BACKS AGAINST WALL
Iowa has played with its backs against the wall the last two weeks, needing to win to advance to the Big Ten Tournament. The Hawkeyes posted back-to-back series wins over Michigan State and Penn State. The win in Happy Valley was the first road series victory for Iowa this season.
CLIMBING RECORD BOOKS
? Senior Nick Roscetti ranks ninth all-time in school history with 144 singles, while senior Tyler Peyton is 13th with 129 base hits.
? Senior Tyler Radtke is 10th with 55 career appearances, while Peyton and Calvin Mathews are ninth and 11th all-time in innings pitched with 232 and 220.2, respectively.
? Senior Joel Booker has 17 doubles, the most by a Hawkeye since Tyson Blaser had 18 in 2011, and tied for the eighth-most all-time. Booker's 74 hits are one shy from being in the top 15 in a season in school history.
PITCHING STAFF EMERGES
Over the past four series, Iowa's pitching staff has been lights out, posting a 2.24 team ERA and limiting opposing hitters to a .217 average. Iowa has allowed just 31 runs (27 earned) over 108 1/3 innings.
? The Hawkeyes posted a 1.53 ERA in its road series win at Penn State — a season-best weekend performance. Iowa has had a staff weekend ERA of less than 2.50 four times this season — three coming in the last four series.
? Iowa had a 2.00 ERA in a series win over Maryland and Kansas State and had a 2.33 staff ERA in the home series win over Michigan State.
LOCKED IN
Senior Tyler Peyton is 3-0 with a spotless ERA in his last three starts — victories over Ohio State, Michigan State, and Penn State. The right-hander has thrown 23 scoreless innings, allowing just eight hits during the stretch. Peyton recorded his second career complete game shutout at Penn State, scattering three hits and fanning four. He needed just 98 pitches to complete the shutout.
BOOKER NAMED GREGG OLSON AWARD SEMIFINALIST
Senior Joel Booker is a semifinalist for the Gregg Olson Breakout Player of the Year Award, which is presented to a top amateur baseball player who elevates his game to an elite level throughout the season. After hitting just .235 as a junior, Booker is leading Iowa in virtually every offensive category as a senior. He has team-bests in average (.344), runs (43), hits (74), doubles (17), home runs (5), and steals (22).
ROSCETTI MAKES CUT ON BROOKS WALLACE WATCH LIST
Senior Nick Roscetti made the first cut for the Brooks Wallace Shortstop of the Year Award Watch List. He is one of 26 players (one of two in the Big Ten Conference) remaining for an award that is presented to the best shortstop in collegiate baseball. The Illinois native is hitting .312 with 37 runs and 35 RBIs in 2016 and he has just five errors in 52 games.
TRADING PLACES
The batting order swap between seniors Tyler Peyton and Joel Booker has paid off.
? Peyton is hitting a team-best .391 (27-of-69) in 16 games since making the move to the leadoff position. He has 10 extra base hits, scored 15 runs, and driven in seven. Peyton has a .594 slugging and .468 on-base percentage during the stretch.
? Booker is hitting .373 in the three hole with a team-high 11 RBIs and 12 runs scored. He has six doubles and has swiped 11-of-12 bases in 17 games.
PEYTON SIZZLES
Since seeing his average dip to .244 on April 3, senior Tyler Peyton has rebounded in a big way. The first baseman has 14 (of his 20) multi-hit games and has seen his average climb 76 points to .320. Peyton has hits in 22 of the 27 games.
? Peyton is hitting nearly .400, posting a .383 average with 41 hits with 14 extra base hits, including 10 doubles since the beginning of April. He has scored 22 runs and driven in 11 during the stretch.
? The first baseman has a career-best 20 multi-hit games this season, giving him 51 for his Hawkeye career.
BANKS MAGIC
Iowa has gone 33-10 at home since the start of the 2015 season. The Hawkeyes went 17-3 last season — the most home victories since 1996 — and followed it up with 16 home wins in 2016. Iowa has six walk-off victories at Duane Banks Field since the start of 2015.
GALLAGHER: ACE IN RELIEF
Sophomore Nick Gallagher is 3-0 with a 0.51 ERA his last three relief appearances where he posted victories over Michigan, Kansas State, and Penn State. The right-hander went seven innings in back-to-back wins against No. 18/21 Michigan and Kansas State before tossing 3 2/3 innings in relief in a road victory at Penn State.
? Gallagher retired the first 13 batters he faced and pitched seven shutout innings in a 2-1 win over K-State to record his sixth victory on May 1. He had five strikeouts without issuing a walk.
? It came on the heels of a seven inning outing in a win over the Wolverines. He tossed six shutout innings before surrendering his only run in the ninth. He fanned a career-high seven batters and scattered six hits over seven innings.
? The Iowa City, Iowa, native has been superb in relief this season. He is 6-1 with a 1.22 ERA over 44 1/3 innings. He has 40 strikeouts to nine walks.
? In Big Ten play, Gallagher went 4-1 with a 3.03 ERA in seven appearances (three starts). He had 28 strikeouts in 32 2/3 innings.
? Overall, Gallagher is 7-3 with a 2.84 ERA in 13 appearances (four starts) . The seven wins are tied for second in the Big Ten and his ERA ranks 13th. Gallagher is the first Iowa sophomore since Nick Erdman in 2007 to win at least seven games.
BOOKER'S BREAKOUT
Senior outfielder Joel Booker is hitting .344 with 74 hits, 43 runs and 32 RBIs. He has a team-best 17 doubles, two triples, and five home runs. The 17 doubles are the most by a Hawkeye since 2011.
? Booker ranks in the top-10 in the Big Ten in seven different offensive categories. He is third in steals (22), tied for fifth in doubles (17), sixth in hits (74), tied for seventh in total bases (110), ninth in batting average (.344) and slugging percentage (.512), and tied for 10th in runs (43).
? Booker is second on the team with 23 multi-hit games — a career-most — including six three-hit and three four-hit contests. He has five multi-hit games in his last six contests heading into the Big Ten Tournament.
? Booker is 22-of-24 on the base paths this season. The outfielder had been successful in 14 straight attempts before being caught May 13 against Michigan State.
? He had a career-best 14-game hitting streak and reached safely in 18 consecutive games earlier this season. He has hit safely in 40 games and reached safely in all but five contests.
THINGS ARE "ROSEY"
? Senior Nick Roscetti has a team-best 24 multi-hit games and 11 multi-RBI contests. He had a career-best 15-game hitting streak from Feb. 26-March 22.
? Roscetti is as good of a defensive shortstop as there is in the Big Ten. He has five errors in 229 chances for a .978 fielding percentage. Roscetti has three errors in his last 47 games and there was a span of 29 games between errors two and three this season.
? The shortstop has 11 games with two or more RBIs, including a four-RBI performance, tying a career-high, in Iowa's 7-6 walk-off victory over Bradley on March 22.
? Roscetti posted his second four-hit game of the season, tying a career-high, in the series finale at Indiana. He scored the game-winning run in the 10th inning in a 6-5 win.
OF NOTE…
? Senior Eric Schenck-Joblinske has hit safely in six of his last seven games, where he is hitting .357 during the stretch. The outfielder has four multi-hit games in the span, including back-to-back two-hit games against Michigan State, where he hit .455 in the three-game series. He was 2-for-3 with a career-high three RBIs in game two, which included a two-run home run. Schenck-Joblinske has a .355 average (11-of-31) over his last 10 games.
? Junior Mason McCoy is riding a career-long nine game hitting streak, where he is hitting a team-best .436 during the stretch. The infielder tallied his 12th and 13th multi-hit games at Penn State, including a 3-for-6 performance in the series finale. McCoy is hitting .500 (10-of-20) over his last four games with three multi-hit games.
? Freshman Robert Neustrom is hitting .306 over his last 10 games with 11 hits in 36 at-bats. The outfielder has a .306 average for the season with 10 multi-hit games, including six three-hit contests.
BALLS & STRIKES
? Iowa's pitching staff has three shutouts this season — the most since 2007.
? Freshman Cole McDonald earned his fourth win, tossing a career-high five innings and fanning five in a win over Grand View. The New Hampton, Iowa, native has emerged as Iowa's midweek starter, going 4-1 with a 3.33 ERA in 10 appearances (eight starts). He has 29 strikeouts to six walks in 24 1/3 innings. McDonald had a career-high six strikeouts May 17 at Western Illinois.
? Senior Calvin Mathews had his best start of the season May 15 in his final game at Banks Field. The right-hander retired the first 11 batters he faced and allowed one walk and a hit before leaving after 3 2/3 innings.
THE REAL MCCOY
Junior Mason McCoy hit Iowa's first cycle since 2007 when he finished 5-for-7 with three runs and six RBIs in a 22-2 victory over Air Force on April 13. The third baseman had a bunt single in the first, an RBI triple in the second, an RBI double in the fourth, and a two-run home run in the sixth. He added a two-run double in the seventh to tie the program record for hits in a game.
? Jason White was the last Hawkeye to hit for the cycle on April 22, 2007, against Illinois. That was 3,276 days and 479 games ago.
? McCoy is the second documented player to hit for the cycle in program history and the first by a Big Ten player since 2013 (Justin Parr, Illinois).
? McCoy became the 16th player to tally a five-hit game and the first since Eric Toole in 2013 at Purdue.
SOPHOMORE C.J. Eldred…
? is 2-8 with a 3.60 ERA in 14 appearances, including a team-high 13 starts. He took over as Iowa's Friday night starter on March 4 at Southern Illinois after starting the season in the bullpen.
? has 58 strikeouts to 23 walks in 85 innings — the ninth-most innings.
? has a team-best six quality starts, three coming in Big Ten play. He has allowed three runs or fewer in nine of his 13 starts and he has gone at least seven innings in four starts.
? pitched back-to-back complete games against Maryland and at Minnesota — the first Hawkeye to accomplish the feat since 2011.
? pitched his first career complete game against the Terps, allowing one run on six hits and striking out nine to out duel Maryland All-American Mike Shawaryn. He went eight innings at Minnesota, allowing four runs on seven hits in a 4-1 loss.
? posted back-to-back quality starts against Southern Illinois and Omaha… threw nine innings of two-hit, one run ball against the SIU. He had a no-hitter through 7 2/3 innings, but wasn't involved in the decision. He allowed three runs in six innings in a 3-2 loss to Omaha.
? picked up his first career win against Dartmouth in his first career start, allowing one run on four hits over five innings, fanning five.
? sat out the 2015 season after transferring from Indiana University, where he redshirted in 2014.
? is the son of former Hawkeye first round MLB Draft pick and Major Leaguer Cal Eldred.
SENIOR Tyler Peyton…
? Is 4-5 with a 4.28 ERA in 12 appearances (11 starts)… the right-hander has four quality starts this season — three coming in his last three starts.
? Riding a 23 scoreless innings streak in his last three starts — wins at Ohio State, vs. Michigan State, and at Penn State.
? Earned his first victory of the season at Minnesota on April 3, allowing one run on five hits over five innings.
? logged a quality start at Dallas Baptist, going 6 1/3 innings, scattering two hits, and striking out six. Both runs were unearned, as he took the loss.
? is 16-10 in his Iowa career with a 3.96 ERA in 41 starts. Peyton has 18 quality starts and has pitched into the seventh inning 17 times in his career.
? has logged 232 innings in two-plus seasons, where he has 161 strikeouts to 76 walks.
? earned third-team All-America honors by D1Baseball.com and the USBWA as a junior.
? has the best change-up in the Big Ten Conference according to Baseball America.
IN RELIEF…
Iowa's relief corps has been a strength of the 2016 pitching staff. The Hawkeye relievers are 16-5 with a 2.58 ERA and 11 saves over 237 innings this season. The relievers have 182 strikeouts and are limiting opposing hitters to a .227 average.
? In his last four relief outings, senior Ryan Erickson is 2-0 with a 0.53 ERA in appearances against Indiana, Ohio State, Michigan State, and Penn State. He has allowed one run on nine hits over 17 innings and is limiting hitters to a .161 average. Erickson earned wins at Indiana and against Michigan State.
? Redshirt junior Josh Martsching is sharing Iowa's closer duties. He is 1-0 with a 2.25 ERA in 14 appearances, fanning 14 in 16 innings. The Bloomfield, Iowa, native has four saves.
? Freshman Zach Daniels is 1-1 with a 1.53 ERA in 15 appearances, fanning 15 in 17 2/3 innings. Daniels, who has a team-best five saves, hasn't given up a run in his last nine appearances, spanning 10 2/3 innings.
? Sophomore Nick Allgeyer hasn't surrendered a run or hit in his last four relief appearances, spanning five innings. Allgeyer made his first career start at Penn State in the regular season finale.