Editor's Note: The following first appeared in the University of Iowa's Hawk Talk Daily, an e-newsletter that offers a daily look at the Iowa Hawkeyes, delivered free each morning to thousands of fans of the Hawkeyes worldwide. To receive daily news from the Iowa Hawkeyes, sign up HERE.
By JACK ROSSI
hawkeyesports.com
IOWA CITY, Iowa — The school year is already upon us meaning the University of Iowa cross country team is prepped and ready for the 2016 season, but not without some changes.
  
The biggest change heading into the season doesn't involve any of the Hawkeye student-athletes, but their coach.
 
Randy Hasenbank, who has a reputation of building programs from bottom to top, is in his first season as associate head cross country/ track and field coach. Hasenbank comes to Iowa following a five-year stint at Loyola University Chicago where he was named the Horizon League Coach of the Year five times.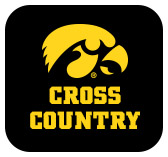 Hasenbank is also no stranger to Power Five conferences, having spent five seasons at Alabama in the Southeastern Conference.
 
"It's exciting to be in the Big Ten," Hasenbank said. "We have access to high profile student-athletes that you may not get at mid-major schools. We recruited those athletes at Loyola, but Iowa has the type of brand to get them."
 
Since being named to the position on Aug. 5, Hasenbank had a period of 18 days to create a practice schedule to implement his new philosophies.
 
"I will put more time in speed and interval training throughout the year," Hasenbank said. "Some coaches wait longer to implement those pieces as indoor and outdoor track roll around. I don't want to have our athletes too far removed from high quality pieces in their training."
 
The Hawkeyes return junior Madison Waymire. Iowa's top runner in 2015, Waymire made history as the first Iowa female to lead the team in every race since Sarah Arens in 2000. She placed as high as third in the 5,000-meters at the Illinois State Invite with a time of 17:52.6.
 
"I would like to be first or second team at the Big Ten Championships and then make it into one of the top 10 spots at NCAA Regionals," Waymire said.
 
Junior Michael Melchert returns as the men's top finisher from a year ago. The Monticello, Iowa, native led Iowa in three races last season, highlighted by his third place (24:14.1) finish at the Bradley Pink Classic on Oct. 16.
 
"Last year I was just outside All-Big Ten and this year I expect myself to be All-Big Ten so that is the goal," Melchert said. "At NCAA Regionals last year, I couldn't finish because I lost my shoe, so I'd like to get a high finish at that competition, too."
 
The Hawkeyes are in the final week of preparation leading up to the team's 2016 debut, and Hasenbank says he is looking for a few specific impressions when he hears the first start gun.
 
"I will look at this as a bit of a time trial," Hasenbank said. "We are still getting to know each other, so I will learn how fit they are, what kind of competitive spirit they have, and how much pride they take in their program. I am excited and we will get as many of them out there in a singlet as I can."
 
The Hawkeyes begin the regular season Sept. 2, hosting six teams at the Hawkeye Invitational at the Ashton Cross Country Course. The women's 3,000-meters begin at 6 p.m. (CT) and the men's 6,000-meters begin at 6:45 p.m. (CT).