Hawkeye Fan Shop — A Black & Gold Store | 24 Hawkeyes to Watch — 2017-18 Season | Hawk Talk Monthly — February
IOWA CITY, Iowa — University of Iowa volleyball player Halle Johnston will try out for the U.S. Women's National Team at the U.S. Olympic Training Center in Colorado Springs, Colorado, on Friday-Sunday.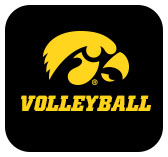 Johnston played in 19 matches in 2017. She recorded 76 digs, nine aces, and nine assists overall. In Big Ten play, the freshman had seven digs and an ace.
 
Before Johnston boards the plane, hawkeyesports.com talks to her about her preparation for the tryouts.
 
Q: What have you been doing to prepare for these tryouts?
A: We have been conditioning and lifting, trying to build our strength. We also have individual practices so we have been trying to get as many reps as possible before we go!
 
Q: What are you most excited about for these tryouts?
A: I am excited to compete with all of these great athletes from across the country. It's also a great opportunity to just be in the gym and get extra touches and learn new things.
 
Q: What is it like being able to represent the University of Iowa at the Team USA volleyball tryouts?
A: I'm so excited to be able to represent the University of Iowa. I love this school and it really is honor!
 
Q: What advice do you have for younger volleyball players who hope to play in college and try out for the national team someday?
A: I would tell them the two things you can always control are your attitude and effort, so you should always strive to be the hardest working player in the gym.