Hawkeye Fan Shop — A Black & Gold Store | Hawk Talk Monthly — October | 24 Hawkeyes to Watch 2019-20 | Fight For Iowa
By RICK BROWN
hawkeyesports.com
 
IOWA CITY, Iowa — CJ Fredrick played with no fear as a senior at Covington Catholic, leading his team to a state basketball title and being named Gatorade Player of the Year in Kentucky.
 
Last fall, during one of Iowa's early-season practices, Fredrick paid the price for his fearless passion on the court.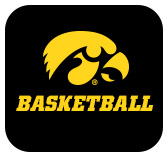 As Tyler Cook drove to the basket for one of his trademark dunks, Fredrick stepped into the lane to draw a charge and ended up glued to the floor.
 
Assistant athletic trainer Brad Floy stepped in to assess the damage. Fredrick was gasping for air after having the wind knocked out of him.  Then he complained of a sore wrist. An hour later, Fredrick told Floy his ribs hurt.
 
Fredrick got a second wind, and his wrist was fine. But the 6-foot, 3-inch shooting guard had fractured a rib in the collision, putting him on the sidelines for a month.
 
Already a candidate for a redshirt season because of depth at the guard position, the injury was ultimately the deciding factor in Fredrick sitting out the 2018-19 season.
 
"If he didn't redshirt, he would have played a lot last year," said Iowa head coach Fran McCaffery. "He's that good. It gave him time to learn the offense in a situation where he didn't feel pressure, and he got stronger."
 
Fredrick's games last season came in practice on the scout team.
 
"That was the best feeling, being able to play and have that green light on the scout team to shoot when I wanted to," Fredrick said. "I could make mistakes, learn from them and get better."
 
Fredrick watched players like Isaiah Moss and Jordan Bohannon in games, picking up nuances of the position from his front-row seat.
 
"The best thing he was able to do last year was redshirt," Bohannon said.
 
Fredrick has added strength to go with a better understanding of the Iowa system.
 
"Athletically, I feel the best I ever have," Fredrick said. "My body feels great."
 
CJ has noticed his added strength in the screening game, a skill that is invaluable in Iowa's half-court offense.
 
"I can come off screens much tighter," he said. "I can seal guys on my back and create the separation I want to. When I'm driving and making plays, I can take a hit and keep going, and I can finish around the rim a lot better."
 
Fredrick can also play the point if needed. That's one way he expanded his game during his redshirt season. He wants to be known as more than a scorer, which he was at Covington Catholic. He averaged 27.8 points in four state tournament games as a senior.
 
"He is a bucket getter," McCaffery said. "He can create on his own, he can get baskets within the offense, but the thing that makes him difficult to guard is he is good at getting rid of the ball. He sees the floor well and gets the ball out of his hands quickly when somebody is open."
 
When to shoot, and when to set up a teammate, requires a feel for the game.
 
"I think of myself as having a high basketball IQ," Fredrick said. "I'm going to take whatever the defense gives me."
 
That hoops IQ is family-driven. His father, Chuck, played at Rollins College. His uncle, Joe, was a shooting guard at Notre Dame, scoring 1,058 points and playing in four NCAA Tournaments. McCaffery was a Notre Dame assistant when Joe played for the Fighting Irish. Fredrick's aunt, Maureen, played at Xavier and another uncle, Mike, was an outstanding high school point guard.
 
"Being around them, they were teaching me the game," Fredrick said. "I got started at an early age. My dad and my uncle Joe were big in teaching me the right way to play the game."
 
As Fredrick's game evolved, McCaffery used his connection with the Fredrick family in the recruiting process. Fredrick was offered scholarships by schools like Xavier, Penn State, and Nebraska, but he decided to come to Iowa even though no scholarship was available. That changed a week before signing day when Christian Williams decided to transfer.
 
Fredrick gladly accepted the scholarship. Now he hopes to make a name for himself this season. What kind of player should Hawkeye fans expect to see?
 
"Someone who is going to play hard all the time," he said. "Someone who is going to bring a little bit of everything to the court, whether that's getting stops, making plays, knocking down shots, making good passes or reading the floor well. I will be someone who is going to give you everything."
 
Iowa will hit the court for the first time Nov. 4, hosting Lindsey Wilson College in an exhibition on Mediacom Court at Carver-Hawkeye Arena at 7 p.m. (CT).
 
The Fight For Iowa Mobile Season Pass, season tickets, and mini packages are currently available for purchase on hawkeyesports.com/fightforiowa.