By DARREN MILLER
hawkeyesports.com
IOWA CITY, Iowa — There is complementary football and there is timely complementary football.
The University of Iowa used the latter to get an upper hand in the second half and defeat Nebraska, 26-20, on Friday in the Heroes Game in Kinnick Stadium. The Hawkeyes have won six in a row in the series.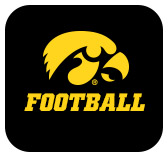 Iowa found itself in a rare position at halftime, locked in a 13-13 tie. The Hawkeyes led at the break in their first five games, but Nebraska took momentum to the locker room after capping a 75-yard scoring drive with a touchdown with 29 seconds left in the second quarter. The Cornhuskers received the ball to start the second half and scored on their fourth consecutive drive to grab a 20-13 lead.
"The most significant thing is the way we finished the game," Iowa head coach Kirk Ferentz said. "(Nebraska) scored on the opening drive of the second half and after that we settled in and I think we won 13-0 from that point."
There could not have been a more opportune time for Iowa to show off its trademark complementary football. Iowa's defense watched while its offense tied the game with a 14-play, 66-yard drive. Then Iowa's offense watched while its defense forced a three-and-out.
"The most significant thing is the way we finished the game. (Nebraska) scored on the opening drive of the second half and after that we settled in and I think we won 13-0 from that point."

Kirk Ferentz, Iowa head football caoch
"You could feel the momentum swing right there," Ferentz said. "We have had three games in a row where we have had ups and downs, but not in that tight of a situation. It was good to see our guys come back and respond. We didn't take control, but at least we gained momentum back."
The two biggest drives were in the third quarter. In the first half, Iowa ran the ball 17 times for 35 yards and the Hawkeyes knew it was time to muscle up on the ground. After falling behind by a touchdown, Iowa put together a scoring drive that consumed 6 minutes, 18 seconds. The series consisted of nine runs and five passes.
"We spoke at halftime that the only thing holding us back was ourselves," said Iowa quarterback Spencer Petras, who threw for 193 yards and a touchdown. "We needed to come out with a big drive and great job all around. We ran the ball well and had key catches; we knew we needed to get down there and get points and we executed well."
Running back Tyler Goodson carried the ball seven times for 36 yards, churning out gains of 7, 7, 6 and 6 yards. A 4-yard run by Goodson set up Mekhi Sargent's 2-yard touchdown.
"We went in, made adjustments, took coaching from the coaches and put it on the field in the second half," Goodson said. "The run set the tone for us to get the ball moving and as we kept running, we kept progressing."
The key play came on fourth-and-2 from Nebraska's 16. Petras connected with tight end Sam LaPorta for a five-yard gain to move the chains.
"We got the call, executed and punched it in, so that was a great drive for us," said LaPorta, who had two receptions on the scoring drive. "I'm glad we could keep it alive."
In order to maintain that momentum, Iowa's defense needed a stand. In the previous four drives, Nebraska scored 20 points and gained 229 yards. The Hawkeyes responded. Jack Campbell and Kaevon Merriweather tackled Wan'Dale Robinson after a 4-yard gain. Daviyon Nixon sacked Adrian Martinez for a 1-yard loss. Nixon and Dane Belton stopped Martinez for a 1-yard gain. Punt.
"We knew if they didn't score any more points, they couldn't win the game," Iowa defensive back Matt Hankins said. "The energy shifted and we kept it going."
Iowa (4-2) concluded the scoring with two field goals by Keith Duncan. The Hawkeyes have won four games in a row and six straight against Nebraska.
"It's hard to win conference games," Ferentz said. "If you can get a streak going, that's great, but that wasn't first or foremost on our thoughts. We knew we had a big challenge on our hands and I'm glad we were able to get the job done."