By SHANE STURTZ
hawkeyesports.com
IOWA CITY, Iowa – The University of Iowa women's basketball team (10-6, 6-6) fell to 17th-ranked Indiana (11-5, 9-2), 85-73, on Sunday afternoon inside Carver-Hawkeye Arena on Mediacom Court.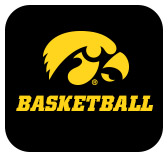 Five of Iowa's six losses this season have been against ranked opponents.
"We're so close," head coach Lisa Bluder said. "We're (down) two points going into the fourth quarter on our home court, and then get taken out of it in that fourth quarter. In some ways we're so close – it's just not showing up in the victory column."
All square at 60 a few possessions into the fourth quarter, Indiana's defense was the difference maker. The Hoosiers outscored the Hawkeyes 27-16 in the final frame, limiting Iowa to 35 percent shooting (7-of-20) down the stretch.
"There's a lot we can take away," said freshman guard Caitlin Clark, who scored 30 points for the second consecutive game and sixth time this season. "It was tied in the fourth quarter. We're right there. That's more frustrating than the losing part. These games are winnable for us."
Sophomore McKenna Warnock recorded 10 points and a game-high 15 rebounds for her fourth double-double of the season and sixth of her career. Junior Monika Czinano was the third Hawkeye in double figures with 16 points.
Trailing 20-18 after the first quarter, the Hawkeyes began the second on a 10-0 run capped off by a Warnock 3-pointer, forcing an Indiana timeout. Moments later, Clark sank her second triple of the quarter to give Iowa a 31-22 lead — its largest of the game — with 5:52 left in the first half.
Indiana, however, responded with a 14-2 run to end the quarter, giving the Hoosiers a 36-33 halftime lead.
Clark, who scored 19 first-half points, and the Hawkeyes cooled off after the break, and the Hoosiers capitalized, going on an 8-0 third-quarter run to hold a 53-43 advantage, with just over five minutes to play in the third.
With six Hawkeyes scoring in the third, Iowa ended the quarter on a 9-2 run to trail by two, 58-56, to start the fourth quarter.
Iowa tied the game at 60 early in the fourth quarter on a layup by redshirt sophomore Kate Martin, but Indiana went on a 12-2 run to take a 72-62 lead with 5:47 left to play. The Hoosiers delivered the final blow via an Ali Patberg and-one jumper in the lane, increasing the Hoosier's lead to 11 (77-66) with 2:55 remaining.
Patberg (23) and forward Katie Holmes (25) led the Hoosiers in scoring.
OF NOTE
Iowa shot a season-low 41 percent from the floor (29-of-71) and dished out a season-low 12 assists. Iowa committed only 13 turnovers.
Iowa's 72 points today was its lowest total in seven games.
Indiana outscored Iowa 50-36 in the paint and outrebounded Iowa 42-35.
The Hawkeyes only shot six foul shots (5-of-6) to Indiana's 20 (14-of-20).
Warnock tallied her seventh game of the season with 10+ rebounds.
UP NEXT
The Hawkeyes return to action on Wednesday, Feb. 10 at 7 p.m. (CT) against Nebraska inside Pinnacle Bank Arena in Lincoln, Nebraska. The game will be streamed live on B1G Network+.