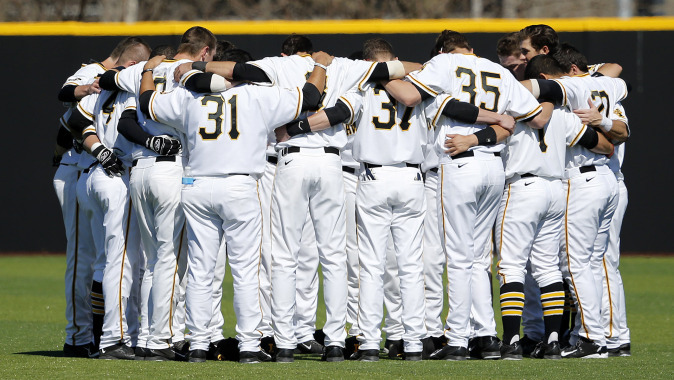 April 2, 2015
No. 24 Iowa (18-7, 3-0) at Purdue (10-18, 1-2)
Dates
April 3-5, 2015
Location
West Lafayette, Ind. | Alexander Field
Game Notes
Iowa
Statistics
Purdue | IOWA
Game 1
Date | Time
Friday, April 3 | 4:30 p.m. (CT)
Pitching Matchup
IOWA:Jr., RHP Tyler Peyton (3-1, 2.39 ERA) vs.
PUR: Fr., RHP, Mike Kornacker (1-2, 3.00 ERA)
Game 2
Date | Time
Saturday, April 4 | 1 p.m. (CT)
Pitching Matchup
IOWA:Jr., RHP Blake Hickman (3-1, 2.77 ERA) vs.
PUR: Jr., RHP Shane Bryant (1-0, 4.20 ERA)
Game 3
Date | Time
Sunday, April 5 | 12 p.m. (CT)
Pitching Matchup
IOWA: Jr., RHP Calvin Mathews (2-0, 1.20 ERA) vs.
PUR: Sr., RHP Brett Haan (1-5, 7.59 ERA)
THIS WEEK
The 24th-ranked University of Iowa baseball team heads to West Lafayette, Indiana, for a three-game Big Ten series at Purdue from April 3-5. All three games will be played at Alexander Field with start times of 4:30 p.m. (CT) Friday, 1 p.m. Saturday, and 12 p.m. Sunday.
GAME COVERAGE
? The series will be broadcast on AM-800 KXIC and AM-1360 KMJM on Friday and Saturday with Brent Balbinot and Ray Gilmore on the call. All three games of the series will also be available via the subscription-based service Hawkeye All-Access on hawkeyesports.com.
? Fans can also follow every game with live stats (GameTracker) on hawkeyesports.com and live updates are also available on Twitter: @UIBaseball.
LEADING OFF
? Iowa is ranked No. 24 in the latest Collegiate Baseball poll, the program's first ranking since 1990. The Hawkeyes are also receiving votes in the NCBWA, D1Baseball.com, and USA Today Coaches' Polls.
? The Hawkeyes are 3-0 in the Big Ten for the first time since 1994. Iowa is one of two teams, along with Nebraska, to have not lost a conference game this season.
? Iowa swept a three-game series over No. 19 Indiana to open Big Ten play. It was the team's first series sweep over a ranked foe since 1990 — a four-game sweep over No. 12 Illinois — and the Hawkeyes' first win over a ranked foe since 2012.
? The Hawkeyes' starting pitchers allowed four runs over 21 innings in the three-game series against the Hoosiers. Tyler Peyton and Blake Hickman combined for 16 shutout innings to start the weekend.
? All three Iowa starters rank in the top-13 in the Big Ten in ERA. Calvin Mathews is fifth (1.20), Tyler Peyton is 10th (2.39), and Blake Hickman is 13th (2.77).
? Senior Eric Toole had his career-best 15-game hitting streak snapped March 31 against Grand View despite reaching base four times. The outfielder has a team-best 24 game reached base streak, tying the longest streak of his career, heading into this weekend's play. Senior Jake Mangler has reached safely in 21-straight contests.
? Iowa is second in the Big Ten in fielding percentage (.980), fourth in ERA (2.81), and seventh in team batting average (.273).
? Iowa baseball fans can follow the Hawkeyes via social media at: facebook.com/iowabaseball and Twitter – @UIBaseball.
QUICK HITTERS
? Iowa is off to its best start since 1941. The Hawkeyes opened that season 19-5 before finishing the year 22-6.
? The Hawkeyes have a real-time RPI of 19 on D1Baseball.com through games played on April 1. It is the second-best RPI in the Big Ten.
? Iowa hasn't started 4-0 in the Big Ten since 1989 — a season where it won its first five league games.
? Senior Jake Mangler drove in the 100th run of his Hawkeye career Wednesday at Western Illinois.
? Senior Eric Toole is two hits shy of becoming the ninth player in school history to join the 200 career hit club. Toole passed his brother, Justin, on the career hits list Wednesday.
? Toole has a Big Ten-leading 16 steals this season. He has 10 for his last 10 on the base paths, having not been caught stealing since March 8.
? Nine Hawkeye games have been decided two runs or less. Iowa is 6-3 in such contests.
? Iowa is 10-2 when playing error-free baseball and 15-4 when committing one or fewer errors. Iowa is 3-3 when committing two or more errors.
? The Hawkeyes are 15-0 when out-hitting their opponents and 14-3 when scoring first. Conversely, Iowa is 4-4 when the opponent scores first.
? Iowa has outscored opponents 24-6 in the first inning, and 43-18 over the first three innings.
SCOUTING PURDUE
? The Boilermakers are 10-18 overall and 1-2 in Big Ten play. Purdue is 3-7 in its last 10 games, dropping 2-of-3 contests to Rutgers from March 20-22 in West Lafayette.
? Purdue was swept in an out-of-conference series against Butler last weekend, being outscored 22-4 in three games. The Boilermakers ended a seven-game losing streak with a 9-1 win over IPFW on April 1.
? The Boilermakers are hitting .252 as a team and have 61 extra base hits. Kyle Wood is the only regular hitting above .300, coming in at .367 with team-highs in hits (36) and RBIs (18).
? Purdue has a 5.37 ERA in 28 games, and has given up 304 hits in 248 innings. The Boilermakers have 175 strikeouts against 100 walks and are allowing the opposition to a .308 average.
? Purdue will send freshman RHP Mike Kornacker (1-2, 3.00 ERA) to the mound Friday, junior RHP Shane Bryant (1-0, 4.20 ERA) on Saturday, and senior RHP Brett Haan (1-5, 7.59 ERA) on Sunday.
THE SERIES
? The Hawkeyes lead the all-time series over Purdue, 94-66-1, and Iowa has won three-straight and four of the last five series over the Boilermakers.
? Iowa has won the last two series at Alexander Field in the final series of the regular season. The Hawkeyes won 2-of-3 games in 2014 and swept the series in 2013. Iowa won 2-of-3 games in Iowa City in 2012 when Purdue was 13th in the national polls. The Boilermakers swept all three games in 2011 following a four-game Hawkeye sweep in 2010.
2 HAWKEYES HONORED
? Senior Eric Toole was selected as the Big Ten Player of the Week — his first career honor — on March 31 after hitting .500 and posting a .529 on-base and .563 slugging percentage in a 3-1 week. Toole scored four runs and had two RBIs.
? Junior Tyler Peyton was tabbed as the Big Ten Player of the Week by College Sports Madness on March 31 after tossing a complete game shutout in Iowa's 2-0 victory over No. 19 Indiana. Peyton also hit .353 with three RBIs and scored twice in four games.
IOWA PITCHING SHINES
? The Hawkeyes allowed two earned runs or fewer in 15-of-25 games this season.
? Iowa's pitching staff has two shutouts this season (Cincinnati, Indiana) — the most for the program since 2007 (four shutouts).
? Juniors Tyler Peyton and Blake Hickman combined to hold Indiana scoreless through the first 16 innings of its three-game series from March 27-29. The Hoosiers scored three earned runs in three games.
? Iowa is fourth in the Big Ten in ERA (2.81), third in opposing batting average (.229), and tied for second in saves (9). The Hawkeyes have allowed the fewest hits (188) and third-fewest runs (85) in the conference.
? The Hawkeyes' starting pitchers are 8-3 with a 2.30 ERA in 25 starts. Iowa's weekend starters have logged 104 2/3 innings and have 80 strikeouts to 42 walks.
? The UI bullpen is 10-4 with a 3.36 ERA with nine saves — tied for the second-most in the Big Ten. Iowa's relievers are holding batters to a .230 average and have 79 strikeouts.
? Junior Luke Vandermaten has yet to allow a run in a team-high 10 appearances. The right-hander has allowed 10 hits over 14 1/3 innings, fanning four batters. He tallied his first career victory in Iowa's 6-4 victory over Kansas on March 21, throwing 2 1/3 shutout innings.
? Junior reliever Connor Grant is 1-1 with a 3.86 ERA with two saves. He is holding opposing hitters to a .162 batting average, giving up 11 hits in 21 innings.
? Junior southpaw Ryan Erickson is 1-0 with a 2.45 ERA with one save and has 18 strikeouts — the most by a Hawkeye reliever — to eight walks. He threw a season-high 4 2/3 innings at Houston Baptist on March 14.
? Five pitchers combined to shutout Cincinnati, 5-0, in 13 innings on March 1. The five-some scattered seven hits and stuck out 12. It is the fifth-longest shutout game in the nation this season.
DAY FINDS GROOVE
After enduring a 2-for-28 slump from Feb. 28-March 20, senior Nick Day has been on a tear. The infielder has hits in five-straight and 7-of-8 games since, hitting .545 (12-of-22) with two home runs, seven RBIs, and eight runs scored. He connected in his second blast of the season Wednesday at Western Illinois. His average dipped to .174 on March 20, but has climbed 120 points since to .294.
OFFENSIVE TIDBITS
? Iowa went 12-5 in the month of March and hit .281 as a team. Senior Eric Toole hit .400 (28-of-70) with 15 runs scored and 10 steals, while senior Jake Mangler hit .373 with 15 RBIs.
? Junior Joel Booker has hits in 19-of-25 games this season, which includes a eight multi-hit games. The right fielder drove in a career-high four runs in the series finale at Middle Tennessee State, and is second on the team with 17 RBIs.
? Junior Daniel Aaron Moriel has started four of the last six games behind the plate, and he has hit safely in all four starts. Moriel has a .385 (5-for-13) average with four runs and two RBIs. He had a two-run double April 1 at Western Illinois.
? Mangler is hitting .381 (16-of-42) with runners in scoring position and has 10 two-out RBIs. Booker has a .324 (11-of-34) average in the same situation. Iowa is hitting .248 with runners in scoring position as a team.
? Freshman Grant Klenovich made his first career start March 31 vs. Grand View. He finished 1-for-2 with two RBIs and a run scored. His first career hit went for an RBI triple.
? Joel Booker, Nick Day, and Kris Goodman are tied for the team with two home runs apiece.
? Junior Tyler Peyton is second on the team and eighth in the Big Ten with a .350 batting average. Peyton has two or more hits in three straight games and has hit safely in 18-of-22 games.
IN THE BIG TEN…
? Senior Eric Toole ranks sixth in the conference in batting average (.353) and hits (36) and seventh in on-base percentage (.445). Toole is also tied for sixth in hit by pitches (6).
? Junior Tyler Peyton ranks eighth in the conference with a .350 batting average, sixth in strikeouts (35), and 10th in ERA (2.39).
? Iowa is leading the Big Ten with 42 steals, while individually, Toole has a conference-best 16 steals.
100 X 4
Iowa has more than 500 career starts among four regulars. Seniors Eric Toole (157), Jake Manglers (147), Kris Goodman (140), and Nick Day (113) have combined to start 557 games in their Hawkeye careers. Mangler has started 62 consecutive games at second base.
JUNIOR Tyler Peyton…
? shines as a two-way player for the Hawkeyes, going 3-2 with a 2.39 ERA with 35 strikeouts on the mound, while hitting .350 with 12 RBIs and 12 runs scored. Peyton hit for himself while pitching for the first time in his career against Indiana on March 27. He starts at first base when he is not pitching.
? has pitched at least five innings in six of his seven starts, allowing one or fewer runs in his first four and 5-of-7 starts.
? hasn't walked a batter in his last two starts over 15 1/3 innings. He has 14 strikeouts during the span.
? threw his first career complete game shutout against No. 19 Indiana, scattering five hits, striking out five, and not walking a batter in a 2-0 victory on March 27. Peyton was selected as the Big Ten Player of the Week by College Sports Madness on March 31 for his efforts.
? notched a quality start, throwing 6 1/3 innings at Kansas, giving up three runs on nine hits in a 4-3 loss. He finished with a season high nine strikeouts and didn't walk a batter.
? posted wins over UALR (2/20) and at Middle Tennessee State (3/7). He struck out six batters in a no-decision in opener against Kansas State (2/13) and threw five shutout innings against Cincinnati (2/27).
? is 8-3 in his Iowa career with a 4.04 ERA in 21 starts. Peyton has seven quality starts and has pitched into the seventh inning seven times in his career.
JUNIOR Blake Hickman…
? is 3-1 with a 2.77 ERA in seven starts. He has 28 strikeouts against 20 walks.
? has three quality starts and has thrown at least six innings in four of his last five starts. Hickman went seven innings in two of his last three starts.
? notched his third win with a career-best outing, holding No. 19 Indiana to one run on three hits over eight innings in a 5-1 victory on March 28. He finished the game with six strikeouts against three walks.
? pitched six innings in victories over Cincinnati (2/28) and Middle Tennessee (3/7).
? notched his first win of season in 5-1 victory over Cincinnati. He was perfect through three innings, striking out 7-of-10 batters to start the game, and had a no-hitter through six innings. He tied a career-high with nine strikeouts in the contest.
? has a 5-3 career record with a 2.77 ERA over 73 1/3 innings in 24 appearances, including 12 starts. He has 62 strikeouts against 43 walks.
? is focusing solely on pitching for the first time in his baseball career. He transitioned to the mound midway through 2014 season.
? pitched in the Cape Cod League in the summer of 2014, posting a 3-4 record with a 4.91 ERA in nine starts.
JUNIOR Calvin Mathews…
? is Iowa's Sunday starter. He is 2-0 with a 1.20 ERA in seven appearances (six starts). Mathews didn't allow an earned run in his first five starts and has allowed three earned runs in six starts.
? picked up his first win against George Mason (2/15), allowing one run on three hits over five innings.
? pitched 5 1/3 shutout innings, scattering four hits, in his second victory of the season at Houston Baptist (3/16).
? was 1-of-5 pitchers to combine for a 13-inning shutout in Iowa's 5-0 victory over Cincinnati on March 1. He scattered three hits over five innings and had five strikeouts.
? was the Hawkeyes' Friday starter in 2014 before going down with a shoulder injury. He went 3-3 with a 2.72 ERA with 60 strikeouts to 20 walks. Six of his 11 starts were "quality" starts, and he allowed three or fewer runs in 10-of-11 starts.
? is 7-8 with a 2.91 ERA in 29 appearances (25 starts). He has logged 139 innings, allowing 117 hits and finishing with 103 strikeouts to 41 walks.
MOVING UP THE RECORD BOOKS
? Junior Eric Toole has 59 career steals, which are tied for the sixth-most in program history. Kurtis Muller (2008-10) is fifth with 63 steals.
? Toole is tied for third in UI history with 171 career singles (Keith Noreen is second with 183), and he is ninth all-time with 198 hits. Toole also ranks eighth in career at-bats (626).
? Junior Nick Hibbing has made 66 career appearances as a Hawkeye — the third-most in school history. Tim Gudex (81, 2004-07) and Kurt Belger (76, 1993-97) are 1-2 in program history. He is also sixth all-time with 10 career saves.
IN-SEASON HONORS
? Freshman Austin Guzzo was named the Big Ten Freshman of the Week on Feb. 16 after having a strong collegiate debut in Iowa's 4-1 win over George Mason. The Canadian went 2-for-4 with a run and RBI and caught a pitching staff that limited the Patriots to four hits. He is the first Hawkeye to earn the honor since Sasha Kuebel in 2012.
B1G TITLE – 25-YEAR ANNIVERSARY
The 2015 season is the 25th anniversary of the 1990 Iowa baseball team that posted a 22-6 league record en route to the Big Ten regular season championship. Iowa will hold a reunion and recognize the 1990 team during the final home stand May 8-10 at Duane Banks Field.
FOLLOW THE HAWKEYES
Iowa baseball fans can follow the Hawkeyes on Facebook by going to facebook.com/iowabaseball. Fans can also follow on Twitter @UIBaseball.
UP NEXT
The Hawkeyes will host Milwaukee on April 8 before traveling east for a three-game series against nationally-ranked Maryland.