Box Score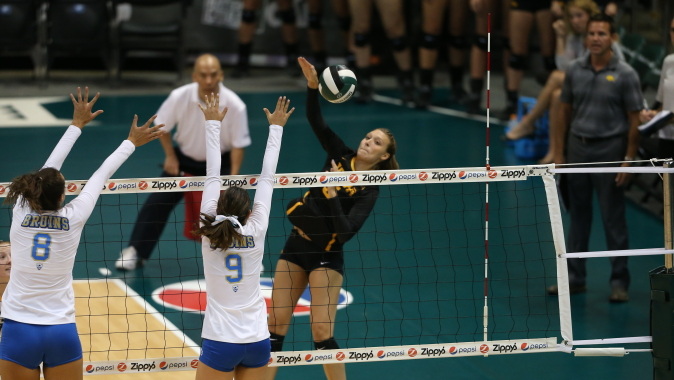 Sept. 5, 2015
HONOLULU — The University of Iowa volleyball team dropped a 3-0 decision to No. 25 UCLA on Saturday in Hawaiian Airlines Wahine Volleyball Classic action. Iowa falls to 2-3 on the season, while the nationally ranked Bruins improve to 3-1.
"We are not the kind of team that can play flat and get away with it," said head coach Bond Shymansky. "We have to have intensity, inspiration and passion out there. We just didn't really bring any of that. You could just see it. UCLA is going to make you pay when you do that and they did."
In the first set, both teams struggled to get going offensively. UCLA used an 8-2 run to pull ahead in the middle of the set and they never lost the lead from there. Junior Ashley Mariani and sophomores Taylr McNeil and Jess Janota each recorded two kills for the Hawkeyes.
The Bruins used a .469 attack percentage to coast to a 25-16 set two win. Janota led the Hawkeyes with four kills in the set.
UCLA kept the momentum in set three, posting a .417 attack percentage. The Hawkeyes, led by McNeil and Lauren Brobst with two kills apiece, only posted seven kills altogether and hit -.062.
"After everything we gave last night, I'm really surprised that we came out and didn't really give anything today," said Shymansky. "We have to get a good night's sleep, refocus, regroup and come back after American tomorrow."
The Hawkeyes conclude Hawaiian Airlines Wahine Volleyball Classic action tomorrow with a 7:30 p.m. (CT) contest against American.
| | | | |
| --- | --- | --- | --- |
| Iowa vs. UCLA | 1st | 2nd | 3rd |
| Iowa (2-3) | 20 | 16 | 13 |
| UCLA (3-1) | 25 | 25 | 25 |
Statistical Leaders
Kills: McNeil/Janota (IOWA) 6 | Anderson (UCLA) 16
Assists: Keala (IOWA) 21 | Muno (UCLA) 36
Digs: Olsen (IOWA) 9 | Formico (UCLA) 13
Blocks: Mariani (IOWA) 3 | Frager (UCLA) 4