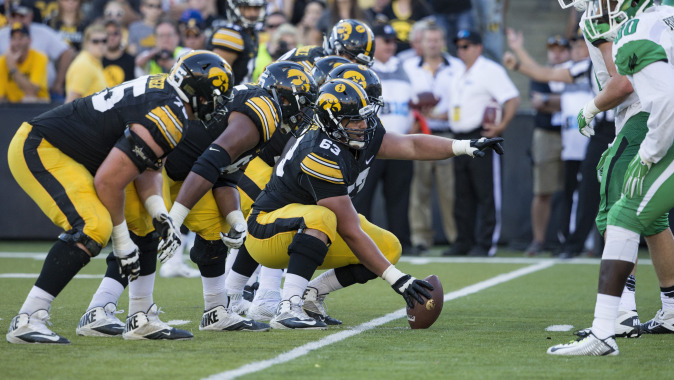 Nov. 18, 2015
IOWA CITY, Iowa – – The University of Iowa's offensive line has been named a semifinalist for the Joe Moore Award, which honors offensive line units that display a high level of toughness, effort, teamwork, physicality, tone setting and finishing. The Joe Moore Award winner will be announced after the conclusion of the regular season.
The Joe Moore Award, in its first year, is named after Joe Moore, widely regarded as one of the best offensive line coaches in college football history. It is the only major college football award to honor a unit.
Iowa's offensive line includes center Austin Blythe, tackles Cole Croston, Boone Myers and Ike Boettger, and guards Sean Welsh and Jordan Walsh. Blythe and Walsh are seniors, while Myers, Boettger and Welsh are sophomores. True freshman James Daniels has rotated in at the guard positions, and filled in at right tackle in the win over Illinois.
Iowa's offense is averaging 211.7 rushing yards and 421.4 yards of total offense per game. Iowa leads the Big Ten in time of possession (33:34), and ranks second in scoring (33.6), rushing offense and third down conversions (46.5%). Three Hawkeye running backs have rushed for at least 195 yards in a game.
The Hawkeyes earned a "Game Ball" from the Joe Moore Award following wins at Iowa State and against Pittsburgh. Iowa has rushed for over 200 yards in seven games.
At Iowa State, Iowa's offense rushed for 260 yards, averaging 5.8 yards per rushing attempt. Iowa controlled the fourth quarter with 10:55 in possession time, scoring two touchdowns in the final 2:14 to earn the road win.
Against Pitt, the Hawkeyes owned more than a five minute advantage in time of possession and allowed just one sack, allowing QB C.J. Beathard to throw for then-career bests in completions (27), attempts (40), and yards (258).
In a 29-20 win over Illinois, the Hawkeyes rushed for 278 yards, averaging 5.5 yards per rushing attempt. Senior running back Jordan Canzeri rushed 43 times for 256 yards, the third-best rushing total in school history. Iowa maintained possession for 35:51 in the game, including over 11 minutes in both the first and fourth quarters.
In Iowa's 40-10 win at Northwestern, Akrum Wadley tied Iowa's single-game record by scoring four rushing touchdowns. Wadley rushed for 204 yards as the Iowa offense gained 294 net rushing yards, an average of 5.8 yards per carry. Iowa's time of possession was 37:22, including over 10 minutes in all but the second quarter.
Iowa's offensive line was dominant in a 35-27 win at Indiana, with 234 rushing yards and 34:30 in time of possession. Iowa's offense averaged 5.3 yards per rushing attempt and totaled 467 yards total offense, with no sacks.
Iowa's most recent victory, a 40-35 win over Minnesota, featured 272 rushing yards, an average of 5.7 yards per rushing attempt. LeShun Daniels rushed for 195 yards and three touchdowns. The Hawkeyes had 35:32 in time of possession, including over 10 minutes in the fourth quarter.
Iowa closes the home season Saturday, hosting Purdue in Kinnick Stadium (11:01 a.m., ESPN2). Tickets are avaialble online at hawkeyesports.com, in person at the UI Athletics Ticket Office in Carver-Hawkeye Arena, or by calling 1-800-IAHAWKS. A $25 youth ticket is available for the Purdue game.