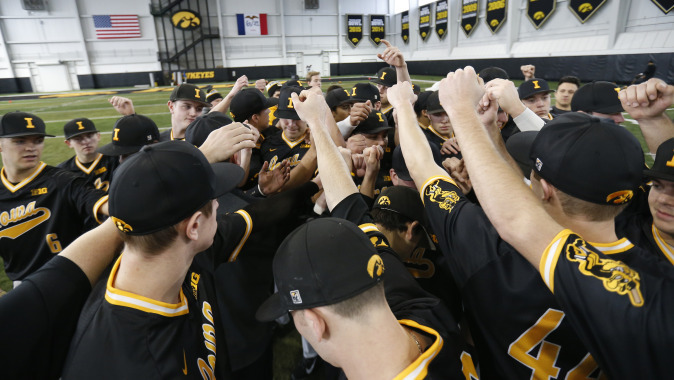 Feb. 18, 2016
Iowa at No. 31 Dallas Baptist
Dates
Feb. 19-21, 2016
Location
Dallas, Texas | Horner Ballpark
Game Notes
Iowa
Statistics
IOWA | Dallas Baptist
Game 1
Date | Time
Friday, Feb. 19 | 6:30 p.m. (CT)
Pitching Matchup
IOWA: Sr., RHP Tyler Peyton (7-4, 3.03 ERA in 2015) vs.
DBU: RS Jr., LHP Colin Poche (3-0, 1.37 ERA in 2014 at Arkansas)
Game 2
Date | Time
Saturday, Feb. 20 | 2 p.m. (CT)
Pitching Matchup
IOWA: So., RHP Nick Gallagher (0-0, 2.18 ERA in 2015) vs.
DBU: So., RHP Dalton Higgins (0-1, 2.95 ERA in 2015)
Game 3
Date | Time
Sunday, Feb. 21 | 1 p.m. (CT)
Pitching Matchup
IOWA: Sr., RHP Calvin Mathews (5-3, 2.45 ERA in 2015) vs.
DBU: Jr., RHP Darick Hall (10-4, 2.09 ERA in 2015 at Cochise College)
THIS WEEK
The University of Iowa baseball team heads to the Lone Star State to open the 2016 season, facing No. 31 Dallas Baptist for a three-game series at Horner Ballpark. Friday's opener is set for a 6:30 p.m. (CT) start followed by 2 p.m. and 1 p.m. starts Saturday and Sunday.
GAME COVERAGE
? All three games against Dallas Baptist will be streamed online at www.dbupatriots.com/watch. The series can be watched free of charge.
? Iowa's live audio stream of the three games will be available on Hawkeye All-Access. Zach Mackey will be on the call.
? Live statistics will be available at www.hawkeyesports.com and fans can follow the action via Twitter/UIBaseball.
DALLAS BAPTIST NOTABLES
? The Patriots, a member of the Missouri Valley Conference, went 46-15 last season en route to being an NCAA Regional host institution. Dallas Baptist has 17 letterman and five starters returning to go along with 19 newcomers.
? Dallas Baptist, ranked 31st in the NCBWA preseason rankings, was picked to finish second in the MVC Preseason Coaches' Poll, finishing with 56 points and receiving two of the league's eight first place votes. Missouri State was the preseason favorite.
? Camden Duzenack (SS) and Justin Wall (OF) were named preseason all-conference selections. Wall was also a preseason All-American by the NCBWA.
? Dallas Baptist will send southpaw Colin Poche to the mound Friday. In 2014 at Arkansas, Poche went 3-0 with a 1.37 ERA. The Patriots' Saturday starter is sophomore right-hander Dalton Higgins (0-1, 2.95 ERA), and the Sunday starer is junior right-hander Darick Hall (10-4, 2.09 ERA), a transfer from Cochise College.
SERIES RECORD
Iowa is 1-1 all-time against Dallas Baptist, facing the Patriots twice during the 2007 season at the Pepsi Johnny Quick Classic in Fresno, California. The Hawkeyes won the first-ever matchup, 17-13, before falling 18-5 in the second game.
DBU's IOWA TIES
Dallas Baptist head coach Dan Heefner played at Iowa City High School and was an assistant under UI head coach Rick Heller at Northern Iowa in 2002 and 2003. DBU assistant coach Dan Fitzgerald was previously head coach at DMACC in Des Moines.
QUICK HITTERS
? Iowa went 8-3 in games against ranked competition in 2015.
? Senior Nick Roscetti returns for his second season as Iowa's starting shortstop. The Illinois native hit .303, collecting 60 hits and driving in 27 runs in 56 games. Roscetti hit a team-best .391 in Big Ten play to rank fourth in the league and his 36 hits were second-most in the conference.
? Sophomore Nick Gallagher will make his first weekend start in game two of the series. The right-hander went 0-0 with a 2.18 ERA in nine appearances, including five midweek starts in 2015. He allowed five runs on 15 hits over 20 2/3 innings.
? The Hawkeyes are 1-1 in season openers under UI head coach Rick Heller. Iowa won 11-5 at Austin Peay in 2014, but dropped a 5-4 decision to Kansas State in Port Charlotte, Florida, last season.
PRESEASON PROGNOSTICATIONS
? The Hawkeyes have been selected to finish fourth in the Big Ten Conference in a vote of the league's 13 head coaches. Michigan was tabbed as the league favorite, followed by Maryland and Indiana.
? Iowa was also picked to finish second in the conference by Collegiate Baseball and fourth by D1Baseball.com and Perfect Game.
? The Hawkeyes are ranked 35th in Perfect Game's preseason Top 40, 43rd by College Sports Madness, and are receiving votes in the preseason NCBWA and USA Today Coaches polls.
? D1Baseball.com and College Sports Madness have Iowa playing in its second straight NCAA Regional in 2016.
TEAM CAPTAINS
Seniors Jimmy Frankos, Calvin Mathews, Tyler Radtke, and Nick Roscetti are the team captains for the 2016 season. Radtke is in his second season as team captain.
B1G PLAYERS TO WATCH
Seniors Calvin Mathews, Tyler Peyton, and Nick Roscetti have been named to the Big Ten Players to Watch List for the 2016 season. All three players are returning All-Big Ten selections; Mathews was a second-team honoree in 2015; Peyton and Roscetti were third-team selections.
RETURNEES BY THE NUMBERS
? Iowa returns 51.5 percent of its RBIs (135 of 262), 46.4 percent of its runs (136 of 293), 45.1 percent of its hits (243 of 539) and 42.9 percent of its doubles (36 of 84). The Hawkeyes also have six (of 14) home runs returning to the lineup.
? On the pitching front, Iowa returns weekend starters Tyler Peyton (7-4, 3.03 ERA) and Calvin Mathews (5-3, 2.45 ERA) and 11-of-19 saves from 2015. The Hawkeyes have 61 percent of their wins (25 of 41), 69 percent of their innings pitched (371 of 537.1), and 66.2 percent of the strikeouts (247 of 373) back.
2 STARTERS 2 NCAA WINS
The Hawkeyes return their Friday and Sunday starting pitchers in seniors Tyler Peyton and Calvin Mathews — two players who were instrumental in Iowa's two NCAA Regional wins in 2015.
? Peyton pitched Iowa to its first NCAA Tournament victory since 1972, throwing 7 1/3 innings of one-run ball in a 3-1 win over Oregon on May 29, 2015.
? Mathews scattered two hits and allowed one unearned run (but wasn't involved in the decision) in an eventual 2-1 Iowa win over the Ducks in an elimination game May 30.
ROSTER TIDBITS
? Seniors Tyler Radtke and Luke Vandermaten will share closing duties to start the season. Vandermaten, who was named to the NCBWA Stopper of the Year Watch List, went 2-0 with a 1.06 ERA with four saves as a junior.
? Seniors Joel Booker, Tyler Peyton, Jimmy Frankos, and Nick Roscetti are the returning positional starters. After starting all 59 games in right field as a junior, Joel Booker will slide to center field in 2016. Peyton starts at first base when he isn't pitching, Roscetti starts at shortstop, and Frankos will share catching duties with senior Daniel Aaron Moriel.
? Senior Eric Schenck-Joblinske will start at one of the corner outfield positions. Schenck-Joblinske appeared in 34 games with 11 starts in 2015 — his first as a Hawkeye. He hit .140 with 11 runs, five RBIs, and two home runs.
? Iowa's third and final outfield spot will be a platoon to open the season with freshman Robert Neustrom, junior Devin Pickett, and senior John Barrett vying for playing time.
? Junior Corbin Woods is in line to step into the starting lineup at third base to replace Nick Day. Woods appeared in 15 games last season, primarily as a pinch runner.
MR. EVERYTHING RETURNS
Senior Tyler Peyton returns as Iowa's Most Valuable Player as a two-way player. The Grimes, Iowa, native is the team's Friday night starter, where he went 7-4 with a 3.03 ERA as a junior, logging 95 innings. Peyton also is the team's top hitter, batting .337 with 31 runs and 31 RBIs in the three spot in the order last season. He was a semifinalist for the John Olerud Two-Way Player of the Year Award in 2015 and earned third-team All-America honors from D1Baseball.com and the NCBWA.
? Peyton bypassed the 2015 Major League Baseball Draft to return to Iowa City. He turned down seventh round talk and returned after being selected in the 33rd round by the Cincinnati Reds.
MCCOY STEPS IN AT 2B
Junior college transfer Mason McCoy is set to start the year as Iowa's every day second baseman. The two-time All-American at Illinois Central College had a breakout summer in the Northwoods League, breaking league single-season records in hits (112), runs (80), and total bases (168). The Washington, Illinois, native was the Northwoods League MVP, La Crosse Loggers MVP, an NWL All-Star, and a Postseason All-Star.
THE FORMULA – PITCHING & DEFENSE
? Iowa won with its pitching and defense in 2015 and it's the equation UI head coach Rick Heller is counting on again this season. The Hawkeye pitching staff shattered the school record with a 2.95 ERA over 59 games. The previous record was 3.63 in 1971.
? The team finished 10th in the nation in hits allowed per nine innings (7.69) and 16th in ERA last season.
? Iowa was 11th nationally (and second in the Big Ten) in fielding percentage with a .978 clip. Iowa committed 50 errors in 59 games and turned 51 double plays.
HAWKEYE LEGACY JOINS ROSTER
Sophomore C.J. Eldred is eligible to pitch for the Hawkeyes after sitting out the 2015 season after transferring from Indiana. Eldred is the son of former Iowa pitcher, first-round MLB Draft pick, and Major Leaguer Cal Eldred.
HOME COOKIN'
The Hawkeyes went 17-3 at Duane Banks Field in 2015 — the most home victories since 1996. The success stems, in part, to the game day atmosphere, where nearly 18,000 fans supported the team throughout the season. The Hawkeyes averaged nearly 1,000 fans per home contest and had two crowds of 2,400-plus during Big Ten Conference play.
NEW FACES ON THE ROSTER
Iowa's freshmen class is a collection of talent that was the highest-rated recruiting class in the Big Ten Conference. Several players are contending for playing time.
? Robert Neustrom (Sioux City, Iowa) is battling for a starting outfield position. Neustrom was a the Iowa Gatorade Player of the Year as a senior. He was named the No. 2 impact freshman in the Big Ten by D1baseball.com.
? Luke Farley (Denver, Iowa) is in contention for playing time at designated hitter, and infielders Zach Daniels (Robins, Iowa) and Mitchell Boe (Naperville, Illinois) are vying for playing time in the infield. Daniels is also a late-inning option in the Iowa bullpen.
? The pitching-heavy class gives Iowa's pitching staff depth with Cole McDonald (New Hampton, Iowa), Sam Lizarraga (Cedar Rapids, Iowa), Shane Ritter (Plainfield, Illinois), and Kyle Shimp (Yorkville, Ill.).
? Infielder Daniel Perry was the highest drafted recruit in the Big Ten Conference in 2015. The infielder was injured throughout the fall.
SENIOR Tyler Peyton…
? is 12-5 in his Iowa career with a 3.84 ERA in 30 starts. Peyton has 14 quality starts and has pitched into the seventh inning 13 times in his career.
? has logged 171 innings in two seasons, where he has 119 strikeouts to 57 walks.
? earned third-team All-America honors by D1Baseball.com and the USBWA as a junior.
? has the best change-up in the Big Ten Conference according to Baseball America.
SENIOR Calvin Mathews…
? is 10-11 with a 3.09 ERA in 39 appearances (35 starts). He has logged 186 1/3 innings, allowing 164 hits, striking out 130 strikeouts to 57 walks.
#HELLERBALL
? UI head coach Rick Heller is one of nine coaches all-time (one of four active) to lead three different NCAA Division I teams to regional play.
? The Hawkeyes finished the 2015 season ranked No. 20 by Collegiate Baseball, 25th by Baseball America, and 28th by the NCBWA. It was the program's first end of season rankings in school history.
? Iowa finished as the runner-up in Big Ten play, winning 19 games during the regular season — the most for the program since 1990.
? The Hawkeyes won 41 games — the second-most in a single season in school history. It was Iowa's fourth 40-win season in program history.
? Heller is the winningest coach in his first two seasons in program history, winning 71 games. Iowa has posted back-to-back 30 win seasons for the first time since 1989 and 1990.
? Iowa had a school-record six All-Big Ten selections in 2015. The Hawkeyes have had 11 All-Big Ten honorees in two seasons under Heller.
? Iowa has posted winning streaks of nine games (in 2015) and seven games (in 2014) — the longest streaks for the program since 2012.
ROSTER BREAKDOWN
? Of Iowa's 37-man roster, 20 are upperclassmen. The Hawkeyes' roster features 11 freshman, seven sophomores, seven juniors, and 12 seniors.
? Iowa has 19 native Iowans on the 2016 roster — the most of any state. Thirteen hail from Illinois.
? The Hawkeyes roster includes players ranging from California to North Carolina to Canada.
? Iowa boasts three sets of high school teammates on the 2016 roster: Calvin Mathews and Josh Martsching — Davis County High School in Bloomfield, Iowa; Tyler Peyton and Cole Baker — Dallas Center-Grimes High School in Grimes, Iowa; Zach Daniels and Sam Lizarraga — Cedar Rapids Kennedy High School in Cedar Rapids, Iowa. Tyler Peyton and Luke Vandermaten were also teammates at Iowa Central Community College in 2014.
? The Hawkeyes have 20 letterwinners, four positional starters, 2/3 of their starting rotation, and 10 total pitchers returning in 2016.
FOLLOW THE HAWKEYES
Iowa baseball fans can follow the Hawkeyes on Facebook/iowabaseball, Twitter: @UIBaseball, and Instagram/UIBaseball in addition to coverage on hawkeyesports.com.