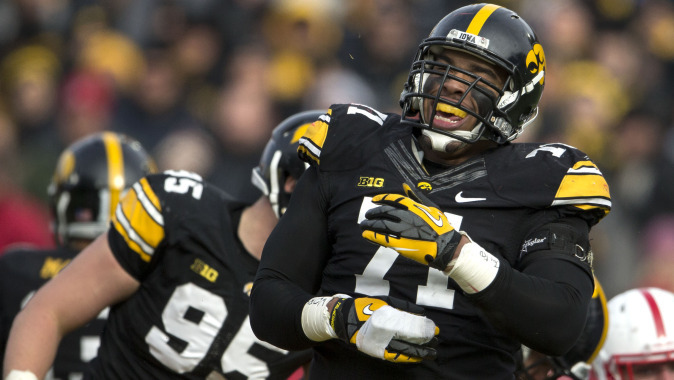 Nov. 29, 2014
Editor's Note: The following first appeared in the University of Iowa's Hawk Talk Daily, an e-newsletter that offers a daily look at the Iowa Hawkeyes, delivered free each morning to thousands of fans of the Hawkeyes worldwide. To receive daily news from the Iowa Hawkeyes, sign up HERE.
By DARREN MILLER
hawkeyesports.com
IOWA CITY, Iowa — Carl Davis entered the postgame interview in Kinnick Stadium yesterday like he has done several times in the last four seasons.
That span of home games produced 16 wins, including a decision over nationally ranked Michigan (24-16 in 2011) and an overtime win against Northwestern (17-10 in 2013). There were losses, too. Tough losses. But, like the previous 27 games Davis played in Kinnick Stadium, there was a common theme after a 37-34 overtime setback to Nebraska.
He left it all on the field.
"I'm a team player. I love winning, but it helps a little bit knowing you gave your all," Davis said. "Then you don't have any questions in your mind about, 'I could have done this.' It's all about leaving it on the field, and I left it all on the field. I'm proud of my team despite the loss. I love my team."
Davis lent more than a helping hand as Iowa took a 7-0 lead in the second quarter. The Hawkeyes ran 28 offensive plays in their first two drives that stalled at the Cornhusker 7 and 9 yard lines.
The first impact play by Davis came in the first quarter with Nebraska on Iowa's 30-yard line. On third down, Davis sacked Tommy Armstrong, Jr., for a 2-yard loss. That moved the ball just out of Cornhusker kicker Drew Brown's reach as he missed a 49-yard attempt on the next play.
In 12 games,

Carl Davis

has 34 tackles, nine for a loss, two sacks, and five quarterback hurries.
Davis topped that effort the next time Armstrong attempted a pass. The Nebraska quarterback dropped back, faced with third-and-12 from his own 9. Davis made contact with Armstrong's throwing arm, the ball wobbled into the air, and Hawkeye senior strong safety Johnny Lowdermilk intercepted and returned it 17 yards for a touchdown.
"I had a couple guys blocking me and I spent up out of it," Davis said. "It was a clear gap; I was going for the sack, but I saw he was getting ready to throw, so I chopped his arm down with my arm and forced a bad ball."
With Iowa leading 24-7 midway through the third quarter, Davis struck again. Two plays after Davis was credited with a quarterback hurry, Nebraska's Brown lined up for a chip-shot 27-yard field goal. Davis blocked the kick and Iowa took over.
"I knew we could get pressure. I could feel that was going to happen," Davis said. "The gap was pretty wide, so I slid in through there, got my hand up, and as you know, the ball hit my hand."
Davis finished his final game in Kinnick with three tackles, a sack, two tackles for loss, a block, and three quarterback hurries.
"He was hungry," said UI defensive end Drew Ott. "He was getting to the ball and making plays. Hats off to him."
Iowa finished the regular season 7-5 overall, 4-4 in the Big Ten Conference. The Hawkeyes will play in a bowl game for a 12th time in Kirk Ferentz's 16 seasons as head coach.
"It was a tough way for 16 outstanding seniors to go out and finish up in Kinnick," Ferentz said. "We wanted to get the win for a lot of reasons and that was one of them — sending those guys off in good fashion. They've done a great job throughout their entire careers here, on the field, off the field, in the classroom."
Davis, who is from Detroit, has another opportunity next month to leave college with a postseason victory. His time as a Hawkeye has been highlighted by "electric moments," like the ones he helped create yesterday.
"Playing with my team, those electric moments making plays," Davis said. "Third downs, getting the fans riled up and going crazy, I'm going to miss it. This is my last game, and it still is hard to believe. Five years go by and it seems so long, but when you get to this point, it's like wow."