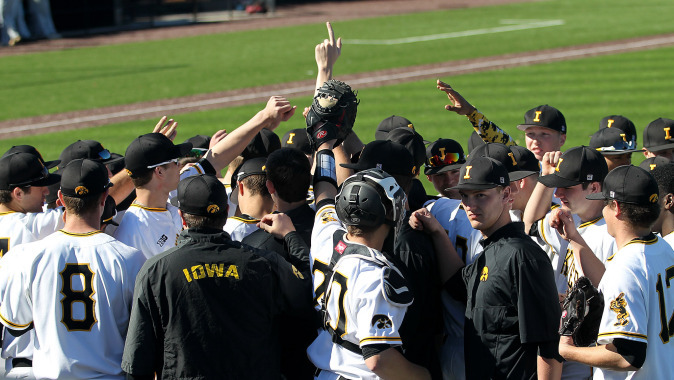 March 13, 2015
Iowa (10-2) at Houston Baptist (7-9)
Dates
March 14-17, 2015
Location
Houston, Texas | Husky Field
Game Notes
Iowa
Statistics
HBU | IOWA
Game 1
Date | Time
Saturday, March 14 | 1 p.m. (CT)
Pitching Matchup
IOWA:Jr., RHP Tyler Peyton (2-0, 1.35 ERA) vs.
HBU: Sr., RHP Taylor Wright (2-2, 2.96 ERA)
Game 2
Date | Time
Sunday, March 15 | 2 p.m. (CT)
Pitching Matchup
IOWA:Jr., RHP Blake Hickman (2-0, 2.03 ERA) vs.
HBU: Jr., LHP Matthew McCollough (3-1, 4.24 ERA)
Game 3
Date | Time
Monday, March 16 | 1 p.m. (CT)
Pitching Matchup
IOWA: Jr., RHP Calvin Mathews (1-0, 0.56 ERA) vs.
HBU: Sr., RHP Curtis Jones (1-2, 3.08 ERA)
Game 4
Date | Time
Tuesday, March 17 | 1 p.m. (CT)
Pitching Matchup
IOWA: TBA vs.
HBU: TBA
THIS WEEK
The University of Iowa baseball team heads to the Lone Star State for spring break, where it will face Houston Baptist in a four-game series from March 14-17. All four games will be played at Husky Field beginning at 1 p.m. (CT) on Saturday, Monday, and Tuesday, and 2 p.m. Sunday.
GAME COVERAGE
Zach Mackey will provide play-by-play and Ray Gilmore will serve as the color commentator for the Houston Baptist series via the subscription-based service Hawkeye All-Access on hawkeyesports.com. Fans can also follow every game with live stats (GameTracker) on hawkeyesports.com and live updates are also available on Twitter: @UIBaseball.
TUESDAY'S GAME AVAILABLE ONLINE
The series finale between Iowa and Houston Baptist will be streamed live online at www.hbuhuskies.com.
QUICK HITTERS
? Iowa has had to shuffle its lineup the last three games with starting shortstop Nick Roscetti sidelined with a back injury. Nick Day slid over to short for the first time in his career, while senior Kris Goodman moved to third base. Dan Potempa and Eric Schenck-Joblinske started games in left field, and Sean Moore has made his first two career starts at DH.
? Nine pitchers combined to throw a two-hitter in Iowa's 7-1 victory over AIB on March 11 at Banks Field. Seven pitchers didn't allow a hit and three pitchers retired the Eagles in order.
? Three pitchers — Nick Allgeyer, Nick Gallagher, and Daniel Aaron Moriel — made their Iowa pitching debuts. Allgeyer was awarded the win after pitching a 1-2-3 fourth inning.
? Five pitchers combined to shutout Cincinnati, 5-0, in 13 innings on March 1. The five-some scattered seven hits and stuck out 12. It was Iowa's first complete game shutout since Feb. 21, 2014 — a 2-0 victory over St. Bonaventure.
SCOUTING HOUSTON BAPTIST
? Houston Baptist is 3-7 in its last 10 games after starting the 2015 season with a 5-2 record. The Huskies dropped a 3-0 decision at UTSA on March 10 after dropping 2-of-3 games against McNeese State on March 6-7 in their Southland Conference opener.
? The Huskies are hitting .253 on the year with 29 extra base hits (22 doubles, four triples and three home runs). HBU is averaging 3.9 runs per game. Two players — Zach Nehrir (.386) and Louie Payetta (.300) — are the only two Husky players hitting over .300. Nehrir has a team-high 12 RBIs and three triples.
? Houston Baptist is 7-9 with a 3.28 team ERA over 140 innings. The Huskies have 79 strikeouts to 39 walks.
? The Huskies will start senior RHP Taylor Wright (2-2, 2.96 ERA) on Saturday, junior LHP Matthew McCollough (3-1, 4.24 ERA, 1 CG) on Sunday, and senior RHP Curtis Jones (1-2, 3.08 ERA) on Monday. Tuesday's starter is TBA.
? The Huskies picked up a signature victory March 3, downing No. 8 Houston, 2-1. It was HBU's first win over a ranked opponent since 2011 and its first victory over the Cougars since 1996.
? The Huskies are 1-2 against ranked opponents this season, falling 4-1 at No. 23 Texas A&M on Feb. 24 and 5-2 at No. 12 Rice on Feb. 17.
THE SERIES
? Iowa and Houston Baptist have never meet on the diamond. The Hawkeyes are 5-2 all-time against current Southland Conference opponents — 2-1 vs. Texas A&M-Corpus Christi, 2-1 vs. New Orleans, and 1-0 against Northwestern State.
IOWA PITCHING SHINES
? The Hawkeyes allowed one earned run or fewer in nine of 12 games this season.
? Iowa leads the Big Ten in ERA (1.37), opposing batting average (.193), saves (6), fewest hits allowed (76), fewest runs allowed (29), and fewest earned runs allowed (17).
? Three Iowa pitchers — Calvin Mathews (0.56), Tyler Peyton (1.35), and Blake Hickman (1.40) — rank in the top-seven in ERA.
? The Hawkeyes' starting pitchers are 5-0 with a 0.99 ERA over 54 1/3 innings, giving up 10 runs (six earned) and striking out 44.
? The UI bullpen is 5-2 with a 1.73 ERA with six saves — tied for the Big Ten lead. Iowa's relievers are holding batters to a .163 average and have 46 strikeouts.
? Junior reliever Connor Grant is 1-1 with a 3.00 ERA with two saves. He is holding opposing hitters to a .111 batting average — the best in the Big Ten — giving up four hits in 12 innings.
? Junior southpaw Ryan Erickson hasn't allowed an earned run since his first appearance as a Hawkeye. He is 1-0 with a 0.82 ERA with one save and has 14 strikeouts to five walks. He has struck out at least two batters in each of his four appearances, including five in two innings against Cincinnati on Feb. 27.
? Junior Luke Vandermaten has yet to allow a run in a team-high six appearances in 2015. The right-hander has two strikeouts in 9 1/3 innings, but has issued five walks.
OFFENSIVE TIDBITS
? Junior Joel Booker has hits in 10-of-12 games this season, which includes a six-game hitting streak. The right fielder drove in a career-high four runs in the series finale at Middle Tennessee State, and he has a team-best 10 RBIs this season.
? Seniors Eric Toole and Kris Goodman have reached safely in 11-straight games. Toole has a four-game hitting streak, which includes a 4-for-4 performance in the series finale at MTSU. He reached base safely in all five plate appearances.
? Goodman went 2-for-3 with three RBIs in Iowa's 7-1 win over AIB on March 11, which included a bases-clearing triple — his second triple in four games.
? Senior Jake Mangler is hitting .346 (9-of-26) since making the move to the No. 2 spot in the Iowa batting order. He has three multi-hit games — two three-hit contests — and four RBIs since Feb. 28.
IN THE BIG TEN…
? Junior Tyler Peyton ranks 12th in the Big Ten with a .353 batting average.
? Senior Kris Goodman is tied for second in triples (2), is fifth in runs scored (12), and 12th in slugging percentage (.524).
? Senior Eric Toole is tied for the league-lead with seven steals in nine attempts. The Hawkeyes are second in the conference with 21 steals.
? Iowa is tied for the Big Ten lead with six saves with Tyler Radtke and Connor Grant being tied for fourth with two apiece.
100 X 4
Iowa has more than 500 career starts among four every day players. Seniors Eric Toole (144), Jake Manglers (134), Kris Goodman (128), and Nick Day (104) have combined to start 510 games in their Hawkeye careers. Mangler has started 59-straight games at second base.
JUNIOR Tyler Peyton…
? shines as a two-way player for the Hawkeyes, going 2-0 with a 1.35 ERA with 20 strikeouts on the mound, while hitting a team-best .353 with five RBIs. He starts at first base when he is not pitching.
? has pitched five innings in all four of his starts,, where he has allowed one or fewer runs in every start.
? posted wins over UALR (2/20) and at Middle Tennessee State (3/7). He struck out a season-high six in a no-decision in opener against Kansas State (2/13) and threw five shutout innings against Cincinnati (2/27).
? is 7-1 in his Iowa career with a 4.12 ERA in 18 starts. Peyton has five quality starts and has pitching into the seventh inning six times in his career.
? has hits in 8-of-9 games with three multi-hit performances. He went 3-for-4 with the game-winning RBI single in the bottom of the ninth inning in a 6-5 win over Missouri State (2/21) — his third career game with three or more hits.
JUNIOR Blake Hickman…
? is 2-0 with a 1.40 ERA in four starts. He has 13 strikeouts against 10 walks.
? has logged career-long starts in back-to-back games, going six innings in wins over Cincinnati (2/28) and Middle Tennessee (3/7).
? notched his first win of season in 5-1 victory over Cincinnati. He was perfect through three innings, striking out 7-of-10 batters to start the game, and had a no-hitter through six innings. Hickman tied a career-high with nine strikeouts in the contest.
? has a 4-2 career record with a 3.02 ERA over 53 2/3 innings in 21 appearances, including nine starts. He has 47 strikeouts against 33 walks.
? is focusing solely on pitching for the first time in his baseball career. He transitioned to the mound midway through 2014 season.
? pitched in the Cape Cod League in the summer of 2014, posting a 3-4 record with a 4.91 ERA in nine starts.
JUNIOR Calvin Mathews…
? is Iowa's Sunday starter. He is 1-0 with a 0.56 ERA in four appearances (three starts). Mathews is 1-0 with a 0.00 ERA in three starts, allowing one unearned run on nine hits with 11 strikeouts to three walks.
? picked up his first win against George Mason (2/15), allowing one run on three hits over five innings.
? was 1-of-5 pitchers to combined for a 13-inning shutout in Iowa's 5-0 victory over Cincinnati on March 1. He scattered three hits over five innings and had five strikeouts.
? was the Hawkeyes' Friday starter in 2014 before going down with a shoulder injury. He went 3-3 with a 2.72 ERA with 60 strikeouts to 20 walks. Six of his 11 starts were "quality" starts, and he allowed three or fewer runs in 10-of-11 starts.
? is 6-8 with a 3.14 ERA in 27 appearances (23 starts). He has logged 129 innings, allowing 109 hits and finishing with 98 strikeouts to 36 walks.
MOVING UP THE RECORD BOOKS
? Junior Eric Toole has 50 career steals, which are the seventh-most in program history. Caleb Curry (2007-08) is sixth with 56 steals.
? Toole is also fourth in UI history with 153 career singles. Craig Conti (1983-86) is third with 166.
? Junior Nick Hibbing has made 62 career appearances as a Hawkeye — the fourth-most in school history. Tim Gudex (81, 2004-07), Kurt Belger (76, 1993-97), and Brett Glendinning (63, 1993-96) are 1-2-3 in program history.
? Hibbing is also tied for sixth all-time with nine career saves.
IN-SEASON HONORS
? Freshman Austin Guzzo was named the Big Ten Freshman of the Week on Feb. 16 after having a strong collegiate debut in Iowa's 4-1 win over George Mason. The Canadian went 2-for-4 with a run and RBI and caught a pitching staff that limited the Patriots to four hits. He is the first Hawkeye to earn the honor since Sasha Kuebel in 2012.
TEAM CAPTAINS
A trio of seniors — Jake Mangler, Eric Toole, and Kris Goodman — and junior Tyler Radtke have been voted as team captains for the 2015 Hawkeyes. It is the second-straight year Mangler and Toole have been captains.
#HELLERBALL
? Iowa won 30 games in UI head coach Rick Heller's first season in 2014 — the most wins by a first-year head coach in program history and the third 30-win campaign since 1993.
? The Hawkeyes advanced to and won a game in the Big Ten Tournament in 2014 — the program's first tournament victory since 2010.
? Iowa has posted winning streaks of nine games (in 2015) and seven games (in 2014) — the longest streaks for the program since 2012.
? Under Heller, Duane Banks Field has been undergoing a transformation with AstroTurf installed in the infield and outfield, new outfield fences and the addition of a new video scoreboard.
? Iowa had five All-Big Ten selections, including the first first-team honoree since 2009. The Hawkeyes also had two first-team all-region selections.
SEASON TICKETS ARE ON SALE
Season tickets for the 2015 home schedule are on sale at hawkeyesports.com. Tickets are $75 for reserved and general admission and $40 for general admission youth tickets. There is also a "30-Block" season ticket, priced at $99, where tickets can be used at any game or combination of games. Single game tickets are $7 for adults and $3 for youth. Children ages five and under are admitted free.
FOLLOW THE HAWKEYES
Iowa baseball fans can follow the Hawkeyes on Facebook by going to facebook.com/iowabaseball. Fans can also follow on Twitter @UIBaseball.
UP NEXT
The Hawkeyes continue their road trip to Lawrence, Kansas, for a three-game series against Big 12 foe Kansas from March 20-22.