MOBILE, Ala. – Three members of the 2016 University of Iowa football team will participate in the 2017 Senior Bowl; quarterback C.J. Beathard, defensive back Desmond King, and defensive tackle Jaleel Johnson.
 
The 2017 Senior Bowl will take place Saturday, Jan. 28, in Mobile, Alabama.  The all-star game will be televised on the NFL Network, with kick set for 1:30 p.m. (CT).  Practices during the week (Wednesday-Thursday) will be televised on ESPNU.  North team practice is scheduled noon-2:30 p.m. CT, with the South practicing from 3-5 p.m. CT. Further information is available at seniorbowl.com.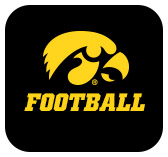 Beathard started all 13 games, passing for 1,929 yards with 17 touchdowns. His 40 touchdown passes rank sixth all-time, and his 5,562 passing yards rank eighth all-time.
 
Beathard won eight games in 2016, running his career record to 21-7 (.750), the best all-time winning percentage among Hawkeye quarterbacks with 20 or more career starts. He is one of five players in program history to win 20 games as starting quarterback.  Beathard's career record includes an 11-3 mark at Kinnick Stadium, a 10-1 record in true road games, a 14-4 record in Big Ten games, a 4-5 record against AP Top 25 teams, and a 7-1 record in rivalry games.
 
King was named first team All-Big Ten for the second consecutive season. He started all 13 games at cornerback in 2016 and set a school record in career starts (51) and career games played (53). King recorded 42 solo tackles and 16 assists as a senior, with seven pass break-ups and three interceptions, including a 41-yard interception return for a touchdown in a win at Purdue.
 
 King also led Iowa's special teams. He tied for the Big Ten lead averaging 27.8 yards per kickoff return and ranked third in the conference averaging 10.2 yards per punt return. He had a career-best 77-yard kickoff return against Wisconsin.
 
King is the only Big Ten player in the last 20 years to have 12 or more interceptions and 1,500 or more combined kickoff and return yards. King had 14 career interceptions, tied for fourth most in program history, and 1,962 combined return yards on kickoff and punt returns. The combined punt and kick return yards rank third all-time in school history (Tim Dwight, 2,297; Khalil Hill, 2,005).
 
Johnson led Iowa with 7.5 sacks (50 yards), becoming the first defensive tackle to lead the team in sacks since Mike Daniels in 2011 (9-53). Johnson's sack total tied for seventh in the Big Ten.  He was named first team All-Big Ten by league coaches and set career highs in tackles (52), tackles-for-loss (10-54), and sacks. Johnson had a career-best nine tackles in Iowa's 14-13 win against No. 2 Michigan, including a tackle for a safety, and finished his career with 27 consecutive starts.
 
This marks the sixth straight year the Hawkeyes have been represented with more than one player in the Senior Bowl.  Center Austin Blythe and tight end Henry Krieger Coble participated a year ago.  Iowa football has been represented in the Senior Bowl every season since 2002. Only Michigan (5), Alabama (4), LSU (4), and Miami (4), have more than three players participating this year.