Hawkeye Fan Shop — A Black & Gold Store | Fight For Iowa | Hawk Talk Monthly — June 2017 | 24 Hawkeyes to Watch 2016-17 – /sports/2016/7/20/24-hawkeyes-to-watch-2016-17.aspx
Editor's Note: The following first appeared in the University of Iowa's Hawk Talk Daily, an e-newsletter that offers a daily look at the Iowa Hawkeyes, delivered free each morning to thousands of fans of the Hawkeyes worldwide. To receive daily news from the Iowa Hawkeyes, sign up HERE.
By CARI GOLD
hawkeyesports.com
IOWA CITY, Iowa — University of Iowa graduate Jenna (Spratt) Gattas experienced a wide range of emotions when she learned she would be inducted into the Iowa Girls' High School Athletic Union Softball Hall of Fame.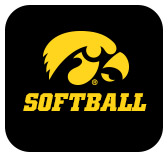 "It's almost hard to put into words what it means to me," said Gattas, who played for the Hawkeyes from 2004-07. "This whole experience has been so humbling and I feel so incredibly honored.
 
"When I got the phone call, my eyes swelled up with tears. I was in shock and I can't thank my high school coach, Jim White, enough. He has had a huge impact in my life both on and off the field, more than he will ever know. He is an outstanding coach and an even better person."
 
Gattas played five varsity seasons at Clear Creek Amana High School from 1999-2003. During her career, she scored 271 runs and helped the Clippers win 235 games. Gattas drove in the only run in the Clippers' victory over Independence to guide the team to a 2002 state championship. As a senior, Gattas hit .532, stole 64 bases, and was named Class 2A Player of the Year.
 
Gattas' high school career opened the door for her to play for her hometown Hawkeyes, an opportunity she and her family cherished.
 
"Being a Hawkeye meant a lot to my family and me," said Gattas. "I knew my parents would be happy with whatever decision I made, but staying home allowed them to come to all of my games. It meant a lot to me to have their support."
 
Being offered a scholarship is something many high school players dream about, and Gattas fondly remembers the experience.
 
"I will never forget the moment (Iowa head coach Gayle) Blevins offered me a scholarship," said Gattas. "Growing up around the Hawkeyes, living so close, and seeing how outstanding the program at Iowa was, it was an easy decision."
 
Gattas appeared in 220 games as a Hawkeye, helping the team to a 165-82 overall record, including a 50-14 record in 2005 — the third most wins in program history. She helped the lead Iowa to three NCAA Regional appearances.
 
Gattas' favorite memories, however, come from her teammates. One such memory involves music, singing, beat-boxing, and something she calls "Club Spratt". Gattas got in the middle of the circle of Hawkeyes and danced to help pump up her teammates.
 
"It usually ended up with everyone laughing for various reasons," said Gattas. "It is now one of those things I think about from time-to-time or someone will bring it up and it always makes me smile."
 
In the end, those memories, the laughter and friendships, rather than the successes on the playing field, are what Gattas enjoyed most about her Iowa career.
 
"My favorite part of being a Hawkeye was the people I played with," said Gattas. "I was fortunate to have played with some of the best, but also I was lucky to have made lifelong friends who I will have a special bond with forever."
 
Gattas was inducted to the IGHSGAU Hall of Fame on Thursday night at the Harlan Sports Complex in Fort Dodge, Iowa, prior to the 1A State Championship game.