IOWA CITY, Iowa – The Iowa Hawkeyes close the regular season Friday at Nebraska (3 p.m., FS1), and for players and coaches, the short week leading to the Heroes Game in Lincoln, Nebraska, can't go fast enough.  Iowa (6-5, 3-5) seeks a third straight win in the series.
Iowa is coming off a 24-15 loss to Purdue on Nov. 18 in the final home game of the season.  After leading 9-7 at halftime, Iowa fell behind in the third quarter before a late touchdown provided a window of opportunity.  That hope faded when Iowa's onside kick attempt with 1:04 remaining was covered by the Boilermakers.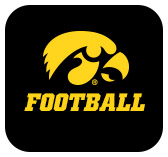 "The crowd was into the game, but unfortunately, we couldn't come through for them," said Iowa head coach Kirk Ferentz Sunday during an interview with hawkeyesports.com.  "It's tough for the seniors; it was their last game in Kinnick.  It's a tough way for them to remember their last outing."
The game was played in cold and windy conditions, with wind gusts of 20-to-25 miles per hour.  Purdue was able to use those conditions to its advantage, while the Hawkeyes struggled on special teams and gaining field position.  The Hawkeyes started six drives inside their own 25-yard line.
"Part of that is we have to do something about it," said Ferentz.  "When we do get tough field position, we have to be able to move the ball out of there, and then do a better job in our special teams.  Yesterday, that really played a part in the game.  Playing with that wind, in two of the four quarters, it becomes imperative that you move the ball out of there, even to midfield; you can punt and make your opponent go the length of the field.  We did not do a good job of flipping field position."
The bright spot for Iowa was the play of senior linebacker Josey Jewell.  Along with recording 13 tackles, Jewell recorded two sacks among his three tackles for loss and had three pass break-ups.  Jewell leads the Big Ten and ranks third nationally with 117 tackles in the 10 games he has played.
"Josey and all three of the senior linebackers, Bo Bower and Ben Niemann, along with Kevin Ward, another senior who has played well and contributed on special teams, those guys have been very dependable," said Ferentz.  "Josey has had a tremendous career, and he had another great game yesterday.  Run or pass, he gets to the ball and makes a real impact on the game."
As the Hawkeyes turn their attention to the Black Friday date at Nebraska, Ferentz is hopeful the weekly routine of his team will work to Iowa's advantage.
It is unique and different since we started this game," said Ferentz.  "It's a little different preparation, but we have become familiar with it.  The biggest challenge this week is the mental approach for our football team.  We are not in school, so you have pure football time and relaxation time available.    You cannot work as hard physically; it is a short turnaround and comes late in the season.  So it gets down to our ability to focus in and see if we can't do a good job in preparing.
"When we went to our new schedule in 2015 with morning practice, we pushed the schedule a little toward early in the week, so it fits in to what we do all season.  We started working toward that in 2015, but Monday we will be a little more extensive in what we share with the team.  The challenge is still there for us to put a good plan together, and then most importantly, go out and execute better than we did yesterday."
Friday will mark Iowa's fourth trophy game of the season.  The Hawkeyes maintained possession of the  Cy-Hawk Trophy and Floyd of Rosedale, but could not bring the Heartland Trophy back from Wisconsin.  Still, the Hawkeyes are 9-2 in the trophy games since the start of the 2015 season.
"Anytime a trophy is involved, you want to keep that trophy in your building, or get it in to your building," said Ferentz.  "Right now it's up for grabs.  We have won nine of 11, that is important to us.  We talk about that all that time, and it will be a topic of conversation this week."
The Hawkeyes are bowl eligible for the 16th time in the last 17 seasons.