Hawkeye Fan Shop — A Black & Gold Store | Hawk Talk Monthly — January 2018 | Kinnick Edge | Pinstripe Bowl Coverage
Editor's Note: The following first appeared in the University of Iowa's Hawk Talk Daily, an e-newsletter that offers a daily look at the Iowa Hawkeyes, delivered free each morning to thousands of fans of the Hawkeyes worldwide. To receive daily news from the Iowa Hawkeyes, sign up HERE.
By DARREN MILLER
hawkeyesports.com
IOWA CITY, Iowa — You won't stump many trivia buffs with the question, "Who were the first black players inducted into the professional baseball or basketball Hall of Fames?"
 
The no-brainer answers are Jackie Robinson and Bill Russell.
 
But who is the first black player inducted into the Professional Football Hall of Fame? The perplexing response is former, and somewhat forgotten, University of Iowa star Emlen Tunnell.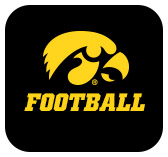 Tunnell played during Dr. Eddie Anderson's second stint at Iowa in 1946 and 1947. The Hawkeyes were a combined 8-7-1 in those seasons, with Tunnell lining up at left halfback and defensive back.
 
Whether it was friction with the coaching staff (Anderson wanted Tunnell to focus solely on defense in 1948) or financial reasons, Tunnell returned to his hometown of Garrett Hill, Pennsylvania, in January of 1948, then hitchhiked to New York on a banana truck and met with executives of the National Football League's New York Giants. The Giants had never signed a black player, but the general manager gave Tunnell a tryout and then a one-year contract worth $5,000 with a $500 signing bonus. That was big money for someone who went to New York with $1.50 to his name.
 
Tunnell, a 6-foot-1, 187-pound ball-hawking safety, played 167 games with the Giants and Green Bay Packers from 1948-61, becoming one of the greatest defensive backs in the history of the game. He earned the nickname "Offense on Defense" and had 79 career interceptions for 1,282 yards and four touchdowns and returned 262 punts for 2,217 yards. Tunnell played in nine Pro Bowls and was named All-NFL six times; he was inducted into the Professional Football Hall of Fame in 1967.
 
Folks in Delaware County, Pennsylvania, are doing their best to assure that the rest of the nation remembers one of their favorite sons. On June 2, a 7-foot bronze statue of Tunnell will be unveiled in front of the Delaware County Sports Legends Museum in Radnor Township. Jennifer Frudakis-Petry sculpted the statue at a cost of $75,000.
 
"Emlen Tunnell is someone kids should know because of what he accomplished, the hardships he went through, and how he was able to overcome those," said Rich Pagano, a writer and historian from Delaware County.
 
Tunnell was raised in Philadelphia's Garrett Hill neighborhood, where he played football, basketball, and baseball. After graduating from Radnor Township High School, Tunnell attended the University of Toledo to play football and basketball. He broke his neck while playing football for Toledo and was told he would never play football again. As the story goes, soon after the injury, a Catholic priest was called to administer last rites.
 
Tunnell not only survived, but joined the Coast Guard and became a war hero, saving at least two lives in World War II. While in the Coast Guard, Tunnell befriended Jim Walker, who played tackle for Iowa from 1939-41. Walker raved about the way black athletes were treated at Iowa, so after the war, Tunnell made his way to Iowa City for two seasons.
 
In 1946, Tunnell rushed for 333 yards and completed 28 of 58 passes for 228 yards. On Oct. 11, 1947, he led Iowa to its first Homecoming win in five years over highly-favored Indiana. Tunnell caught six passes for 155 yards and three touchdowns and the Hawkeyes prevailed, 27-14.
 
When his professional playing days ended, Tunnell returned to the Giants and became the first black assistant coach in the NFL. On July 23, 1975, while at Giants training camp in Pleasantville, New York, Tunnell died of a heart attack at the age of 50.
 
Tunnell was enshrined in the University of Iowa Athletics Hall of Fame in 1998.