By DARREN MILLER
hawkeyesports.com
IOWA CITY, Iowa — It's an obvious query every preseason and it is asked to coaches and players alike: "Who is a guy we haven't heard of that is turning heads in practice?"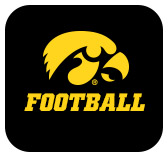 This summer a unanimous response from University of Iowa football camp was Charlie Jones.
After Saturday's performance against Michigan State, it's easy to see why.
Jones is a 5-foot-11, 187-pound wide receiver/kick returner from Deerfield, Illinois. He was on campus last season but had to sit after transferring from the University of Buffalo. Entering Saturday's game against Michigan State, Jones had five punt returns for 45 yards.
He exceeded that production against the Spartans with a game-high 143 all-purpose yards.
And, Jones continues to impress head coach Kirk Ferentz, who says he feels no angst with Jones's fielding, judgement and ball skills.
"The million-dollar question was going to be when we really started him in our offense or him returning punts and doing it in live action," Ferentz said. "I feel good with him back there. He's a pretty good player on offense, too, so you'll see him keep working forward that way as well."
"I knew this was a program where you can work your way up with hard work. That's what it is: come out every day and work hard and when your opportunity comes, take advantage of it."

Charlie Jones, wide receiver/kick returner
On Iowa's first offensive series Jones took a jet sweep "fly" 27 yards to the Spartan 6-yard line. When it comes to exciting plays, that was a tease. Even before Jones did the bulk of his punt return damage, Michigan State broadcaster George Blaha shared these prophetic words:
"Charlie Jones is a dangerous punt returner, I'll say that."
Almost on cue, Jones returned one 54 yards for a touchdown, giving the Hawkeyes a 28-0 lead in a game they won, 49-7. It was the first punt return touchdown for the Hawkeyes since Kyle Groeneweg went 61 yards at Illinois in 2018.
"It brings a ton of energy to the sideline," Jones said of a touchdown return. "It has an impact on the game."
On the day, Jones returned five punts for 105 yards…and two of those returns were diminished because of penalties. The 21-yard return average is impressive; also noteworthy is that Iowa had a total of 121 punt return yards during its entire 13-game season in 2019.
Taking a risk is how Jones ended up at Iowa in the first place, taking risks is how he has developed into one of the top punt returners in the Big Ten.
"Some of them I could fair catch, but I take a little risk and try to make something out of nothing," Jones said. "That might be the difference."
He arrived at Iowa because he wanted to play against the best of the best every week. Jones also wanted to see familiar faces at his new home, and he had that in offensive line coach Tom Polasek and wide receivers coach Kelton Copeland. Polasek recruited Jones when he was at North Dakota State; Copeland recruited Jones when he was at Northern Illinois.
"I wanted to go somewhere where I knew people and I knew guys on the team," Jones said. "I knew this was a program where you can work your way up with hard work. That's what it is: come out every day and work hard and when your opportunity comes, take advantage of it."
Jones did not return a punt during the 2018 season at Buffalo. Instead, he returned 15 kicks for an average of 19.3 yards and a long of 43. Aside from the way the ball comes off a kicker's leg, returning is returning.
"Find the hole and hit it as hard as you can," Jones said.
He did that on his third punt return of the day. Originally scheduled for a return up the middle, Jones took a step and ad-libbed.
"I saw the left side was wide open," Jones said. "There was great blocking on the left, so I went left with it."
And he went 54 yards to the house.