JACKSONVILLE, Florida – The University of Iowa track and field team headed to North Florida University to compete against the entirety of the Big Ten Conference on Friday. The Hawkeyes recorded five gold medals and three all-time top 10 performances on Day 1 of the B1G Florida Invitational.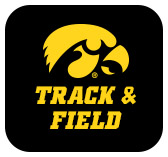 The day for the Hawkeyes kicked off with the open women's hammer throw where Erika Hammond finished third with a career-best 53.29 meters. Jamie Kofron was next in ninth with a mark of 47.81 meters. Ianna Roach was close behind in 10th with a career best throw of 47.00 meters.
In the invitational section of the women's hammer throw, Amando Howe led the way finishing second with a career-best 61.31 meters. Howe's throw moves her from sixth from second all-time in program history. Allison Wahrman and Nia Britt finished fifth and eighth with throws of 58.46 and 55.60 meters.
In the invitational men's hammer throw, Tyler Lienau finished sixth overall with a career best of 59.17 meters. Elijah Barnes recorded a career-best 54.81 meters to finish ninth. Jordan Hawkins also joined the "PR club" in the open section with a throw of 55.92 meters.
Laulauga Tausaga won the women's shot put with a throw of 17.94 meters, a mark that leads the nation. Dawson Ellingson won the men's open shot put with a career-best 17.58 meters.
In the men's invitational long jump, James Carter Jr. finished second with a career-best 7.75 meters. This mark moves Carter up to sixth all-time in program history. Carter continued his great start to the outdoor season with two weeks with back-to-back career bests in the long jump. Kaleba Jack and Deandre Stapleton Jr. finished sixth and seventh with jumps of 7.27 meters and 7.18 meters.
In the women's 100-meter hurdles, three Hawkeyes qualified for Saturday's finals. Jenny Kimbro led the way winning her section with a time of 13.61. Myreanna Bebe was next with a career-best time of 13.82. Tionna Tobias also made the final with a time of 13.92.
Jamal Britt won his heat of the 110-meter hurdles with a career best 13.59 to punch his ticket to the final tomorrow. Britt's time takes him up to third all-time in program history. Jaylan McConico won his section with a time of 13.64 to qualify for Saturday's final, as well. Josh Braverman and Gratt Reed both grabbed qualifying spots with times of 13.90 and 14.10. Braverman's time is a new career best. Will Daniels also recorded a career best finishing 15th with a time of 14.40.
Lasarah Hargrove recorded a career best in the 100 meter prelims with a time of 11.74 to qualify for the Saturday's finals.
In the women's 800 meters, Tia Saunders led Iowa finishing 12th with a time of 2:12.22. Lindsay Welker and Katie Moore finished 16th and 19th with times of 2:18.43 and 2:29.04, respectively. Moore, although falling during her race, recorded an outdoor career best.
Tysen VanDraska continues his winning ways in the men's 800 meters, picking up the gold medal with a time of 1:49.36. Alec Still finished close behind in third with a career best time of 1:50.23. Tyler Olson finished 10th with a career best 1:52.30. Armando Bryson and Spencer Gudgel finished right next to each other in 12th and 13th with career bests of 1:52.54 and 1:52.74, respectively. Jason Hoffman also recorded a career with of 1:53.33 to finish 17th.
In the women's 1,500 meters, the Hawkeyes went four-for-four in terms of career bests. Emma Gordon finished ninth in the invitational section with a time of 4:30.02. Kelli Tosic was next in 10th with a time of 4:32.31. Logan Akason finished 16th with a time of 4:44.84. Amber Aesoph grabbed the silver medal in the open section with a time of 4:42.28.
Jeff Roberts led the charge finishing seventh in the men's 1,500 meters with a career-best 3:47.94. Daniel Soto and Kal Lewis finished in 10th and 17th with times of 3:51.54 and 3:55.39. In the open section, Noah Healy placed second with a time of 3:57.48. Nick Trattner finished fourth with a career best time of 3:58.85. Aidan King and Konnor Sommer finished seventh and 10th with times of 4:00.45 and 4:02.09. Sommer's time was a career best.
To close out the night, Nathan Mylenek won the men's 3,000-meter steeple chase with a time of 8:50.26. This was Mylenek's first steeple chase since placing ninth at the 2019 NCAA Outdoor Championships.
QUOTING WOODY
"We had a great first day today. We had to battle some tough conditions earlier in the meet with some really high winds and colder temperatures, but I thought our athletes competed very well. I was very pleased with the men and women in the 1,500 with some big PR's, and seeing Nathan Mylenek open with a really nice time in his season debut steeplechase. I thought Lagi competed really well in the shot put and had to battle after a rough start in the event. Amanda Howe led the way in the women's hammer throw with a really nice performance throwing over 61 meters. I'm very excited for Day 2 and to see our athletes build on today."
B1G Florida Invitational
Iowa's Friday Results:
Women's Hammer Throw Invitational:
2. Amanda Howe / 61.31m (201'1") (PR) 2nd all-time
5. Allison Wahrman / 58.46m (191'9")
8. Nia Britt / 55.60m (182'5")
Women's Hammer Throw Open:
3. Erika Hammond / 53.29m (174'10") (PR)
9. Jamie Kofron / 47.81m (156'10")
10. Ianna Roach / 47.00m (154'2") (PR)
Men's Hammer Throw Invitational:
6. Tyler Lienau / 59.17m (194'1") (PR)
9. Jordan Johnson / 54.81m (179'10") (PR)
Men's Hammer Throw Open:
4. Jordan Hawkins / 55.92m (183'5") (PR)
Women's Shot Put Invitational:
1. Laulauga Tausaga / 17.94m (58'10.25")
8. Nia Britt / 15.20m (49'10.5")
Women's Shot Put Open:
5. Erika Hammond / 14.84m (48'8.25")
9. Ianna Roach / 13.77m (45'2.25")
11. Kat Moody / 13.49m (44'3.25")
13. Jamie Kofron / 13.42m (44'0.5")
Men's Long Jump Invitational:
2. James Carter / 7.75m (25'5.25") (PR) tied for 6th
6. Kaleba Jack / 7.27m (23'10.25")
7. Deandre Stapleton Jr. / 7.18m (23'6.75")
Women's Long Jump Invitational:
6. Tionna Tobias / 5.61m (18'5")
Women's Long Jump Open:
11. Eavion Richardson / 5.69m (18'8")
18. Kayla Hutchins / 5.40m (17'8.75")
23. Jenny Kimbro / 5.06m (16'7.25")
Men's High Jump:
7. Zack Pluff, Zack / 2.01m (6'7")
10. Will Daniels / 1.96m (6'5")
14. Seth Groom / 1.76m (5'9.25")
Women's High Jump:
6. Dallyssa Huggins / 1.69m (5'6.5") (PR)
9. Maria Gorham / 1.69m (5'6.5") (PR)
Men's Shot Put Open:
1. Dawson Ellingson / 17.58m (57'8.25") (PR)
16. Will Daniels / 13.35m (43'9.75")
17. Austin West / 12.46m (40'10.5")
Men's Shot Put Invitational:
6. Elijah Barnes / 17.37m
Women's 100m Hurdles Prelim:
Q 2. Jenny Kimbro / 13.61
Q 6. Myreanna Bebe / 13.82 (PR)
Q 7. Tionna Tobias / 13.92
11. Karina Joiner / 14.15
18. Sydney Winger / 14.29
23. Katie Petersen / 14.52 (PR)
32. Dallyssa Huggins / 15.63 (PR)
Men's 110m Hurdles Prelim:
Q 1. Jamal Britt / 13.59 (PR) 3rd all-time
Q 2. Jaylan McConico / 13.64
Q 5. Josh Braverman / 13.90 (PR)
Q 8. Gratt Reed / 14.10
14. Grant Conway / 14.39
15. Will Daniels / 14.40 (PR)
Women's 400m Dash:
8. Cortney Strohman / 56.36
14. Tesa Roberts / 56.96 (PR)
Men's 400m Dash Invitational:
5. Julien Gilum / 48.61
7. Khullen Jefferson / 48.69
13. Evan Shuster / 49.30 (PR)
15. Dejuan Frye / 49.59
Women's 100m Dash Prelims:
Q 8. Lasarah Hargrove / 11.74 (PR)
15. Antonise Christian / 11.89
Men's 100m Dash Prelims:
22. Tanner Iske / 11.24
Women's 800m Run Invitational:
12. Tia Saunders / 2:12.22
16. Lindsay Welker / 2:18.43
19. Katie Moore / 2:29.04 (PR)
Men's 800m Run Invitational:
1. Tysen VanDraska / 1:49.36
3. Alec Still / 1:50.23 (PR)
10. Tyler Olson / 1:52.30 (PR)
12. Armando Bryson / 1:52.54 (PR)
13. Spencer Gudgel / 1:52.74 (PR)
17. Jason Hoffman / 1:53.33 (PR)
22. Josh Andrews / 1:58.46
Women's 1,500m Run Open:
2. Amber Aesoph / 4:42.28 (PR)
Women's 1,500m Invitational:
9. Emma Gordon / 4:30.02 (PR)
10. Kelli Tosic / 4:32.31 (PR)
16. Logan Akason / 4:44.84 (PR)
Men's 1,500m Run Open:
2. Noah Healy / 3:57.48
4. Nick Trattner / 3:58.85 (PR)
7. Aidan King / 4:00.45
10. Konnor Sommer / 4:02.09 (PR)
Men's 1,500m Run Invitational:
7. Jeff Roberts / 3:47.94 (PR)
10. Daniel Soto / 3:51.54
17. Kal Lewis / 3:55.39
Men's 3,000m Steeplechase:
1. Nathan Mylenek / 8:50.26