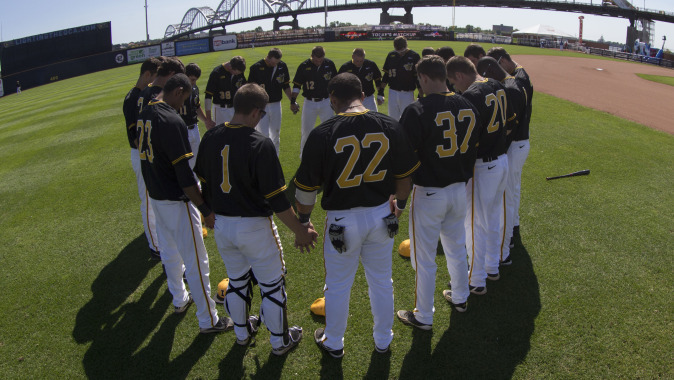 Jan. 26, 2015
By JAMES ALLAN
hawkeyesports.com
IOWA CITY, Iowa — Fresh off a 30-win season and a berth into the Big Ten Tournament, the University of Iowa baseball team looks to continue its momentum into year two under head coach Rick Heller.
"Making it to the conference tournament last year motivated the returning players to want to take it a step further," said Heller. "This group wants to compete for a championship and put themselves into a position to advance to NCAA Regionals."
The Hawkeyes have the pieces in place to vie for a Big Ten title with four All-Big Ten selections and 2/3 of its starting rotation returning. Iowa has seven positional players and its starting designated hitter, nine pitchers and a total of 17 letterwinners returning from a team that went 30-23 a season ago.
Iowa's offense was among the Big Ten's best in 2014 and the core of the team is returning. The Hawkeyes led the conference with a .296 team batting average and ranked among the top three in runs, RBIs, hits, home runs, and slugging and on-base percentage.
"This team's goals are high," said Heller. "The success we had last year helped build the expectations of the group coming back. It started from day one… these guys know what we want to accomplish both on and off the field."
STARTING PITCHING
After mixing and matching its pitching staff last season, Heller and UI pitching coach Scott Brickman have a good problem surfacing heading into the 2015 campaign. The Hawkeyes have four legitimate options fighting for the three spots in the weekend rotation.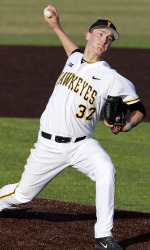 Mathews
The top starter — if healthy — is junior right-hander Calvin Mathews, who was the team's Friday night starter for 2/3 of the season before missing two weeks with a shoulder injury. Mathews made 11 starts as a sophomore, where he posted a 3-3 record with a team-low 2.72 ERA. He logged 72 2/3 innings, striking out 60 batters to only 20 walks.
"Calvin has been there before," said Heller. "That's a big part of being the Friday night starter is the experience and confidence factor. Calvin knows he is capable of winning on Friday night, and in his mind, he'll know he is stronger than he was last year.
"He has been healthier this fall than he has been in his career. He didn't have any setbacks, so we're optimistic Calvin is not only going to be healthier this spring, but stronger."
Mathews had six quality starts in 11 outings as a sophomore and he allowed three or fewer runs in 10-of-11 starts. The Bloomfield, Iowa, native was second in the Big Ten, limiting opposing hitters to a .212 batting average and was eighth in ERA (2.72) and 10th in strikeouts (60)
Junior right-hander Tyler Peyton returns after posting a 5-1 record with a 4.86 ERA as the team's Sunday starter in 2014. The Grimes, Iowa, native tossed 76 innings and had 45 strikeouts, but also issued 33 walks.
"I would expect to see a more mature, consistent Tyler Peyton this season, which is the only thing he needed to improve on," said Heller. "He gave us quality innings last year, but he would have the one inning where he let a couple of walks and a base hit turn into a big inning. I think he'll be more consistent with a year under his belt."
After starting the 2014 season as a dual-role player, junior right-hander Blake Hickman transitioned solely to the mound midway through the year and his results were promising. The Chicago native went 2-2 with a 3.93 ERA in 17 appearances, including five starts. He earned the start in Iowa's elimination game victory against Minnesota (he wasn't involved in the decision) at the Big Ten Tournament, throwing five innings of three-hit, one-run ball.
"Even though it's still a learning process, Blake is much farther ahead now than he was at any point last season," said Heller. "His secondary stuff has improved and he has cleaned up his mechanics. I look for Blake to have a great year."
Hickman pitched in the Cape Cod League last summer for the Hyannis Harbor Hawks. Pitching every fifth day, he went 3-4 with a 4.91 ERA. In his three wins, he threw 18 1/3 innings, allowing two runs on 13 hits with 14 strikeouts and a 0.98 ERA.
The wildcard to the rotation, junior left-hander Ryan Erickson, could prove to be one of the most valuable pieces. The Mason City, Iowa, native joined the Hawkeyes as a walk-on after sitting out the 2014 season. He saw limited action at Johnson County (Kansas) Community College in 2013.
"Ryan gives us exactly what we needed after losing Sasha Kuebel to the MLB Draft last season," said Heller. "He was outstanding in the fall. He has good fastball command in the upper 80s, low 90s, to go along with a hard breaking ball and good change-up.
"We feel Ryan is going to be a viable candidate to be one of our three starters once we start conference play in March. It's going to be a battle all winter heading into the opening weekend in early February."
Iowa's starting pitching depth goes even deeper with the return of senior southpaw Andrew Hedrick and the addition of junior college right-hander Connor Grant, giving Hawkeyes' an array of options for midweek starts. Senior Nick Hibbing could also be a spot starter.
"Hedrick has made some headway and been more consistent in individual sessions this fall," said Heller. "Connor is in the mix, fighting for a spot. We have a nice problem to deal with as far as fitting roles."
Hedrick went 3-4 with a 4.98 ERA in 13 games as a junior. He made six starts early in the season, including a victory over St. Bonaventure, where he threw 6 2/3 scoreless innings, scattering four hits and striking out seven. Grant pitched in relief last season at Ellsworth Community College, where he was a two-way player.
RELIEF PITCHING
The Hawkeyes won 30 games in 2014 with a bullpen that was pieced together like a jigsaw puzzle as two walk-ons developed into the team's top relief options. Heller and Co. were forced to mix-and-match their bullpen last season; in 2015, the Hawkeyes have the luxury of depth.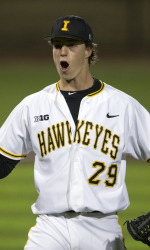 Radtke
Junior Tyler Radtke was one of the walk-on success stories, emerging as Iowa's closer a season ago, where he led the team with three saves. The right-hander went 2-2 with a 3.89 ERA in 23 appearances, striking out 38 batters in 37 innings.
"We know Tyler has the stuff and the ability to close games," said Heller. "He has improved his game dramatically and is much more consistent with his breaking ball. Anytime Tyler got in any trouble last year, it was self-inflicted. I don't see him giving things away like he did; he's more consistent and confident right now."
One of the recruiting goals for the 2015 season was adding depth for the back-end of games. Iowa made good on its goal with the addition of Iowa Central Community College transfer Luke Vandermaten. The right-hander was a first-team all-region honoree after ranking second nationally with 11 saves last season. He went 5-0 with a 1.07 ERA with 44 strikeouts in 42 innings.
"Luke gives us something that is different from the rest of our staff," said Heller. "He's a multi-arm angle pitcher and a true closer. He is used to being out there with the game on the line and has proven he can finish the game."
Senior Nick Hibbing was a durable option out of the bullpen in 2014, logging a team-high 24 appearances, where he posted a 3-3 record with a 4.74 ERA. The right-hander had 30 strikeouts in 43 2/3 innings.
"Nick has worked hard heading into his senior year; he's in the best shape of his career," said Heller. "He has worked hard to clean up his mechanics, and I think you'll see a more consistent pitcher this season. Nick will have a valuable role for us."
Former walk-on Jared Mandel gives the Hawkeyes a versatile option after establishing himself as a reliable pitcher in 2014. After not seeing any game action for the first month of the season, Mandel made 15 appearances over the final three months, going 2-1 with a 2.70 ERA over 23 1/3 innings with two saves.
"The great thing about Jared is he can do multiple things," said Heller. "He can close in a pinch, he isn't afraid to take the ball in tough situations, or he can come in, and get a lefty out. He's valuable if you need him to log 2-3 innings or you wouldn't feel bad bringing Jared in with two outs and a runner on third in the ninth inning."
Heller is eager to see the role Connor Grant carves out because it could evolve into being a starter, long-reliever, or set-up guy. Grant had eight saves at Ellsworth Community College in 2014, where he posted a 1.69 ERA over 15 appearances. He struck out 16 and allowed just three earned runs in 16 innings.
"Connor's fastball is the second-best on our team at 94-95 miles per hour," said Heller. "We recruited Connor knowing he didn't have a lot of mound experience, but we're happy with his development. If he can give us consistency like he did late in the fall, he'll have a key role. He flashed dominant stuff with a breaking ball that is a swing and miss pitch."
Iowa also returns two bullpen pieces — senior Brandon Shulista and sophomore Matt Allen — who both contributed in 2014. Shulista posted a 2-0 record in 13 appearances, but had a 9.22 ERA, while Allen went 1-1 with a 5.29 ERA in 10 outings.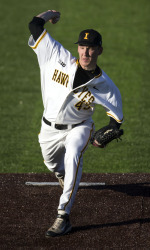 Hibbing
"Brandon had a nice fall after a disappointing junior season," said Heller. "He seems to have his confidence back and was attacking hitters and pounding the zone with all of his pitches.
"Matt did a nice job as a freshman, and he has come back stronger, more mature, and confident. He's a good ground ball pitcher who we could go to when we need a double play. He throws a good sinker, and is a pitcher who can log innings if we need him to."
Two pitchers — redshirt sophomore Josh Martsching and redshirt junior Taylor Kaufman — are on the mend. Martsching missed all of last season with Tommy John surgery and is nearly back to 100 percent, while Kaufman is still working his way back from shoulder surgery.
"Josh is kind of an unknown," said Heller. "I feel confident Josh is healthy, and he's close to 100 percent. He is a pitcher that pounds the strike zone, which is fantastic for a bullpen pitcher. Early in the year when our starters aren't going as deep into the game, we'll get a chance to see Josh in a middle relief-type role.
"Taylor hasn't been able to regain his velocity, but we haven't given up on it. If we get him back this year, it's a bonus to get another lefty, but if not, we'll keep working and hopefully get him back on the mound next year. We know how good he can be if he's healthy."
Three newcomers — junior right-hander Daniel Aaron Moriel, freshman righty Nick Gallagher, and freshman southpaw Nick Allgeyer — and a current position player — senior right-hander Nick Day — will fight for innings. Allgeyer and Day have the biggest chance to make an impact.
"I challenged Allgeyer with the goal of giving us some innings as a freshman since we're not as deep on the left side," said Heller. "He can throw strikes with multiple pitches and does it with confidence.
"Nick Day experimented pitching this summer and did a nice job. He has a knack for throwing strikes and his plus arm plays on the mound. After seeing him throw during the offseason, it wouldn't make sense to not keep him active because he is a legit option later in the game.
"Moriel is an experienced closer, who possesses good arm strength. He's a quality option that gives us depth."
Heller says Gallagher has thrown well since joining the program, but with the staff's depth, he may be a redshirt option. Freshman Kyle Wade will miss the 2015 season recovering from Tommy John surgery.
CATCHERS
After seeing Jimmy Frankos emerge as the everyday catcher midway through the 2014 season, the Hawkeyes have their top option behind the plate returning in 2015.
"Jimmy played great when he took over the starting job," said Heller. "Not only did he do a good job of handling our pitchers, but he provided a spark at the plate. He gives us another left-handed bat in the lineup and his toughness was infectious with the rest of the team."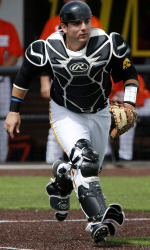 Frankos
The Park Ridge, Illinois, native started 26 games as a sophomore, where he hit .333 with 18 runs, nine walks and seven RBIs. Frankos hit a team-best .344 in Big Ten action to rank 10th in the league and he had nine multi-hit games on the year. Defensively, Frankos posted a .989 fielding percentage, but he threw out just five of 27 would be base stealers.
"Jimmy has worked hard on his throwing; we've seen a lot of improvement," said Heller. "Offensively, his bat has gotten better. He's a much improved player from where he was this time last season."
While Frankos is the clear-cut starter behind the plate, the Hawkeyes have a trio of players battling for the backup positons in junior college transfer Daniel Aaron Moriel and freshman Austin Guzzo and J.T. Sole.
Moriel was a second-team all-conference selection at East Los Angeles Community College as a utility player, where he hit .286 with eight runs and five RBIs last season. Guzzo is a converted infielder with a big-time bat. He hit .396 with four home runs and a .610 slugging percentage for the 17U Ontario Blue Jays.
"Moriel brings the most experience," said Heller. "He has a plus throwing arm and can shut down the running game.
"It has taken Austin time to adjust, but he has been making big strides. He brings a plus bat if he ends up being that guy. I could see him being a top pinch-hit option and a spot starter because of his bat. His arm strength is solid, but he has to continue to work hard on receiving and blocking."
Sole, the top-ranked catching prospect in Iowa as a senior, rounds out the trio. The Cedar Falls, Iowa, native was a first-team all-state and 2014 Mississippi Valley Conference Player of the Year in 2014 after hitting .385 with 10 doubles and 36 RBIs.
"Sole has done a tremendous job on receiving and is working hard on throwing," said Heller. "He's a viable option for the back-up spot."
INFIELD
The Hawkeyes will be experienced in the infield with three starters returning, including All-Big Ten selections Jake Mangler and Nick Day. The biggest question will be who replaces first-team All-Big Ten and ninth round MLB Draft pick Jake Yacinich at the shortstop position.
Mangler is the unquestioned leader of the infield and team, returning after earning first-team all-region and second-team All-Big Ten honors in 2014. The second baseman hit .315 with 38 runs and a team-high 45 RBIs, which ranked seventh in the conference. Mangler hit .382 with runners in scoring position.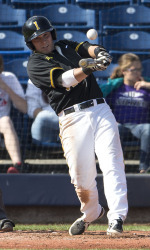 Mangler
"Jake is a clutch hitter," said Heller. "He came through so many times for us last season. He is one of the best players in the league and brings so many intangibles to the table with his hustle, work ethic, and grit. It makes you feel good as a coach knowing he's going to be out there day-in-and-day-out."
Day returns to the hot corner for his third season as a starter. He'll also fill a dual role, serving as the back-up at short. As a junior, Day earned second-team All-Big Ten honors after a breakout season where he hit .283 with 36 runs and 18 RBIs.
"Nick had an interesting offseason," said Heller. "After losing Yacinich, we asked Nick to play shortstop in summer league and fall ball, knowing he'd be the third baseman. He can play a quality shortstop, and he's one of the best defenders in the league at third base.
"I like what we have on the left side of the infield with the arm strength, range, and experience. Nick has also worked hard on his hitting. He had a nice junior year, but I expect an even better season this year."
Junior Nick Roscetti will get the first crack to take over for Yacinich at short after serving primarily as a defensive replacement throughout the infield last season. The Illinois native played 33 games with 16 starts, finishing with a .246 batting average with 10 runs and four RBIs. Roscetti started 15 games at short during his freshman season.
"I feel confident that Nick will do a great job at shortstop," said Heller. "He knows he's the guy and will be out playing every day. His arm strength is as good as anybody on our team and he's a plus runner with good range.
"Offensively, Nick has made some adjustments with his hitting. You'll see him driving the ball a lot more than the last two years."
Junior Tyler Peyton is back as the team's starting first baseman for 2-of-3 games of a weekend series when he isn't on the mound. The Grimes, Iowa, native had a solid first season with the Hawkeyes, hitting .331 with 28 RBIs and 23 runs. Hitting in the clean-up spot, Peyton had nine doubles and two home runs, while posting a .437 slugging and .402 on-base percentage.
"Tyler is a great all-around player, a consummate two-way guy, and one of our best players," said Heller. "He's gotten bigger and stronger, and he's driving the ball to the pull-side more. He has closed the hole on the inner half, which will cause pitchers problems because he is so short and quick to the ball."
When Peyton's pitching, Heller sees junior Taylor Kaufman and freshman Grant Klenovich vying for playing time at first base. Kaufman has a .260 career batting average in 45 career games, while Klenovich was the top-ranked first baseman in Illinois as a prep at New Trier Township High School.
"With Taylor's experience and proven ability to hit, it looks like the first few weeks he will get the opportunity to play first base," said Heller. "He is an excellent hitter and his bat is going to be in and out of the lineup all season as a pinch hitter, designated hitter or playing first base.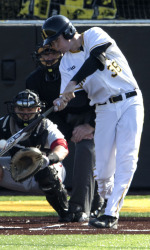 Peyton
"Grant did a nice job in the fall and the future looks bright. He's a big, strong player, who will hit for a lot of power. He may be a guy that gets some innings; if he doesn't, a redshirt is a possibility."
Senior Sean Moore, sophomore Corbin Woods, and freshman Kyle "Fenway" Parks will provide depth across the infield. Woods joins the program from Heartland Community College, where he hit .309 with 46 runs and 31 RBIs as a freshman. Parks was a top-500 player by Perfect Game in 2014.
"Sean has done everything we've asked him to," said Heller. "He came in as a second baseman only, and we've asked him to play third and left field, just in case. I feel confident putting Sean anywhere and that he'll do a good job defensively.
"Corbin is a hard-nosed player, solid defensively, and good offensively. He will be a great option at third base, and will be a good pinch-hit, pinch-run guy. He brings a lot to the table with his hustle and work habits. He's a solid all-around player.
"Fenway has a lot of power. He takes a great hack and has the ability to drive the ball. He has worked hard at second, third, and left field, knowing it would be hard to break into the starting lineup this year. He's a redshirt candidate, but he's a freshman we'd be confident in if we needed him to play."
OUTFIELD
Heller has a lot to like in the outfield with the return of two starters — Eric Toole, a four-year starter and a two-time All-Big Ten centerfielder and Kris Goodman, a player who has started 116 games in three seasons. Add in junior college transfers Joel Booker and Eric Schenck-Joblinske and the outfield has a chance to be special.
"Our outfield will be one of the best in the Big Ten, maybe anybody in the country," said Heller. "The speed, experience, and offensive potential we will put out there each day will be special. When you have quality competition it brings out the best in the group."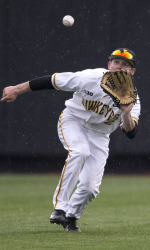 Toole
Toole has been a mainstay in the Hawkeye lineup since arriving on campus in 2011. He has started 132 career games, posting a .302 batting average with 91 runs, 54 RBIs, and 43 steals. As a junior, Toole finished with career bests in hits (67), runs (48), RBIs (30), doubles (9), and triples (3).
"Eric is an excellent center fielder and a quality leadoff guy," said Heller. "He has worked hard on all facets of his game since list year. Eric is a driven player who wants to be the best, and he is an excellent leader."
Heller has seen Goodman emerge as one of the team's most improved players since the end of 2014 — a season where the Minnesota native had career-best across the board. Goodman finished his junior campaign with a .284 batting average with 29 runs, eight doubles, four home runs, and 28 RBIs.
"Kris has worked so hard in the offseason, not only on his hitting, but his defense," said Heller. "He's a guy I feel confident playing any of the outfield spots, third base, or second base… anywhere you want to put him. He looks to be the opening day starter in left field."
Booker joins the team after a two-year run at Indian Hills Community College, where he was an honorable mention All-American and a first-team all-region selection. He finished the year with a .403 batting average and led the squad in runs (58), hits (75), triples (7), RBIs (61), and slugging percentage (.699). He tallied 24 multi-hit games and was 24-of-26 on the base paths.
"Joel is our fastest outfielder and possesses plus throwing arm," said Heller. "He's going to be an exciting player to watch both offensively and defensively. Joel's speed really plays, and he's a game-changer if his bat stays consistent."
Schenck-Joblinske, a transfer from Kirkwood Community College, will push for a spot in the lineup. He hit .309 with one home run, 27 RBIs, and 20 steals as a sophomore a year after hitting .362 with seven home runs, 52 runs, and 28 RBIs during his all-region freshman season.
"Schenck has plus speed and is an excellent defensive outfielder," said Heller. "He has a lot of power offensively, so he's going to be knocking at the door for playing time."
While senior Dan Potempa will see the bulk of his playing time as the designated hitter, the Tinley Park, Illinois, native is another option for the team in the outfield. The Hawkeyes also have junior John Barrett and redshirt sophomore Devin Pickett in the mix.
Barrett appeared in seven games as a sophomore in a reserve capacity. Pickett redshirted during the 2014 season and has been battling injuries for the past 18 months.
"John has improved a lot in the offseason, getting bigger, stronger, and has worked hard on his swing," said Heller. "Devin was set back with his hamate bone surgery, but he should be back to 100 percent. He'll be battling for playing time.
"We have six good candidates in the outfield with a lot of experience and talent."
DESIGNATED HITTER
The designated hitter position was wide open for the Hawkeyes heading into the 2014 season. Senior Dan Potempa's production changed that and he returns to man a spot in the middle of the lineup.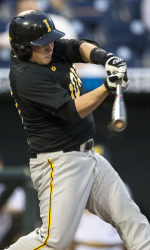 Potempa
Potempa earned third-team All-Big Ten recognition in his first season as a Hawkeye, ranking second on the team with a .330 batting average. He paced the squad with 13 doubles and a .455 slugging percentage, tallied 17 multi-hit and 10 multi-RBI games, and was second on the squad with 40 RBIs.
"Dan didn't sit back and become complacent," said Heller. "He's much stronger, in better shape, and is running better. The designated hitter spot as we start day one is his. He's a clutch RBI guy with pop in his bat, and is an experienced middle of the lineup hitter."
Senior Sean Moore and redshirt junior Taylor Kaufman give Iowa options in the DH role. Moore is eligible after sitting out the 2014 season after transferring from Wichita State, while Kaufman is back after being granted a medical redshirt after seeing limited action last season.
"Sean is fighting with Potempa for the designated hitter spot, and he will definitely be one of our top pinch-hitting options," said Heller. "He has a bat that is going to be fighting to get into the lineup all year long."
THE SCHEDULE
The Hawkeyes will face a challenging 53-game schedule with 14 games against teams that qualified for NCAA Regionals last season.
Iowa will open its home slate March 11 against AIB before hosting Indiana in its first Big Ten series from March 27-29. The Hawkeyes also host league foes Northwestern, Nebraska, and Minnesota, while traveling for road series against Purdue, Big Ten favorite Maryland, Michigan, and Rutgers.
The 2015 Big Ten Tournament will be held at Target Field in Minneapolis from May 20-24. The top eight teams in the 12-team conference will advance to the postseason tournament with the winner earning the league's automatic berth into NCAA Regionals, which will take place from May 29-31.