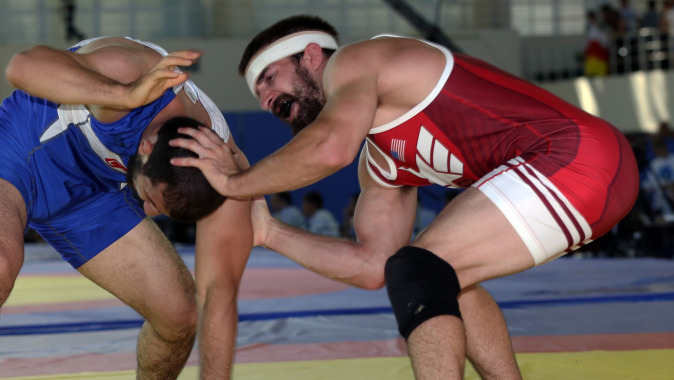 March 17, 2015
IOWA CITY, Iowa — USA Wrestling announced Tuesday that University of Iowa NCAA champions Brent Metcalf, Matt McDonough, and Tony Ramos have been selected to compete at the 2015 Freestyle Wrestling World Cup in Inglewood, California, on April 11-12.
Metcalf (65 kg/143 lbs.) and Ramos (57 kg/125.5 lbs.) are 2014 World Team members and ranked No. 1 at their weight class in the most current USA Wrestling freestyle rankings.
McDonough, ranked fourth in the USA Wrestling freestyle rankings, was selected to compete at 61 kg/134 lbs. behind 2012 Olympic bronze medalist Coleman Scott.
"My expectation is that our No. 1 athletes will want to wrestle in all of the matches. However, it is hard to predict if that will happen. All of our athletes are training hard and ready to compete. There is always the potential for an injury or other factors. We need be ready for somebody to step in and perform. The guys we have backing up are the kind of people who, if given the opportunity, will rise to the occasion and compete at their best," said national freestyle coach Bruce Burnett.
The World Cup is the international dual meet championships, one of the most important events of the year. The top eight teams in the world will compete, including Azerbaijan, Belarus, Cuba, Iran, Mongolia, Russia, Turkey and the United States.
The U.S. placed third at the 2014 Freestyle World Cup, also held in Los Angeles, with Iran winning the team title and Russia placing second.
This year's United States team has won a combined three Olympic medals, six World medals and 17 NCAA titles. Metcalf (2008, 2010), McDonough (2010, 2012), and Ramos (2014) account for five of the 17 NCAA titles. No other school has more than two alumni on the roster.
This is the third World Cup team for Metcalf, and the first for McDonough and Ramos.