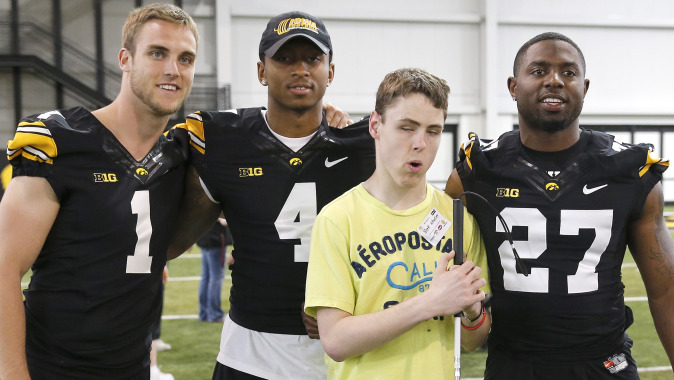 May 6, 2015
Camp Courageous Visits the Hawkeye Football Team

Editor's Note: The following first appeared in the University of Iowa's Hawk Talk Daily, an e-newsletter that offers a daily look at the Iowa Hawkeyes, delivered free each morning to thousands of fans of the Hawkeyes worldwide. To receive daily news from the Iowa Hawkeyes, sign up HERE.
By DARREN MILLER
hawkeyesports.com
IOWA CITY, Iowa — In 16 seasons as head football coach at the University of Iowa, Kirk Ferentz has sent 58 student-athletes to the National Football League. That's an average of 3.6 per season.
As unpredictable as the annual draft is, there is one constant with all Hawkeyes from 1999 to present: While Iowa players might occasionally slip down the draft board because of height, 40-yard dash time, or wing span, no Iowa player plummets because of character.
That is a testament to Ferentz and strength and conditioning coach Chris Doyle. Oh, by the way, their no nonsense approach to grooming student-athletes into responsible men has also produced 115 victories and 12 bowl berths.
"We have a lot of guys go to the NFL," Ferentz said. "The reality is, if you look at the whole percentage of guys that play college football, very few play in the National Football League. The ones that are lucky enough to make it there, it's a short lifespan career.
"To me, part of being involved in college intercollegiate athletics is that you're training for life. The idea of getting your degree, but also being a well-rounded person, is important and that's part of our responsibility as coaches."
On April 30, UI offensive lineman Brandon Scherff was taken fifth in the first round of the NFL Draft by Washington. A day later, defensive lineman Carl Davis went in the third round to Baltimore. On May 2, offensive lineman Andrew Donnal was selected in the fourth round by St. Louis.
While other NFL Draft prospects have summaries that read "draft stock has been clouded," "every stone must be overturned in an attempt to piece together a predictive character profile," and "teams could pass on the traits early in the draft due to his perceived lack of work ethic and overall character," this is what was written about the Hawkeyes:
Scherff: "Weight room star who can lift a house. Road-grader with pancake-man potential."
Davis: "Powerful player. Good football IQ with a plan of attack."
Donnal: "Not the prettiest tackle you will see, but is technically sound and works hard snap in and snap out."
| | |
| --- | --- |
| | "No matter what job you go to, employers want people they can count on, and hopefully that is something employers will be able to predict with guys that have played in our program. They are going to show up to work every day and do a quality job." |
Potential employers don't worry about red flags with the Hawkeyes. Student-athletes with "character issues" inside the UI football program either see the light in Iowa City or they hit the road.
"The program is built in a way that if you're fully invested as a junior or senior, it typically spits out guys who have character, guys who are going to do it right," said Chic Ejiasi, director of player development. "It's a learning curve. Seniors, freshmen, they're all students and are going to make mistakes. The biggest thing is learning from your mistakes and moving forward."
A crucial component of character-building for the Hawkeyes is community service. From 2013-15, the UI football team combined for more than 1,500 community service hours. That includes May 2 — one of the most anticipated days of the year when Camp Courageous makes its trek from Monticello, Iowa, to the Stew and LeNore Hansen Football Performance Center.
"It is a cool event and the way the kids look up to you is heartwarming," said Cole Fisher, a senior linebacker. "They are so excited. We like giving back when we can."
The entire senior class participates in hosting Camp Courageous, signing autographs and playing ball with campers.
"I hope all our players understand and we try to emphasize that we're all very, very fortunate to be involved in college athletics," Ferentz said. "We all choose to do it, and most importantly, we're all able to do it.
"We're fortunate, healthy, and in something that is a lot of fun to do, so it's good for our guys to get in the community and give back. You also find out that maybe other people aren't as fortunate to have the opportunities that we have."
The "giving back" theme has rubbed off on senior running back Jordan Canzeri. In his first three seasons, Canzeri has rushed for 1,089 yards, including a 120-yard performance against Tennessee in the 2015 TaxSlayer Bowl. The last Iowa running back selected in the NFL Draft was Shonn Greene in 2009. Canzeri isn't giving up on the dream of playing professional football, but he has an alternative future mapped out.
"I was blessed with this opportunity because through the process of meeting kids in the Children's Hospital and helping kids with disabilities and those suffering through cancer that I found my love," Canzeri said. "Even if football doesn't work out afterward, I'm planning on going back to school for a master's (degree) in psychology and counseling in mental illness and rehabilitation.
"I found my love for that by doing all of this. It is such a great thing to have those memories of good deeds, especially when times aren't going that well for you, too. To see kids coming out like this so happy with what they go through is humbling."
So, while Washington, Baltimore, and St. Louis can rest easy after drafting products of the Hawkeye football program, the same can be said about any business.
"No matter what job you go to, employers want people they can count on, and hopefully that is something employers will be able to predict with guys that have played in our program," Ferentz said. "They are going to show up to work every day and do a quality job."