Box Score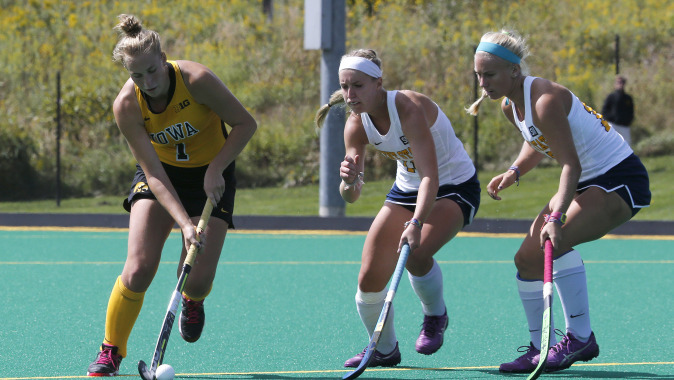 Oct. 2, 2015
EVANSTON, Ill. — The 18th-ranked University of Iowa field hockey team fell at No. 14 Northwestern on Friday afternoon, 4-0, at Lakeside Field. The loss drops the Hawkeyes to 7-5 overall and 1-2 in conference play.
Entering halftime, the Hawkeyes found themselves trailing, 1-0. The Wildcats dominated the first half, outshooting Iowa, 10-2, and holding a 9-0 advantage in penalty corners.
Junior Stephanie Norlander nearly got Iowa on the board in the 29th minute when she volleyed the ball over several Wildcat defenders and the keeper only to have it hit the crossbar. Norlander was held scoreless for just the fourth time this season.
In the second half, Iowa outshot Northwestern, 7-5, and outgained them in penalty corners, 5-1. However, the Hawkeyes were unable to score as the Wildcats added three second half goals to secure the 4-0 victory.
Sophomore Veronique Declercq paced the Iowa offensive attack with three shots, all which came via penalty corners. Declercq's first shot bounced off the goalpost, while her second and third shots were saved by a diving Northwestern goalkeeper.
The Hawkeyes wrap up a five-game road trip next weekend with games at No. 16 Michigan (Oct. 9) and Central Michigan (Oct. 11).