By DARREN MILLER
hawkeyesports.com
IOWA CITY, Iowa — University of Iowa freshman Austin Kresley proved wise beyond his years when he realized there is little demand for a football wide receiver weighing 140 pounds.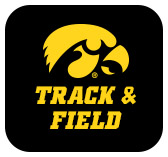 But when that 140-pound frame covers 60 meters in 6.72 seconds and 200 meters in 21.12, you have a pretty decent sprinter. Kresley won both events at the Husker Quad on Feb. 6 in Lincoln, Nebraska, and both times rank as the third-fastest in the Big Ten this season.
"I knew I would eventually pop off a 6.7 and I did that at Nebraska," said Kresley, who is aiming for Justin Austin's school record of 6.69. "(Iowa director of track and field/cross country) Joey (Woody) told me to quit thinking so much and just run your race; go out and do what you do. You saw that at Nebraska — me running, not thinking about the time. The time just showed up."
Times of 6.72 and 21.12 undoubtedly brought a smile to Woody's face. The same smile he displayed when Kresley showed up on campus. Who is Austin Kresley and where did he come from? He is originally from Oakley, California (not Oakland), where he played football until his sophomore season of high school. He weighed 125 pounds at the time and the physicality of football took its toll. Friends at Northgate High School knew Kresley was fast and encouraged him to try track.
"I'm kind of a late bloomer; I didn't start running like some people when they were 5 or 6," Kresley said. "I started doing track because I wanted to stay in shape. I wasn't the fastest on the track, but I loved the sport. I knew there was a lot of potential there and I fell in love with it. Something made me drive to get better.
"I knew track was going to be my way out. I took my shot and the rest is history. It has been great ever since."
"I wasn't the fastest on the track, but I loved the sport. I knew there was a lot of potential and I fell in love with it. Something made me drive to get better."

Austin Kresley
Kresley transferred to IMG Academy in Bradenton, Florida, where he ran 6.77 in the 60 and 21.34 in the 200. Woody's connections in California and at IMG led the Hawkeyes to Kresley. Once on campus, Kresley knew he was coming to Iowa. There was a family feel that he appreciated.
"He is a good kid, real bright, understands track," Woody said. "He is a student of the sport and that's the type of athlete who has success in our program."
Nothing stuck out in Kresley's collegiate debut when he won the 60 (6.80) and ran the second leg on Iowa's B 4×400 relay. At the Husker Triangular on Jan. 16, Kresley was runner-up in the 60 (6.729) and the 200 (21.45). The following week at the Larry Wieczorek Invitational, he was third in the 200 (21.67) and third in the 60 (6.83).
"I'm still slept on. I have been under the radar my whole career, even when I went to IMG, they were like, who is this kid?" Kresley said. "I'm used to it. I have always been someone who goes under the radar. Hopefully people will realize this kid is legit, so let's just keep working."
Woody says the biggest asset for Kresley is how quickly he transitions to his top-end speed. He wants the sprinter to work on becoming stronger and more consistent with his acceleration.
"Every race he has improved on that," Woody said. "A lot of times, young guys are focused on hitting a certain time versus just executing the race. A couple weeks ago he was trying too hard to hit a time and didn't have a good race. He learned from that and had a tremendous weekend (Feb. 6) by focusing on executing his races."
Kresley is the latest addition to a stacked Hawkeye sprint group. At the Husker Quad, four of the top five placewinners in the 200 were from Iowa. The runner-up to Kresley was teammate Wayne Lawrence, Jr., the defending Big Ten Conference indoor champion in that event.
Iowa will split its squad Friday and Saturday. A group that includes Kresley and Lawrence will compete at the SPIRE Big Ten Prep in Geneva, Ohio. A majority of Hawkeyes will be at the Hawkeye B1G Invitational in the University of Iowa Recreation Building.