Box Score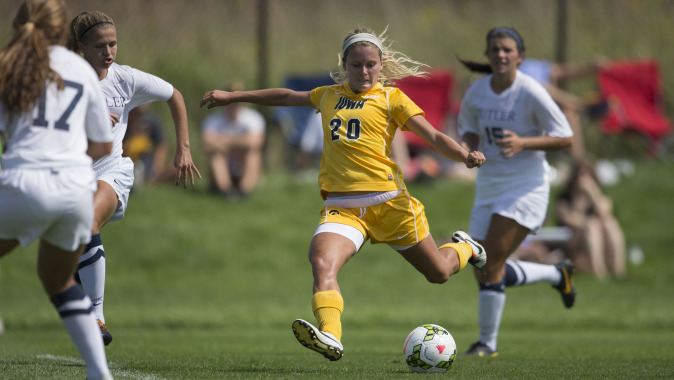 Sept. 7, 2014
FORT COLLINS, Colo. — Goals weren't hard to come by on Sunday afternoon as the University of Iowa women's soccer team rolled past Colorado State, 4-0, at the Fort Collins Soccer Club to pick up their fifth win of the season.
"Today our goal as a team was to play with a consistent effort and focus through out the game no matter how the games flow and I thought we did that for the most part," said UI head coach Dave DiIanni
Senior Cloe Lacasse got the ball rolling for Iowa, scoring her first of two goals on the day at the 30th minute mark when she stole the ball from the Colorado State defense and netted a six-yard shot.
Sophomore Bri Toelle extended Iowa's lead with a goal of her own when she booted the ball past Colorado State's goalkeeper Jesse McGinley from 15-yards out. Toelle has scored a goal in back-to-back games for the Hawkeyes.
Lacasse's second goal of the game came in the 51st minute as she secured a pass from Toelle and broke away from the Ram defense to put the Hawkeyes up 3-0. The goal was Lacasse's seventh of the season and marks the third time the Hawkeye has scored two goals in a single match this season.
Iowa's final goal of the day came inside the 76th minute mark when sophomore Corey Burns sailed a corner kick over to senior Melanie Pickert who headed it in, giving the Hawkeyes a 4-0 advantage.
"After starting slow the first 15-20 minutes, we found success creating opportunities in the final 1/3 and probably should have scored a few more goals," said DiIanni.
Junior Hannah Clark got her first start at goal this season, limiting the Rams to zero shots on goal in a shutout performance. Clark now has 12 shutouts in her career as a Hawkeye.
"This was a good game to get a lot of players playing time and build a team cohesiveness going into Big Ten play," said DiIanni
The Hawkeyes open Big Ten Conference play, hosting Illinois on Sept. 11 at the Iowa Soccer Complex beginning at 7 p.m. (CT).