BLOOMINGTON, IND. — The University of Iowa soccer team dropped a 2-0 game at Indiana on Sunday afternoon at Bill Armstrong Stadium. 
The Hoosiers jumped out to an early 1-0 lead with a goal in the seventh minute from Melanie Forbes on an assist by Avery Lockwood. Forbes kicked in another score in the 29th minute to put Indiana up 2-0 at halftime. Both teams would finish scoreless in the second half.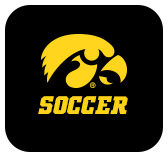 Redshirt sophomore Monica Wilhelm played all 90 minutes at goalkeeper and came up with three saves in the span of 40 seconds during the 69th minute. Her saves marked a crucial defensive stop in the second half, but Iowa was unable to convert scores of its own and dropped its third road game of the season. 
HEAR FROM HEAD COACH DAVE DILANNI
"Today, as a team, we improved, but youth and inexperience bring inconsistency, and with that there are highs and lows as we saw today. Mistakes were made that were preventable, and at this level, we got punished for them, so credit to Indiana. I like how we played outside of the goals until the final 20 minutes where we lost our confidence, focus, and nerve to stay committed to the game plan tactically. Our team is growing every day both as a group and individually, but unfortunately results matter also, so better balance is needed for that."
OF NOTE
– Iowa has out–shot its opponents in each of its three losses this season. The Hawkeyes out–shot Indiana, 8-7. Juniors Hailey Rydberg and Sara Wheaton led the way with two shots apiece. 
– Iowa took three shots off corner kicks in the first half but was unable to find the net. 
– 90 TRACKER: Three Hawkeye position players played the duration of Sunday's contest. They were Sara Wheaton (3), Aleisha Ganief (2), and Rielee Fetty (1).  
NEXT UP
Iowa returns to action Thursday, hosting Michigan at the TBK Bank Sports Complex in Bettendorf, Iowa. Kickoff is set for noon (CT).