Dec. 27, 2015
Notes in PDF Format

ON THE MAT
The University of Iowa wrestling team competes at the 53rd annual Ken Kraft Midlands Championships on Tuesday and Wednesday in Evanston, Illinois. Welsh-Ryan Arena will host the two-day event.
MIDLAND SESSION & TICKET INFO
Tickets can be purchased from the Northwestern University Athletic Ticket Office at 800-GO-PURPLE or online at nusports.com. All-session passes start at $50 for upper level reserved seats, $60 for reserved. Single session general admission seats are also available for purchase (adult/student).
SCHEDULE OF EVENTS (CT)
TUESDAY, DEC. 29
9:30 a.m. Session I ($10/$8)
7 p.m. Session II ($12/$9)
WEDNESDAY, DEC. 30
12 p.m. Session III ($13/$10)
8 p.m. Session IV ($15/$12)
(Single Session – Adult/Student)
IOWA MIDLANDS HISTORY
Iowa has won more team titles (24) than any other school in the 52 years of the Midlands Championships. The Hawkeyes won their first team title in 1974, and proceeded to win nine of the next 11. Iowa also won team titles in 1990, 1992, 1996, 1997, 1998, 1999, 2001, 2002, 2007, 2008, 2009, 2011, 2013 and 2014. Other team winners include Iowa State (8), Illinois (4), Michigan State (3), Sunkist Kids Wrestling Club (3), Michigan (2), Arizona State (1), Minnesota (1), Missouri (1), North Carolina (1) and Oklahoma State (1). Team scores were not kept at four tournaments (1991, 1993, 1994, 1995).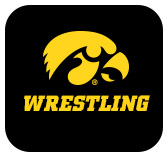 ON THE HEELS OF HISTORY
Iowa has set team scoring records in each of the last two years at the Midlands Championships. Iowa scored 189 team points last season, breaking their previous record of 187.5 team points set in 2013. Prior to 2013, Iowa owned the tournament record of 185 set in 2007. The Hawkeyes advanced five wrestlers to the finals in 2014 and crowned four champions, including Cory Clark (133), Mike Evans (174), Nathan Burak (197), and Bobby Telford (285). Burak won his title competing unattached. Thomas Gilman, the 2013 Midlands champion, lost to Virginia Tech's Joey Dance in sudden victory in the 125-pound finals.
HAWKEYES IN THE MIDLANDS HOF
Seven former Hawkeyes are enshrined in the Midlands Hall of Fame. They include Ed Banach, Chris Campbell, Steve Combs, Tim Cysewski, Barry Davis, Randy Lewis and Chuck Yagla. Former Hawkeye head coach Dan Gable is also a Midlands Hall of Fame member.
INDIVIDUAL MIDLANDS HONORS
Seven former Hawkeyes earned the Art Kraft Champion of Champions Award, while nine were named Dan Gable Outstanding Wrestler. The Art Kraft Champion of Champions include Lenny Zalesky (1980), Jim Zalesky (1983), Jim Heffernan (1986), Jeff McGinness (1995), Joe Williams (1996), Eric Juergens (1999) and Mark Perry (2007). The Dan Gable Outstanding Wrestlers were Randy Lewis (1979), Lenny Zalesky (1980), Ed Banach (1981), Royce Alger (1994), Jeff McGinness (1995), Lincoln McIlravy (1997), Joe Williams (1999, 2000), Mark Perry (2007) and Brent Metcalf (2009). Gable was named the tournament's outstanding wrestler five times (1966-69, 1971).
20-IN-4 CLUB
Eight former Hawkeyes are members of the prestigious 20-in-4 club, which requires a wrestler to record at least 20 wins in their first four years of competition. They are John Bowlsby (22 – 1974, 1976-78), Barry Davis (20 – 1980-83), Joe Williams (20 – 1993-96), Mark Ironside (22 – 1994-97), Wes Hand (20 – 1996-99), Jody Strittmatter (20 – 1997-2000), Doug Schwab (20 – 1997-2000) and Cliff Moore (23 – 2001-03, 2005). Gable was the first club member, recording 20 wins from 1966-69.
IOWA/MIDLANDS SUPERLATIVES
Former Hawkeye Joe Williams holds the most individual titles in Midlands history, winning 10. Other former Hawkeyes to win at least three titles are Tim Cysweski (5), Mark Ironside (4), Royce Alger (3), Ed Banach (3), Chris Campbell (3), Jim Heffernan (3), Randy Lewis (3), Brent Metcalf (3) and Chuck Yagla (3). Ironside has the most wins (27) at 141 pounds, and he and Cysewski hold the most titles (4 each) at that weight. Jim Heffernan holds the most titles (3) at 157, while Williams holds the most wins (35) and titles (7) at 174. Pat Kennedy holds the fastest fall (11 seconds) at 165, while Verlyn Strellner holds the most falls (10) at 197. Gable holds the most titles (3) and falls (13) at 149 pounds.
GRAND SLAM WINNERS
Head coach Tom Brands is one of six Grand Slam Winners in Midlands history. Wrestlers who have won a Midlands title, an NCAA championship, a World title, and an Olympic gold medal are considered Grand Slam Winners. Brands is joined on the list by Dan Gable, Bruce Baumgartner, Dave Schultz, Kenny Monday, and Jordan Burroughs.
MIDLANDS, 2006-PRESENT
Iowa has won six Midlands team titles since 2006, Tom Brands' first season as head coach. The Hawkeyes won team titles in 2007, 2008, 2009, 2011, 2013, and 2014. Iowa placed second in 2006, fourth in 2010, and did not compete in 2012. Since 2006, 15 Hawkeyes have combined to win 19 individual titles — Eric Luedke ('06), Joey Slaton ('07), Dan LeClere ('07), Mark Perry ('07), Brent Metcalf ('07, '08, '09), Daniel Dennis ('08), Ryan Morningstar ('08), Jay Borschel ('09), Matt McDonough ('09, '11), Thomas Gilman ('13), Derek St. John ('13), Mike Evans ('13, '14), Cory Clark ('14), Nathan Burak ('14), and Bobby Telford ('14).
CORNER CHAMPIONS
Iowa's coaching staff has won a combined four Midlands titles. Head coach Tom Brands won the 134-pound title in 1990. Associate head coach Terry Brands won the 126-pound title in 1991, and again in 1997 as a member of the Hawkeye Wrestling Club. Assistant coach Ryan Morningstar won the 165-pound title in 2008.
DEFENDING CHAMPIONS
Junior Cory Clark and senior Nathan Burak are defending their 2014 Midlands titles. Clark was 5-0 with a pin and major decision at 133 pounds last year, while Burak was 5-0 with a pin at 197. This is the fourth Midlands appearance for Clark. He placed fourth as an unattached freshman in 2012, sixth as a redshirt freshman in 2013, and first last season. Burak is making his third Midlands appearance. He competed unattached in 2013 and 2014. He placed third in 2013 before winning the title last season. Junior Thomas Gilman also has a Midlands title to his credit. Gilman won the 2013 title with wins over seventh-ranked Dylan Peters, top-ranked Jesse Delgado, and former All-American Jarrod Garnett. He placed runner-up in his title defense last season, falling to fourth-ranked Joey Dance in the finals at 125.
B1G FLAVOR AT MIDLANDS
The Hawkeyes (8-0, 2-0) are ranked No. 2 in the USA Today/NWCA Division I Wrestling Coaches Poll. Iowa is one of 10 Big Ten Conference teams ranked in the top 25. Six of those ranked schools will join Iowa at the Midlands Championships on Dec. 29-30. They include No. 8 Rutgers, No. 9 Nebraska, No. 11 Illinois, No. 19 Purdue, and No. 22 Indiana.
FRESHMEN TOE THE WATERS
Four Iowa freshmen — Vince Turk (141), Michael Kemerer (149), Cash Wilcke (184), and Steven Holloway (197) — could make their Midlands debut. Kemerer is undefeated (14-0) with three tournament titles to his credit. Turk owns a 10-2 mark and won the Joe Parisi Open at 141 pounds. Wilcke is 3-0 with one major decision, one technical fall, and one pin en route to the 184-pound title at the Grand View Open. Holloway is 9-3 and is tied for the team lead with four falls. Six Midlands probables competed in the tournament as unattached freshmen. Brandon Sorensen enjoyed the most success, finishing third at 149 in 2013. Thomas Gilman was 2-2 at 125 in 2012. Cory Clark placed fourth at 125 in 2012. Sam Brooks placed eighth at 184 in 2012, and Alex Meyer was 0-2 at 184 in 2012. Sam Stoll was 1-2 at 285 last season.
COOPER AND STOLL BREAK INTO RANKINGS
Edwin Cooper, Jr. and Sam Stoll were rewarded for last week's wins with first-time appearances in the national rankings. Cooper is ranked No. 16 at 157 pounds and Stoll is ranked No. 10 at 285 by the Intermat poll released Dec. 15. It is the first time either wrestler has appeared in the national polls. Stoll is also ranked 13th by Amateur Wrestling News (AWN), and 19th by WIN Magazine. Both wrestlers enter the rankings following wins over Rutgers on Dec. 10. Cooper topped 17th-ranked Richie Lewis, 6-4, and Stoll upset sixth-ranked Billy Smith, 3-1, in sudden victory. It was Cooper's first win in four tries against a ranked foe. Stoll dropped his only other meeting against a ranked opponent in Iowa's season opener, falling 6-1 to No. 4 Austin Marsden of Oklahoma State. He has since won seven straight, averaging 5.6 team points per win.
TOP HEAVY
The Hawkeyes have eight wrestlers ranked by at least one national ratings service, including six in the top four of AWN. No other school has more than five ranked in the top five. Brandon Sorensen is the top-ranked 149-pounder, Cory Clark is ranked second at 133, and Thomas Gilman is ranked third at 125.Alex Meyer (174), Sammy Brooks (184), and Nathan Burak (197) are all ranked fourth by AWN. Burak has held steady at No. 4 since the beginning of the season. Meyer has reached as high as No. 3 in the Intermat poll, and Brooks' No. 4 ranking by AWN is a season high.
A LITTLE EXTRA
Junior Thomas Gilman has delivered bonus points all eight matches. Gilman, ranked No. 2 at 125, has two technical falls, two major decisions, and four pins. His 42 dual points scored rank second on the team to Brooks, who has scored 43 points out of a possible 48 in six matches. Brooks, ranked No. 11 at 184, has scored bonus points in seven of his eight matches. He has four pins, two technical falls, and one win by forfeit.
CLARK SCORES HAT TRICK
Junior Cory Clark is 8-0 with three consecutive wins over ranked opponents. Clark defeated No. 7 Earl Hall of Iowa State, 9-2, on Nov. 29, earned a decision against No. 15 Brance Simms of SDSU on Dec. 4, and scored a major decision over Rutgers' No. 17 Anthony Giraldo on Dec. 10. Clark is 26-9 all-time and has won eight of his last nine matches against ranked opponents.
BAPTISM BY FIRE
Redshirt freshman Logan Ryan is expected to make his Midlands debut, his second tournament of the season. He opened the year with a runner-up finish at the Grand View Open, falling to former All-American Andrew Long in the finals. He was 3-1 at the tournament, but has since evened his record at 5-5 following a string of high profile duals. Ryan made his dual debut Nov. 14 and fell, 7-1, to top-ranked Dean Heil (OKST) in front of 42,287 fans at the Grapple on the Gridiron. He then dropped an 8-5 decision to Alfred Bannister (Maryland) in his Big Ten and Carver-Hawkeye Arena debut. Ryan fell 6-2 at Iowa State in the Iowa Corn Cy-Hawk Series, and dropped a 3-2 decision to former teammate Seth Gross on Dec. 5. The 141-pound field at the Midlands Championships includes three of the top five ranked wrestlers in the country, including No. 2 Kevin Jack (NC State), No. 3 Anthony Ashnault (Rutgers), and No. 5 Chris Mecate (Old Dominion).
STOLL ON ROLL
Redshirt freshman Sam Stoll takes a seven match win streak into the Midlands Championships. Stoll dropped his season opener to fifth-ranked Austin Marsden (OKST), 6-1, but has since pinned four opponents, won by stalling disqualification, and earned his first win over a ranked opponent (3-1 in overtime against Rutgers' No. 6 Billy Smith). Stoll's four falls tie for the team lead (Gilman, Brooks). He finished his high school career with a national record 63 consecutive pins. He pinned every opponent he faced his senior season. As a true freshman in 2014-15, Stoll was 18-5 with 11 pins competing unattached. He was 1-2 at the 2014 Midlands.
SORENSEN HITS TOP SPOT
Sophomore Brandon Sorensen is ranked No. 1 at 149 pounds by WIN Magazine and Amateur Wrestling News. Sorensen is ranked No. 2 by Intermat, one spot behind Penn State's Zain Retherford. Sorensen is 8-0 with four major decisions, two technical falls, and one pin. He has two wins over ranked opponents, including No. 12 Anthony Collica (OKST), 6-1, and No. 16 Gabe Moreno (ISU), 11-3. Sorensen has placed third in each of the last two Midlands Championships. He was 6-1 competing unattached in 2013, and 5-1 as a redshirt freshman in 2014. He vaulted onto the national scene following the 2014 tournament, and earned full-time duty in the Iowa lineup, starting the final 13 duals (winning 12) and earning the postseason nod. He finished second at the Big Ten Championships and third at NCAAs.
ALL-AMERICAN DOMINANCE
Iowa's four returning All-Americans — Thomas Gilman (125), Cory Clark (133), Brandon Sorensen (149), and Nathan Burak (197) — are a combined 31-0 with 24 wins by bonus points. Iowa's other returning NCAA qualifier, Sammy Brooks (184), is 8-0 with seven wins by bonus points. The group is 8-0 against top 20 wrestlers, with two technical falls and three major decisions.
DOMINANT SINCE NO. 1
Gary Kurdelmeier led Iowa to its first NCAA Championship in 1975, and in the 41 years since, the Hawkeyes have accumulated 23 team titles, more than any other school — Oklahoma State (7), Penn State (4), Minnesota (3), Iowa State (2), Ohio State (1) and Arizona State (1).