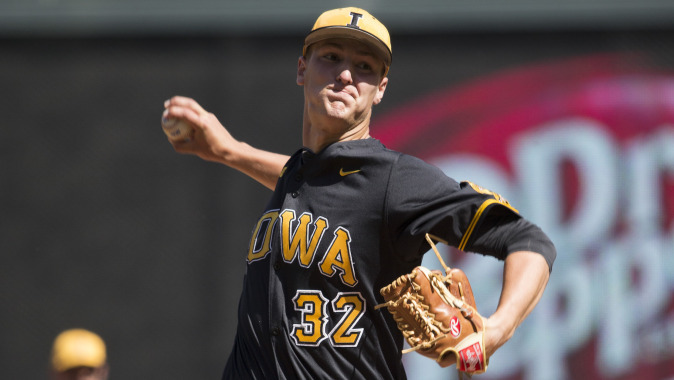 Oct. 12, 2015
IOWA CITY, Iowa — The University of Iowa baseball program rounds out its fall season with the best of three Black & Gold World Series from Tuesday through Thursday at Duane Banks Field. Game times are set for 2 p.m. (CT) each day and the games are open to the public.
Seniors Nick Roscetti and Calvin Mathews will captain the Black team. The roster will include: Corbin Woods, Grant Klenovich, Eric Schenck-Joblinske, Devin Pickett, Robert Neustrom, Daniel Aaron Moriel, Zach Daniels, Zach Fricke, Ryan Erickson, Kyle Shimp, Shane Ritter, Nick Gallagher, Jared Mandel, Connor Grant, Luke Vandermaten, Sam Lizarraga, Kyle Wade, and Matt Allen.
Seniors Tyler Radtke and Jimmy Frankos will lead the Gold team. The roster will include: Mason McCoy, Austin Guzzo, Tyler Peyton, Luke Farley, Mitchell Boe, Dametri Evans, J.T. Sole, Nick Allgeyer, Cole McDonald, Jake Reinhardt, John Forsythe, Drake Robison, Josh Martsching, Joel Booker, John Barrett, C.J. Eldred, Cole Baker, Drew Owens, and Daniel Perry.
The Hawkeyes went 1-0 during fall ball, posting a 10-0, 14-inning victory over the Ontario Blue Jays on Sept. 19.